This week, China's new coronavirus was found in popular outbound destination Thailand, major Chinese travel agencies may restart selling tour packages to South Korea, and airlines were cutting frequencies to the socially unresting Hong Kong market.
>>US, China and Germany have been ranked as the world's top 3 countries in terms of annual tourism revenue again for the past year of 2019, according to the World Tourism Economy Trends (2020) jointly released by World Tourism Cities Federation and the Tourism Research Centre of Chinese Academy of Social Sciences.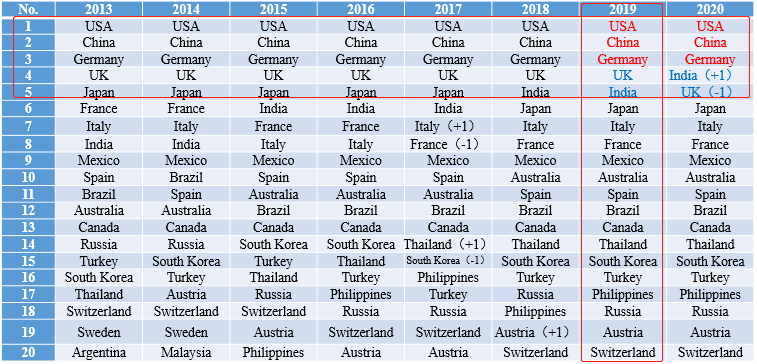 The 2019 global tourism revenue reached 5.8 trillion US dollars, equivalent to 6.7% of global GDP, with a decrease of 0.1% over the previous year. The global tourism revenue will reach 6.02 trillion US dollars in 2020, equivalent to 6.8% of global GDP, with a slight increase from 2019.
The development of Sino-U.S. tourism service trade has been affected by trade frictions provoked by the U.S. in recent years. However, it seemed that the trade frictions did not affect the variation of China's tourist arrivals from the U.S. Read more here.
>>Key Mainland China hotel markets including Beijing and Shanghai are projected to report performance growth in 2020 despite a challenging macroeconomic environment, according to the latest forecast from STR and Tourism Economics.
According to STR's report, Beijing is expected to continue its growth trajectory with a forecasted increase of 3.7% in RevPAR. The ADR is expected to continue to grow 1.8% after a strong 2019 in the metric.
Following three years of occupancy declines caused by the impact of new supply, 2020 is expected to be Shanghai's year of recovery. RevPAR growth is expected to reach 2.5% as the market is likely to pick up displaced demand caused by continued protests in Hong Kong. Read more here.
>>Major tour agencies would restart selling five to six tour packages to South Korea, according to a Nomura note. Chinese group-package trips are resuming and got confirmation from a major travel agency in the country that its tour companies have started offering services to domestic customers for the upcoming spring festival.
The ties between the two countries soured after the U.S. deployed a missile shield in South Korea in 2017 to protect the nation from its northern neighbor. Read more here.
>>A Chinese woman has been quarantined in Thailand with a new strain of coronavirus, the first confirmed case outside mainland China. She was found to be carrying the same strain of virus tied to a pneumonia outbreak in Wuhan, according to Thai health authorities.
With China now in its peak season for both domestic and international travel as the Lunar New Year holiday, the development is fueling fears that the virus could spread to the rest of the world. Bangkok, Osaka and Tokyo will be the top three destinations for Chinese travelers. Read more here.
>>OYO is firing thousands of staff across China and India, adding to growing signs of trouble at one of the largest startups in SoftBank's portfolio.
The company has let go of 5% of its 12,000 employees in China partly due to non-performance while dismissing 12% of its 10,000 staff in India. Read more here.
>>To tap the booming Chinese market, IndiGo airlines has opened its first international call center in China to cater to queries from passengers that speak in Cantonese, Mandarin and English. Currently, IndiGo operates a daily flight on the Delhi-Chengdu route as well as on the Kolkata-Guangzhou route. Read more here.
>>Six Flags Entertainment is struggling with its planned parks in China and might scrap plans to complete them. The theme park operator said its Chinese business partner, Riverside Investment Group, had defaulted on its payments to Six Flags due to a declining real estate market in China.
Struggling operations in China weren't the only troubling news - the company expects to report fourth-quarter revenue of $8 million to $10 million less than the prior year, citing lower park attendance, season pass and membership sales. Read more here.
>>The 8,077 star-rated hotels reported in China grossed USD 7 billion in the third quarter of 2019. F&B incomes and guest room incomes represented 38% and 48% of the total revenue respectively. Among these hotels, 34 were one-star hotels, 1,166 two-star hotels, 3,831 three-star hotels, 2,247 four-star hotels and 799 five-star hotels. Read more here.
>>ITB China, the largest B2B exclusive travel trade show in China, announced a partnership with the China Business Exhibition Federation (CBEF) to strengthen the participation of association buyers. The travel show is set to take place May 13-15, 2020 in Shanghai. Read more here.
>>United Airlines expects to record a non-cash impairment charge of USD 90 million for its fourth quarter due to plummeting demand for the Hong Kong market and a resulting decline in unit revenue.
Airlines including Qantas, Emirates, Singapore Airlines, SpiceJet, Jeju Air, AirAsia, and mainland Chinese carriers all cut frequencies to Hong Kong in the fourth quarter as the social unrest continue to disrupt daily life. Read more here.
>>Xiezhu Technology, a Suzhou, China-based intelligent hotel solution provider, announced that it raised USD 37 million through a combination of equity and debt financing.
The company leverages AIoT (Artificial Intelligence of Things), big data, and cloud technologies to develop intelligent management solutions for hotel and accommodation operators. Its solutions are used by 8,000 hotels in China and have helped upgrade 350,000 rooms. Read more here.