ChinaTravelNews, Jerry Tang - Amid industry-wide slowdowns in recent quarters, major online travel companies are adjusting their strategies to cope with the headwinds.
Making executive reshuffles or seeking strategic partnerships may provide new prospects for growth momentum internally and externally, paving the way to further diversified portfolios:
While Booking Holdings has appointed its group CEO Glenn Fogel as subsidiary brand Booking.com's new CEO; Trip.com Group has decided to form a joint venture with TripAdvisor on partnerships in China and globally.
Expedia Group, another global OTA giant, seems to be taking both approaches in a bid to strengthen itself in the global online travel race.
For internal restructuring, the company is going through a series of executive changes, including the appointments of former Vrbo president John Kim as the president of Platform & Marketplaces, and former Lodging Partner Services president Cyril Ranque as president of Travel Partners Group. In terms of external partnerships for Expedia, the exclusive wholesale deal with Marriot may prove inspiring for similar tie-ups to follow.
The strategic shake-up of OTA giants may have resulted from market uncertainties, but it will, in turn, further intensify the competition in the evolving market landscape.
Expedia CEO on the Trip.com-TripAdvisor deal
Commenting on the recent deal between Trip.com Group and TripAdvisor during this year's Expedia global partner event in Las Vegas, Mark Okerstrom, President & CEO of the Expedia Group, said that these types of partnerships are "interesting".
But he emphasized that Expedia has got a variety of partnerships around the world as well, citing the company's investments in Traveloka of Southeast Asia, and Despegar of Latin America.
"I think we feel pretty good about it, but it's a continuation of the general trend that we've seen," said Mr. Okerstrom.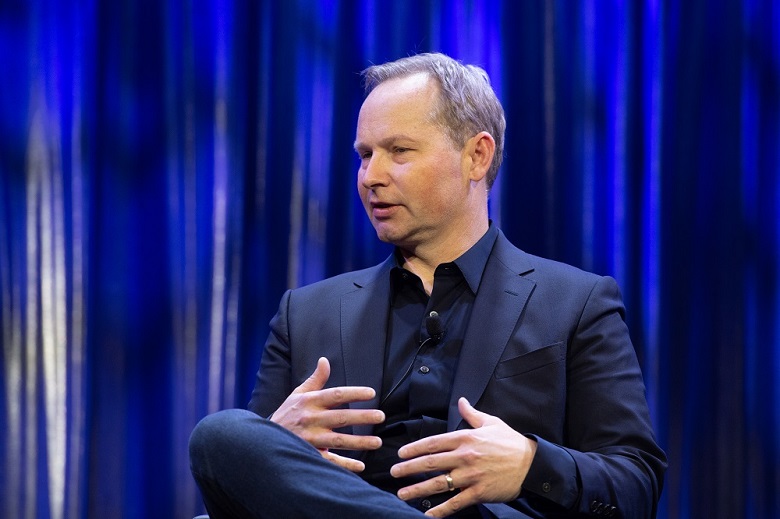 Mark Okerstrom, President & CEO of the Expedia Group
"There's always been these types of relationships that have occurred over time. We're very happy with our presence, particularly in the western markets. And we've got incredible products that we offer across all lines of business, including incredible review types."
The TripAdvisor business was founded in 2000 and was acquired by IAC in 2004. In 2005, IAC spun-off its portfolio of travel brands, including TripAdvisor, into a separate company under Expedia. But six years later, Expedia completed the spin-off of TripAdvisor as a public company.
Expedia's Local relevancy in China
Reflecting on the company's mantra of "stay locally relevant on a global basis", Mr. Okerstrom said that Expedia's China market strategy has generally been on inbound travel. The company wants to make sure that it gets appropriate hotel selection, larger selection products for people in other parts of Asia to visit China.
China's outbound tourism has been a focus for the company as well, added Mr. Okerstrom. Hotels.com, a brand under the Expedia Group, has been in the Chinese outbound market for years.
Unsurprisingly, both outbound and inbound tourism of China are the strategic focuses of the Trip.com Group as well. Coupled with the ambition to go global, the Chinese OTA wants to improve China's national image and promote inbound tourism for the world's second-largest economy.
For Mr. Okerstrom, staying locally relevant in China means building local products and getting the right hotel and airline assortment, as well as local content. But domestic travel is something the company is currently not looking at.
On the consumer-facing market, Expedia hasn't made a big noise since the sale of its stake in Chinese OTA firm eLong in 2015. But Julie Kyse, Vice President of Transport Partner Services and Air Optimization of Expedia Group, said that they are focusing on how to deliver value for their Chinese partners.
The Expedia Partner Solutions (formerly Expedia Affiliate Network) helps hotels distribute their inventory from both online and offline channels. The EPS unit is the world's largest hotel B2B business, and has been powering its partners in China for years.
For airline business, the Chinese market has also grown significantly over the years, according to Ms. Kyse. "Five years ago there were just 12 carriers in china that were flying internationally, and now there are 29."
"Our goal is to bring a lot of demand to China from overseas source markets. Inbound travel for China is what my team is focused on with our airline partners, both major Chinese airlines and their international counterparts. And helping them grow outside of their home market is something that's appealing to them."
Ms. Kyse said that there are tremendous opportunities for Chinese airlines to bring their brands to travelers coming to China from all over the world and they also work with them on a global basis. "We want to grow their business in all points of sale and create new demand that they might not be able to create on their own," she added.
Asia competition
While the global travel industry is facing constant volatility, the Asia Pacific market continues to look attractive with huge demand growth. Ms. Kyse said the company aims to "acquire all of the content that travelers in the region want to have, and make sure that the offerings are customized for the Asia Pacific customers".
The Expedia Group has invested heavily in Traveloka, a Southeast Asia unicorn. But it seems that the company is currently still taking that as an equity investment. The operational synergy for the two companies is yet to establish.
Ms. Kyse mentioned that currently Expedia isn't in any supply partnership with Traveloka, at least not from the group's air business.
Meanwhile, Trip.com, a major international brand under the Trip.com Group, is expanding aggressively in the Asian markets. Ms. Kyse admitted that there's still a lot of potentials for airlines to add more capacity in Asia, where a lot of OTA competitors want to be.
"We always look at competitors and want to do as well as we can against them. We wanna make sure that we're being out there where the consumers are, that we're providing with great services."
Silver lining in lodging
One of the few things that have been frequently talked about during this year's Expedia conference is the Marriot exclusive wholesale partnership. Zuhairah Washington, Senior Vice President & Strategic Accounts Global of Expedia Group Lodging Partner Services, said that the intent of this deal is simply to help a long-time partner to solve the wholesale pipe problem and simplify their onward distribution.
By having an exclusive relationship as the only source of Marriott's wholesale inventory, Expedia ensures the inventory is only distributed to trustworthy partners who are going to maintain pricing in a way that's consistent with the hotel group.
"We want to ensure that the travelers can have confidence in what they booked, knowing that they're getting the best pricing, without being undercut. Travelers should get exactly what they see in terms of content and pictures. Cleaning the wholesale channel is what we're working with them to deliver."
Ultimately what hotels want is more control, transparency and consistency in the products delivered to their customers, according to Ms. Washington.