ChinaTravelNews – Pinduoduo, a Chinese social e-commerce firm listed on NASDAQ, may have greater ambition than just selling goods online.
ChinaTravelNews has just learned that the Shanghai-based group-buying deals provider is now inviting travel merchants including group-tour operators, ground handlers, hotels, tourist attraction ticketing service, catering providers and short-haul tour operators to join its platform through an online chatting group on WeChat.
A source familiar with Pinduoduo told ChinaTravelNews that the company is currently open to partnerships with corporate merchants rather than individual sellers. Merchant partners of Pinduoduo are allowed to list three types of travel services: itinerary service, tourist attraction tickets/short-haul tours, and hotel/guest house/inn deals. They need to pay a deposit of RMB 10,000 (around USD 1,410) for entry, plus 0.6% of each transaction on the platform as payment fee.
The process of listing on the Pinduoduo platform, including merchant registration, flagship store decoration and product launch, is similar to that of listing on Alibaba's Fliggy platform.
Pinduoduo's mobile app currently does not have a travel service category. If you search for "travel" on the app, you'll be responded with results of travel accessories such as towel and pouch; but if you search for "Palace Museum", "Chimelong", "Disney" or "visa", you'll see results including attraction tickets, one-day tour, attraction ticket+hotel, visa application service of different countries and you may also follow the lead and visit the travel merchant's home page, though the information about the merchant's travel agency qualification is still missing on the page.
Like other Pinduoduo offerings, almost all travel products on the platform can be purchased through group-buying as well as through independent order.
It is worth noticing that there are some travel products on the platform such as hotel accommodation which are listed on the same store pages where tangible goods are also offered and users can't tell if these products are from individual or corporate sellers.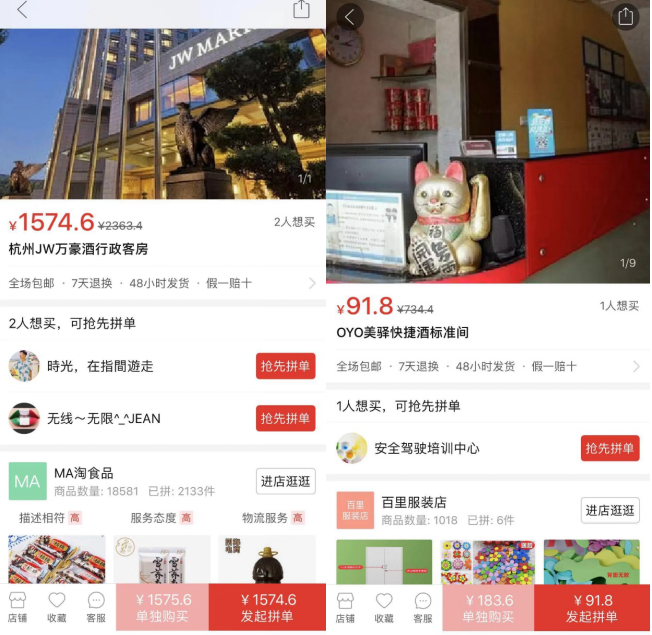 Pinduoduo may have been selling travel products quietly for some while. According to a report by state-run news portal China.com in October 2016, Pinduoduo announced at the time that it has partnered with Qunar to help the travel service aggregator launch a flagship store on its platform, offering all sorts of travel products including hotels, vacation itineraries, overseas Wi-Fi and visa application services.
It marked the first time that travel products and service were listed on a mobile social e-commerce platform in China at the time, but after just three years, not many traces of this cooperation can be found. The partnership between Pinduoduo and Qunar may prove a trial-and-error experiment.
An industry observer told ChinaTravelNews that the ticket-selling business is good for Pinduoduo as tourist attractions are very flexible to fluctuation in visitor number and they usually have fixed costs in operation, just adding another monetization channel for the e-commerce platform with great user traffic.
The company may not take travel as one of its strategic growth businesses. But it might still be adding more travel-related offerings on its platform to explore all potential for monetization of user traffic.
ChinaTravelNews learned that Pinduoduo is recruiting more talent for ground transportation and mobility service and may launch railway ticket or car-hailing services in the future.
Another industry observer told ChinaTravelNews that with its platform traffic and group-buying low prices, Pinduoduo might gain great traction in bookings if it does launch railway ticket service, but there's a clear constraint: "Pinduoduo as a publicly-traded company might think twice before embarking on a cash-bleeding adventure."