Has there ever been a better time to visit the UK? With a new Royal baby to add to the appeal that this country on the edge of Europe has, Chinese visitors appear not to be put off by the UK's ongoing Brexit challenges.
Airlines will operate 27% more seats this summer between China and the United Kingdom, meaning Chinese travelers have more choice than ever when traveling to the UK with over 90 flights a week. There are now 15 routes between the two countries, 13 of which operate into London. Manchester is also served directly from Beijing as is Edinburgh, the capital city of Scotland.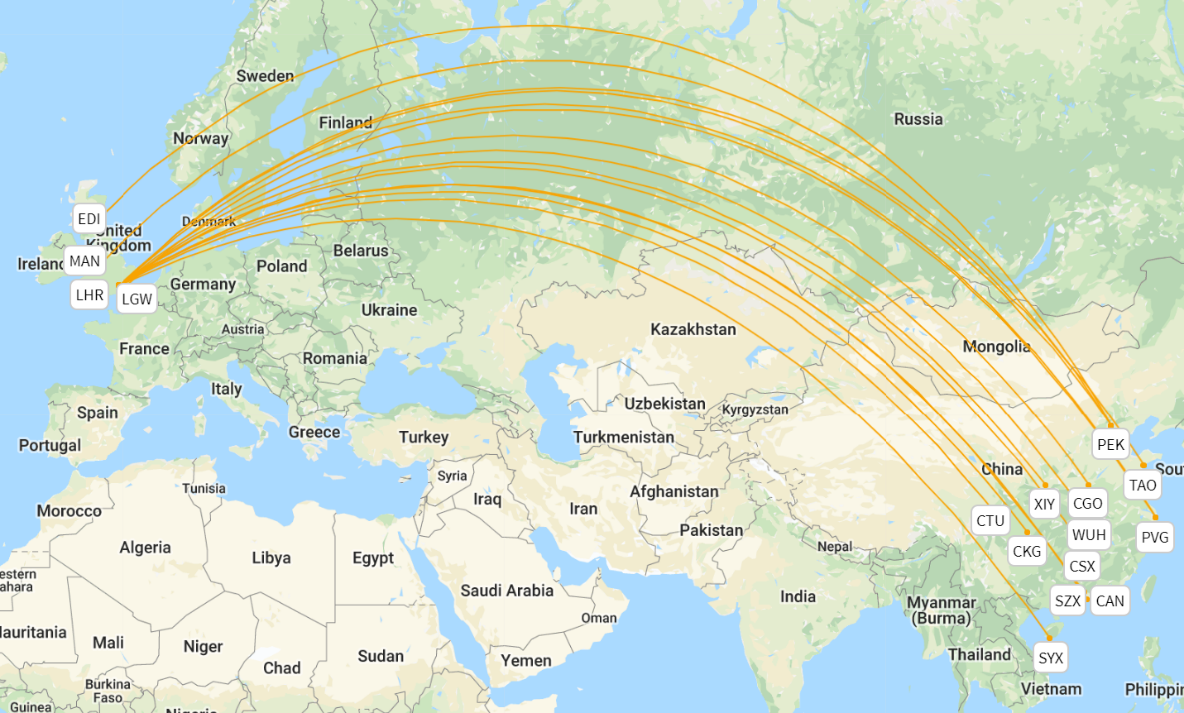 CHINA – UK ROUTES AUGUST 2019
Nearly three-quarters of all flights flying between China and the UK this summer will be operated by Chinese carriers. This has increased considerably from last summer where two-thirds were flown by Chinese carriers. Chinese carriers have added over 1,000 flights this summer compared to UK carriers which will operate slightly fewer than last summer.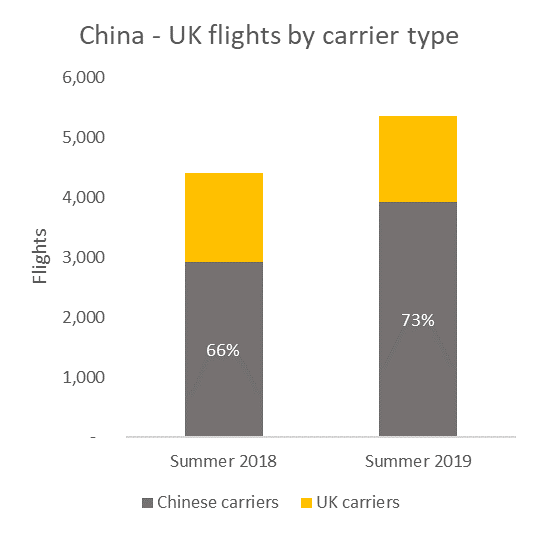 This dramatic increase is part of a concerted effort by Chinese carriers, keen to cement their position at the UK's primary hub, London Heathrow. Air China operates most flights and are growing fastest with 43% more flights this summer. They operate three times a day from Beijing and three flights a week from Chengdu which moved this summer from London Gatwick to Heathrow. From a passenger perspective, both London airports are easily accessible from the city, with journey times of between 15-30 minutes by train.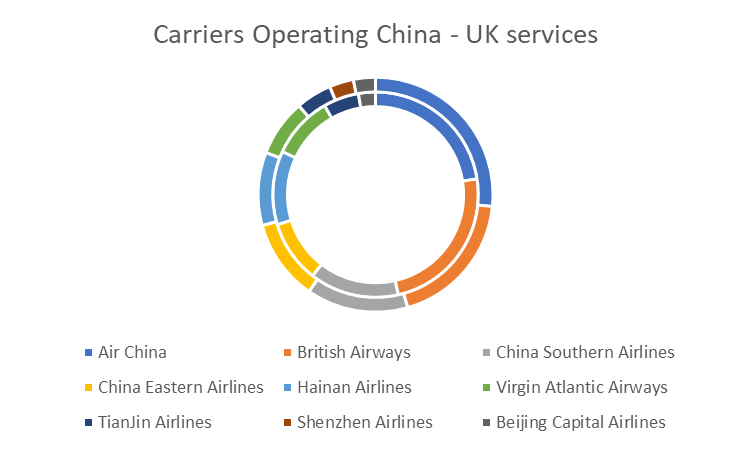 British Airways is the next biggest operating 20% of flights, and daily services to Beijing and Shanghai. Unlike the Chinese carriers, it's not in growth mode, with 3% fewer flights this summer.
China Southern is the third biggest and has added more seats as well as more flights this summer. Whilst its flagship Guangzhou-London route operated on a B787 last summer with 228 seats, this summer it's using a B787 Dreamliner with 295 seats. All great news for passengers, and along with the new twice-weekly services they are operating to Zhengzhou (CGO) and Sanya (SYX), China Southern will operate nearly 50% more seats this summer.
All of these new flights will undoubtedly go some way towards serving the large indirect market between China and the UK. In 2018, just over half of the 2 million passenger bookings captured by OAG's Traffic Analyser traveled indirectly to the UK, meaning they took a flight which stopped somewhere on the way. Beijing, Amsterdam, Hong Kong, and Dubai are all popular connecting points for passengers between the two countries.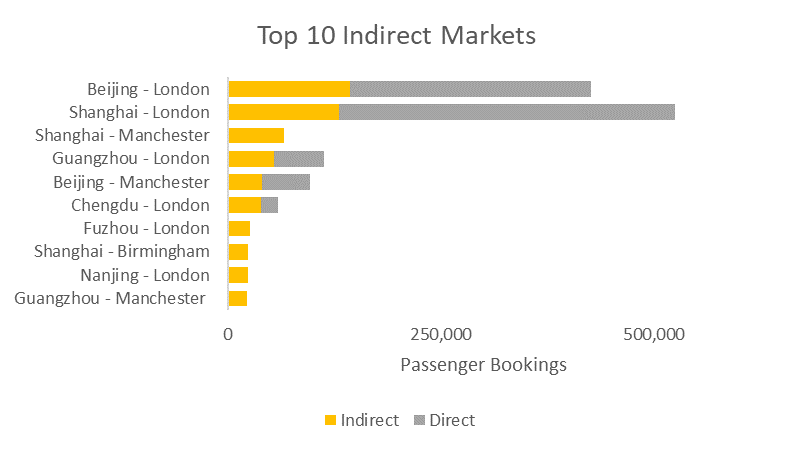 Looking at the Top 10 indirect markets shows that even with direct services between Beijing and London, and Shanghai and London, there is still more demand than supply. One-third of the passengers traveling between Beijing and London travel indirectly and between Shanghai and London a quarter travel indirectly. Whilst some passengers will choose to travel on an indirect routing because they want to travel with a particular airline, or are driven by price, there is still considerable opportunity for airlines in the China-UK market, particularly outside London.