ChinaTravelNews, Ritesh Gupta – Huazhu Group expects to sustain its robust growth momentum, which is underlined by the rapid expansion in the mid-scale and upscale hotel segments, in the coming quarters.
"We will maintain (our) high-level growth for the upscale (segment)," Jenny Zhang, Chief Executive Officer, Huazhu Group shared with ChinaTravelNews.com in an interview, post her presentation at the 2019 TravelDaily Conference in Shanghai.
In the upscale segment, the group has plans to open four Joya hotels in the central business districts of Shanghai, Hangzhou and Chengdu next year. The company has finalized properties in Shanghai, Beijing, Hangzhou and Chengdu for this category.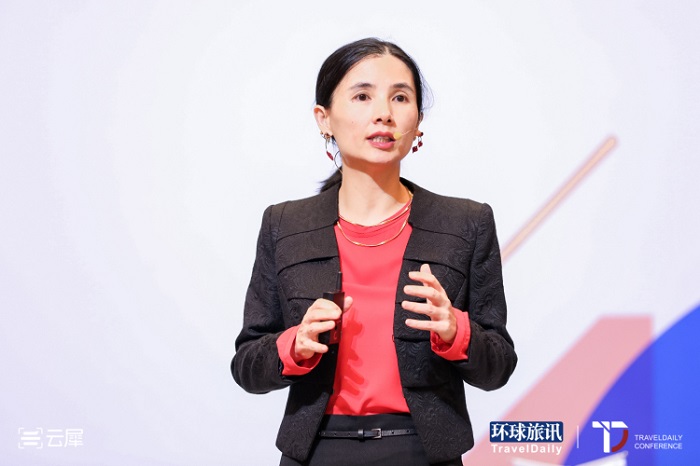 Jenny Zhang, Chief Executive Officer, Huazhu Group
By June this year, Huazhu had over 198,000 rooms from the mid-scale and upscale hotel categories, accounting for 43% of the total number of Huazhu rooms in operation. In contrast, at the end of the second quarter last year, these categories had close to 134,000 rooms in operation. The number of unopened rooms in the pipeline in these categories stood at 125,000 by June this year. In terms of revenue generation, contribution from these two categories rose by 27% to RMB 1.6 billion (up from 44% a year ago) at the end of second quarter. "(Since) the mid-scale and upscale categories now account such a significant portion of the total revenue (and with further expansion), we expect the contribution going up further (in the future)," said Jenny.
Huazhu had 4665 hotels under operation at the end of last quarter. Relatively weaker macro-economic environment meant that the hotel occupancy was at 87% in Q2, down by three percentage points when compared with the same period last year.
Huazhu is gearing up to launch two new brands - Madison and Grand Madison - to convert the existing four and five-star hotels in September this year. In terms of the number of brands under operation (18 or so), Jenny said the plan is not to introduce anymore. "Plans for Madison are already underway. But beyond it nothing in the pipeline," she said. Huazhu has already signed a pipeline of 12 hotels under Madison and Grand Madison.
The group's enriched mid and Upscale hotel brand portfolio with attractive hotel operating models continue to attract potential franchisees into Huazhu hotel network.
Using technology to advantage
The company recently introduced its HanTing 3.0 intelligent hotel, and stressed on its new design and tech-driven services. In addition to a robot delivering food orders, the group believes the introduction of Hello Huazhu AI system (equipped with a voice-activated two-way communication), too, is going to propel the experience.
By meeting guests' needs across their journey across all the three phases (reservation, stay and check-out) via their own app, Huazhu believes the stickiness of their app own would go up. The group's mobile app has over 36 million downloads. Already, 84% of room nights were sold through Huazhu's direct channels.
Technology is not only improving upon the guest experience, but also helping the group to cut down on expenditure. The group is facilitating 10-second speedy check-in and automatic check out, worked on facial recognition and direct link to the Public Security Bureau database.