Australia has never been a more popular destination for Chinese holiday makers. January 2019 marked the busiest 12-month period ever for visits to Australia with a total of 1.46 million arrivals from China. For more than half of visitors - 54% - Australia is about sightseeing and enjoying what the country has to offer holidaymakers but there are also sizeable numbers visiting to take up educational opportunities (18%) and to visit friends and family (18%). With over 1.2 million people who live in Australia having Chinese heritage, of which two-fifths were born in China, it is no wonder the connections are strong and there are plenty of friends and family to visit.
The result has been that China is one of the most important markets for Australia's tourism industry, and this in a country where tourism itself is one of the most important industries. Spending by Chinese visitors averages AUD9,000, which is 75% more than the average spending, and the average Chinese visitor stays for 43 nights due to the high proportion of stays with friends and family and extended educational visits.
It's no wonder than that the Australian authorities have been concerned at what appears to be a slowing in the growth of visitors from the Mainland and at the start of the year gave a AUD 11.5 billion boost to the Approved Destination Scheme (ADS) which has been credited with ensuring Chinese visitors to take a tour get the highest possible quality tourism experience.
Concerns aside, traffic flows continue to be substantial. The recent boom has been fuelled in part by a combination of rapid Chinese airline overseas network expansion and an increase in permitted levels of air service between the two countries. The legacy of the past few years is unprecedented access and choice for Chinese visitors wishing to visit Australia.
Summer capacity – plenty of options
The Australian winter is the low season for air services between China and Australia and scheduled capacity is around half the level of the peak months of December, January and February. While current capacity is somewhat below the level of this time last year, the double-digit growth experienced in this market in 2018 was unlikely to be sustainable.
In August 2019 there are a total of 36 routes being operated between the two countries. This is two less than in August 2018 as five routes have been dropped and three added as the airlines experiment with new routings and markets. Across the month, travellers have a choice of 1,277 direct flights with aircraft averaging 262 seats per aircraft. That's a little under 11,000 seats each way every day.
Explosion of direct air services from China
Not surprisingly, the largest routes are between China's major cities – Shanghai, Guangzhou and Beijing – to Sydney and Melbourne. The top five routes contribute over half of all capacity.
However, last year saw an explosion of direct services from secondary Chinese cities. In the 12 months to August 2017 almost three quarters of all capacity operated from the three largest Chinese airports and in the following months capacity from these same airports grew by 5%. In contrast, capacity from other airports almost doubled in the following 12 months. Today, there are a further 14 airports in China which between them handle over a third of the available scheduled airline capacity between China and Australia. Over half of all Chinese cities with a population of over 3 million now have a direct air service to Australia and some of the rest are close enough to cities with services that they can be used, such as, such as residents of Suzhou which access the Shanghai flights and residents of Dongguan which can access the Guangzhou and Shenzhen flights.
Sydney is the main draw
While the services between cities such as Shenzhen and Darwin, and those between Chongqing and Melbourne are typical of the newer connections, there is no doubt that Sydney is the Australian focus of travel and focus of air services. There are scheduled services between Sydney and 14 airports in China. Almost half of all airline seats operated are on planes flying into Sydney; nearly half of all the routes operated are also to Sydney.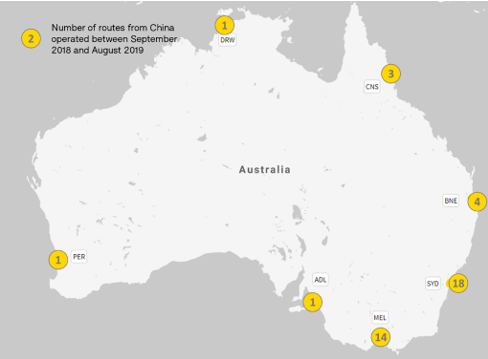 Research by Tourism Australia shows that the Chinese love the combination of nature and wildlife, aquatic and coastal areas as well as food and wine that are available in Australia. It's no wonder that Australia remains at the top of the overseas travel wishlist.