The Chinese hotel industry fluctuates with the general economy and as the years of hyper growth make way to more moderate, but still healthy, GDP growth, the hotel industry feels the impact.
For the first time since 2016, STR data shows mainland China supply growth outpacing demand growth, leading to occupancy declines. Annualized occupancy growth has now slowed for four of the five months through May, which is remarkable given the healthy demand increases of more than 3% this year, 4.6% in 2018 and 7.9% on 2017. At the same time, supply growth, which topped 5% in 2014 and 2015, slowed somewhat to 3.9% in May. (STR is the parent company of Hotel News Now.)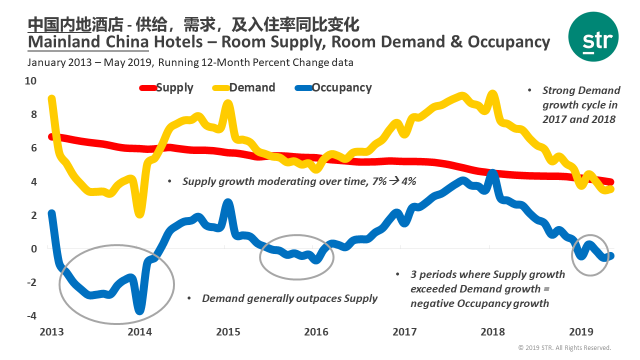 This slowing in new supply was not enough to keep occupancy growth positive, and it will be imperative for developers to watch the general economic trends to make sure their new products meet customer demand. Currently, the lack of occupancy growth coupled with new supply has negative implications for average daily rate increases. Through May, ADR decreased 0.1% to 522 Chinese yuan ($76).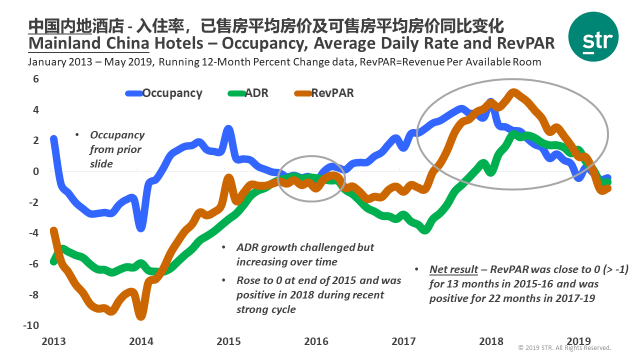 The declines in occupancy and lack of ADR growth then led to RevPAR deterioration. The above chart shows, however, that the RevPAR increases of the years 2017 and 2018 seem to have been the exception as pricing power lagged and RevPAR deteriorated in consecutive years starting in 2013.
The data shows clearly that Chinese hotel developers had a strong appetite for higher-end hotels, and combined supply growth for these classes was well above the national average, topping 7% in the years prior to 2017.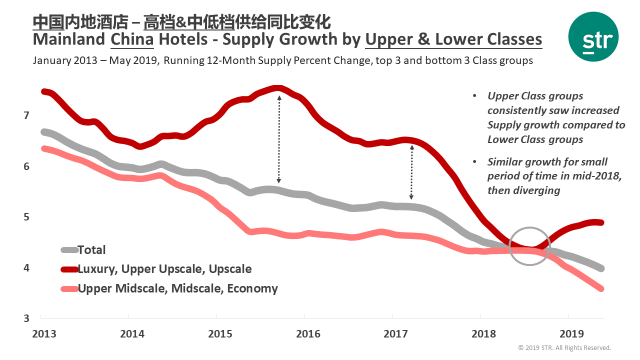 Lower-end hotel growth was steady as well, but the overall growth rates were at or below 5% after 2014. In the most recent past, starting in late 2018, a trend seems to emerge where developers once again prefer to build full-service hotels. It is too early to say with certainty if this is a long-run trend, but our data seems to point at a clear demarcation between the two hotel types.
Read Original Article