ChinaTravelNews, Jerry Tang - Passenger train service started in the 19th century, decades earlier than the world's first commercial flight. But the airline industry has leapfrogged the rail travel sector in digital transformation today. Traditional rail operators worldwide are looking to catch up with new technology trends and find more ways to stay connected in the travel space.
China Railway looks to Amadeus to speed along its digital journey. The operator of the world's largest high-speed rail network and the Spain-based travel distribution giant formed a partnership in January to make available Chinese rail offerings to travel agencies and travelers from outside of mainland China. Most local booking platforms in China acquire railway inventory through unauthorized web crawling.
"Through our expansive global travel partner channels, we assist rail operators to go global efficiently and effectively," said Ivan Kladnig, Senior Sales and Account Manager, APAC, Amadeus. China Railway's offers are presented in different languages on the Amadeus Selling Platform, where travel agencies can book and refund the railway tickets.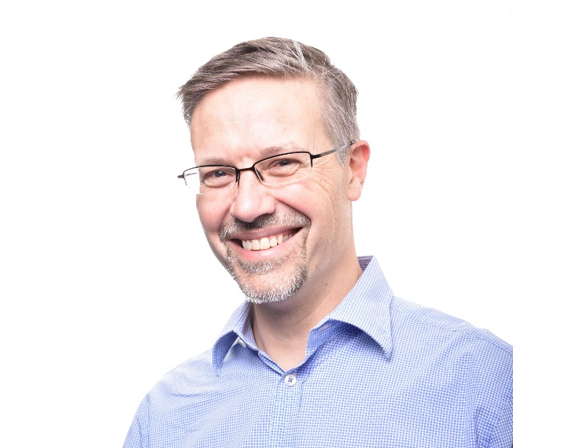 Ivan Kladnig, Senior Sales and Account Manager, APAC, Amadeus
As the world's biggest global distribution system (GDS), Amadeus claimed 43.9% share of the travel agency air booking sector as of the first quarter of 2019. Beyond airline distribution, Amadeus also has a diverse business network which includes services for airlines, airports, hotels, railways, travel agencies, travel management companies and more.
Amadeus added the rail division in 2007, according to a report by RailProfessional.com. It now has more than 90 railway operators as its customers.
Solutions and values
To connect rail operators and travel agencies, Amadeus has rolled out a set of flexible and modular IT solutions, collectively known as RAILyourWAY, which offers the Online Booking Tool, Rail Display, Air-Rail Display and Web Services solutions. They serve travel agencies, and give railways a range of functions such as Distribution Channels, Reservation & Ticketing, Offer & Pricing and Inventory & Seats.
With these solutions, railways can update part or all of their inventory, pricing or reservation systems, sell other railway services from their own websites and connect to major travel websites or traditional travel agencies. The architecture can "adapt to railway's needs and support merchandising", according to Amadeus.
When asked about the company's pricing model behind the partnership with China Railway, Mr. Kladnig said "Amadeus maintains very flexible and competitive commercial models", and did not reveal whether Amadeus is charging a segment-based transaction fee on each booking.
In 2017, Amadeus started a new merchant model, through which the company acts as a merchant for rail operators. It was intended to simplify contractual agreements, financial flows and invoicing with travel agencies.
The company said this will reduce costs for railways as Amadeus takes care of all setup, billing, settlement activities, and assumes financial and legal risks of selling via travel agencies. It also takes care of promoting the railways' offers to travel agencies.
Integrated for better cross-selling
According to data from national transport authorities, China reported 548.05 million domestic air passengers and 3,374.95 million rail passengers in 2018. High-speed railway in the country has become particularly popular among both domestic and international travelers, with 2,005 million passenger throughput last year.
The relationship between rail travel and air travel is competitive as well as complementary. For short-haul and mid-range journeys, travelers can choose between flights and trains, based on their personal preferences or external factors. But for long-distance travel, for instance, a European tourist who arrives in China after an intercontinental flight might find it more appealing to travel between different local cities by train to avoid flight delays which are common in the area.
To further involve railways in the overall travel and transport industry, Amadeus offers rail operators its Air-Rail Display function, which enables comparison of available rail and air inventory and fares for selected routes. The rail offers are integrated into the air display on the Amadeus Selling Platform, so travel agents can compare rail and air, or combine train travel with a flight as part of a multimodal journey.
Other than connecting railways with airlines, Amadeus is tapping more cross-selling potential with the company's value-added services.
"Rail operators provide their content to Amadeus, enable their passengers to incorporate their rail services into a single itinerary/PNR," Mr. Kladnig said. The company can then, through its partnerships with online/offline agencies, provide travelers the ability to easily book train travel along with flights and hotel accommodation in a localized manner and in a single itinerary. Amadeus has worked with travel booking site lastminute.com to help European high-speed railway service Eurostar on online rail sales.
Competition and market prospects
Amadeus has built its rail business for more than 10 years, but the company did not disclose the revenue of its rail business. For fiscal year 2018, rail bookings declined and the company attributed that mostly to "strikes impacting a key customer", as stated in its annual report. Non-air bookings which include hotel, rail and others dropped by 1.5% to 63 million last year, while air bookings stayed high at 580 million. For the first quarter of 2019, non-air bookings rose by 0.6% with "healthy growth" in hotel bookings, "offset by slow growth in rail bookings".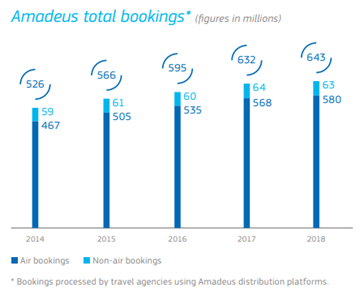 Nonetheless, rail distribution is still a strategically important part for the travel IT powerhouse in the global landscape. It is a sector that all travel industry giants want to cover in order to build a full-service travel platform.
In 2017, online travel group Expedia acquired London-based train-service distributor SilverRail for USD 148 million to extend its ground transport offerings. Berlin-based Omio (formerly GoEuro), a multi-mode travel search aggregator that compares and combines trains, buses and flights for European destinations, teamed up with metasearch engine Qunar in 2017 to help Chinese outbound travelers take less-visited routes in Europe.
For now, the rail industry is still struggling to go digital and be tech-savvy, with Amadeus plays a role in connecting rail operators and consumer-facing travel sellers.
But will internet giants like Google or Amazon cut in one day and link consumers directly with rail operators? There is still no definitive answer to that question. Mr. Kladnig is bullish about the company's rail distribution business.
"Any additional competition certainly validates our belief that rail is a thriving industry and we stand by our rail strategy and industry-leading Amadeus Rail solutions. Amadeus has partnerships with nearly all of the major players in the rail market and we will continue to deliver successful outcomes in each of those partnerships," he said.
In an interview with state-owned media China Daily two years ago, Amadeus shared its belief that as China's middle class continues to grow, there would present tremendous untapped market potential for rail travel in China and the rest of Asia Pacific.
But in its distribution deal with China Railway, the company is mostly targeting cross-border travelers who need train service in mainland China. The market volume for that depends largely on the country's inbound tourist arrivals, which grew by only 8.6% in 10 years, from 130.03 million in 2008 to 141.20 million in 2018.