ChinaTravelNews, Ritesh Gupta - Proficiency of a superapp, as exemplified by Meituan, and its impact on the travel e-commerce has become so popular that there is a frenzy in the global e-commerce and technology ecosystem to emulate its success.
A superapp aggregates many different services into one touchpoint and the focus is on encompassing all daily transactional needs of a consumer, be it for food, transportation etc., using their payment details that are filed. This way they end up being high-frequency apps, and by being more utilitarian, they also find their way into a low-frequency buy like hotel accommodation or flights.
Meituan has shown tremendous growth in its hotel booking business, one that is being propelled by Food + Platform strategy, according to Qing Guo, VP of Meituan, GM of Meituan Hotel Booking Business, and GM of Meituan Ticket Booking and Travel Business.
"We help people eat better, live better," said Guo, during his presentation on the first day of the ITB China Conference being held in Shanghai.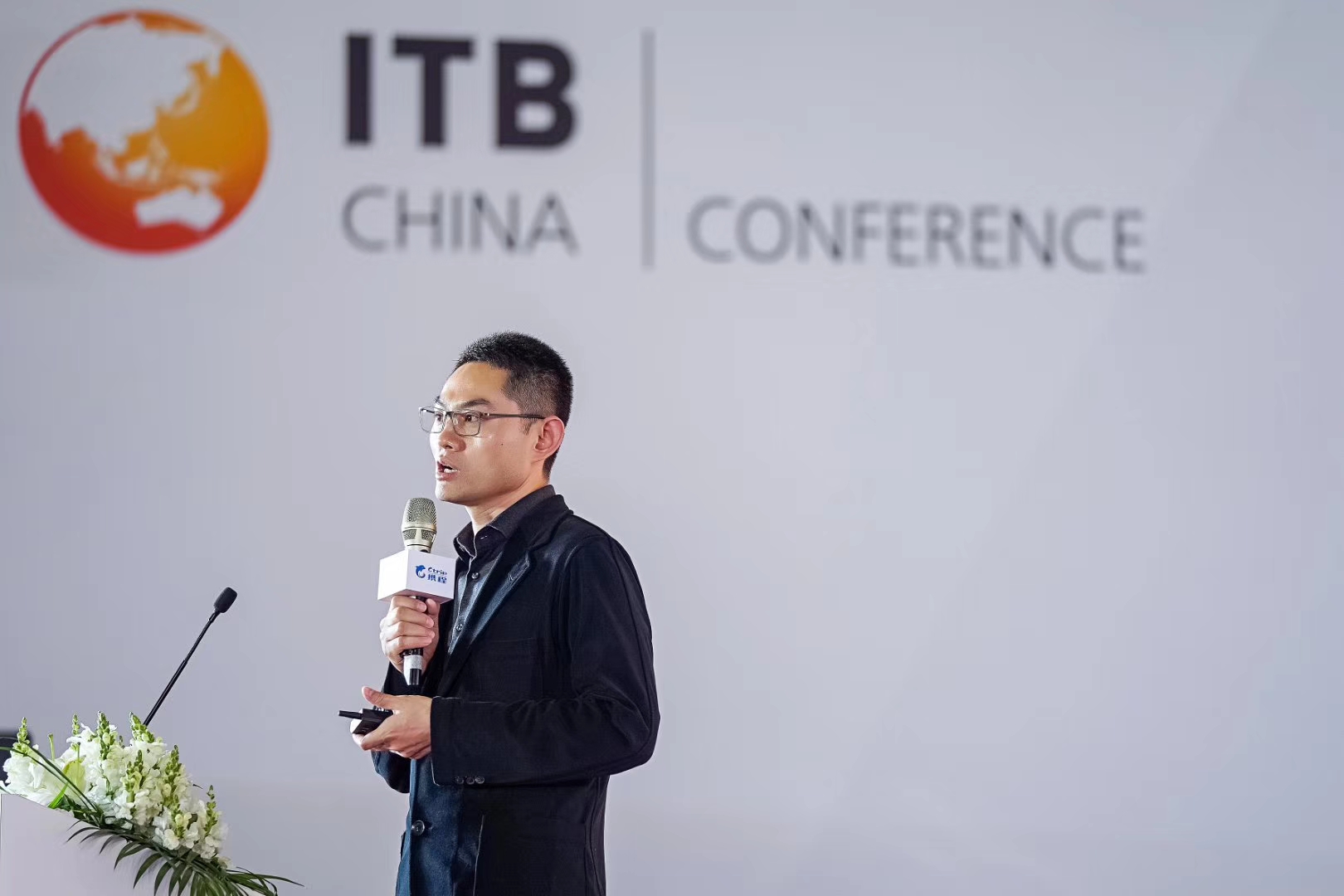 Qing Guo was speaking on ITB China
While food is the core business, Meituan is capitalizing on the same to step up its share of hotel bookings from its last year's base of 400 million annual transaction users. There were 206 million transacting users at the end of 2015. The average number of transactions for take-away catering per day stood at 17.5 million last year.
The company had over 2 million domestic hotel room nights booked on the last day of 2018, and in total 280 million last year.
Transportation, food/ delivery, entertainment etc. are among frequent activities, and the objective is to cross-sell all of these to shape up more travel-oriented transactions.
According to the company, over 80% of its new hotel-booking transactions were converted from transacting users of its core categories of food delivery and in-store dining in 2017. "We intend to improve the traffic for low frequency accommodation business by cross-selling of all categories in Meituan Dianping," said Guo. The driving factor from a user's perspective is constant study of their behavior within the superapp, and then ensuring that the user returns to transact more. By counting on the data generated by users of multi-functional apps, Meituan is only becoming a stronger ally in the daily lives of its users.
"We meet the content needs of users by leveraging big data of the platform," said Guo.
As an example of tracking its users' behavior, the company recently shared that 32% of leisure travellers enjoyed hotel cuisines and 17% had entertainment activities in hotels.
In all, the company has over 5.8 million active merchants on its platform.
A vital point of entry for outbound travel
In the travel sector, Meituan garnered the attention of Booking Holdings (the US-based group invested $450 million in 2017).
A senior official from Booking recently told ChinaTravelNews.com, "Superapp business/ "platformization" is enabling a consumer to do multiple tasks, including shopping for various categories from one app. And then assess the room for growth for outbound travel from China, the number of citizens that haven't had a passport yet!" Till last year it was being mentioned that only 10% own a passport and China's new passport issuance maintained annual growth of approximately 20%. "So it's a massive opportunity. Such massive audience is going to travel for the first time and they are going to carry these indigenous (superapp) apps with them. They are not going to download a new app to order food or make a restaurant reservation. Not happening (downloading a new app) that easily just for the sake of few days of travel. They will stick to their local, preferred apps, for the simplicity (language and affiliation with the app), convenience and security, especially considering options such as payments. So they act as a vital entry point of travel (for us)."
"Booking's investments in China are for various reasons - we believe that those investments are going to drive the market (booking trends) and garner marketshare. So we intend to be a part of it (those intermediaries that are driving bookings). Plus they (these local companies such as Ctrip, Meituan and Didi) also drive consumer behaviour in other markets. The third factor is we want to learn from them, how do they run their respective businesses and how we can get better at the same time," mentioned the executive. "Another critical aspect how these companies are looking not just at typical travel-related selling like air, hotel etc. such as in-destination activity, but even beyond travel - tickets, entertainment etc. Categories that aren't associated with travel, but these companies are monetizing traffic by targeting ancillary products that are beyond travel."
Riding the mobile commerce wave
The blend of enabling users to shop via mobile devices, and further improving the utility of apps via contextual content/ offers only means that the digital commerce is growing its pie.
In the travel sector, Ctrip, too, garners over 80% of its transactions via mobile.
Some important statistics from ChinaInternetWatch.com
"China's 3rd party mobile payment grew by 7.78% to US$7 trillion in the last quarter of 2018. Alipay (53.78%) and Tencent Finance (38.87%) combined had a total of 92.65% market share.
"China's online accommodation booking market grew by 18.5% to US$7.01 billion in Q4 2018. The top three players combined accounted for 73.2% of the total. Ctrip topped with a share of 46.4%, followed by Meituan Dianping (14.3%) and Qunar (12.5%).