Management changes at the top of two of China's largest airlines are leading some to speculate if there is some sort of shake-up due. New leaders have been appointed at both China Eastern and China Southern and one possible outcome being discussed is whether there could be a merger between these two major airlines in the coming year. The timing, close to when the new Daxing Airport at Beijing is due to open towards the end of the year, may be significant as the creation of a large airline to rival Air China might make sense.
The new airport at Daxing will give the city much needed additional capacity but for the airlines being asked to move from their current airport there is a lot of work to be done,and risks associated with a move. To move the operations of both China Eastern and China Southern to a brand new airport some distance from the city centre, and expect loyal passengers to travel somewhere new, is likely to affect their operational performance. A logical way to reduce the risk for the major airlines being asked to move, whilealso creating the critical mass needed to ensure that the new airport thrives, is to create a deeper partnership between the airlines. Already partners though the SkyTeam Alliance, a full merger between China Eastern and China Southern could be a viable next step.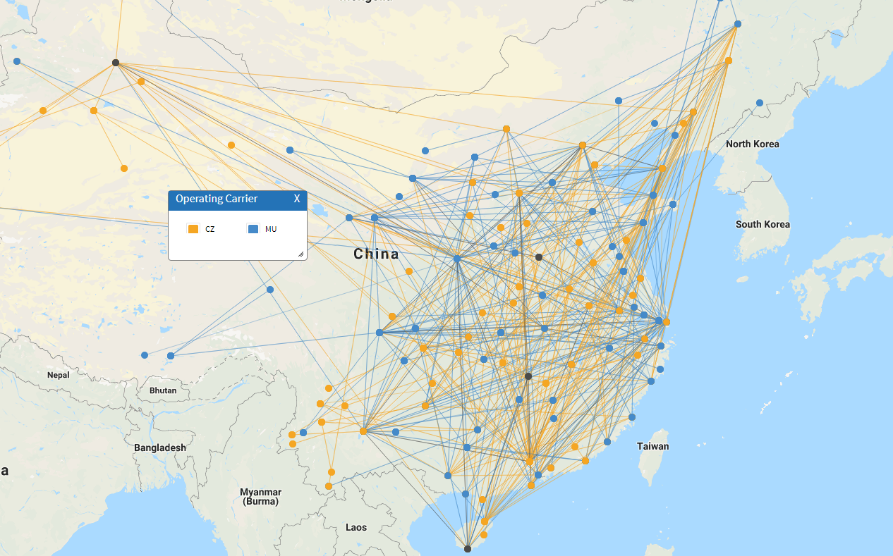 Domestic Network for a Merged China Eastern and China Southern
One of the benefits that this could deliver would be some real hub operations in China. Until now, while there have been some very large airports, the extent of airline hubbing as seen elsewhere in the world, has been somewhat limited. China Southern has had some success creating a hub at Guangzhou which funnels passengers between Europe and Australia. There are plenty of Chinese travellers who do make connections at the big three airports but that seems more to do with the sheer size of the airports and the number of destinations served, than the creation of waves of inbound flights designed to meet waves of outbound flights.
With Chinese authorities keen to develop the scale of international-to-international hub activity at Beijing, consolidation of two airlines at the new airport would make great sense and create some "joined up" network thinking. Since China has applied a "one route – one airline" policy towards international services until very recently there is little or no overlap between the two carriers on their international networks, at least in terms of destinations served, although they both fly to many of the same countries and therefore have experience of operating in the same places.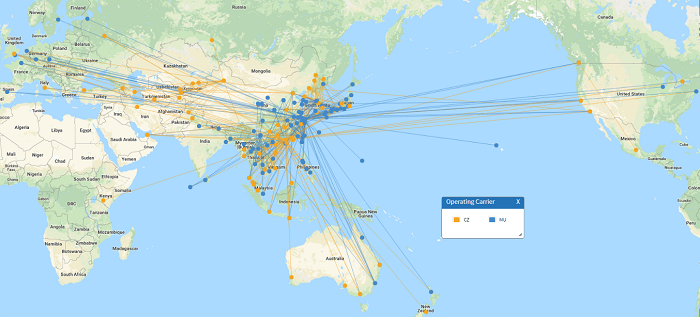 International Network for a Merged China Eastern and China Southern
So what might a combined China Eastern and China Southern look like in terms of network, scale and size?
First, it would mean that the world's newest airport would also be home to the largest airline in the world. Let's call it China South-East Airlines.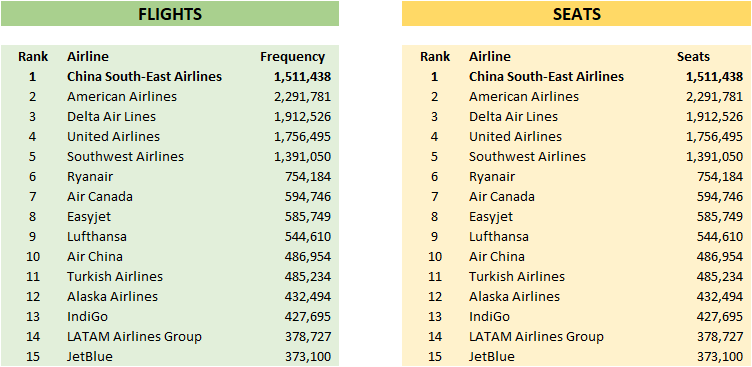 Source: OAG Schedules Data 2018 Year
The new airline would immediately become the largest scheduled airline globally based on capacity provided. American Airlines would move down to second place and Delta Air Lines to third place. Air China would rank 10th in the world, but would be only a third of the size of its larger rival, if measured by the number of flights.
The combined airline network would cover 419 international routes placing the carrier ahead of Turkish Airlines which has for many years heavily promoted their network strength and the scale of its international network.
The recent withdrawal of China Southern from the SkyTeam alliance leaves a question-mark about where future partnerships may lie for a merged China Eastern and China Southern entity. Certainly, they could review the options available but as the largest airline in the world partnerships may not be the priority as they are for some airlines.
None of this speculation – and that is all it is – is not to say that consolidation between two large airlines is easy. The task is both challenging and daunting with numerous operational and commercial issues to be considered. The US, which has been the world's largest aviation market until now, has witnessed plenty of mergers between airlines and some are still working through the challenges. However, a chance to create a new world leading carrier from a new world class airport with a clear strategic focus on international connectivity may just be too attractive an opportunity to be ignored.