Home
>
>
Thailand drops as country Chinese feel most welcomed
Thailand drops as country Chinese feel most welcomed
Thailand was down five notches from the third rank in 2017 this year on the destinations Chinese visited in the past 12 months, which showed Japan underlined its position as their top destination.
Thailand and Japan have swapped their top positions as the countries Chinese travellers felt comfortable visiting in the latest survey by Hotels.com.
The survey released on Monday even showed Thailand had dropped in the top 10 destinations visited by the Chinese in the last 12 months.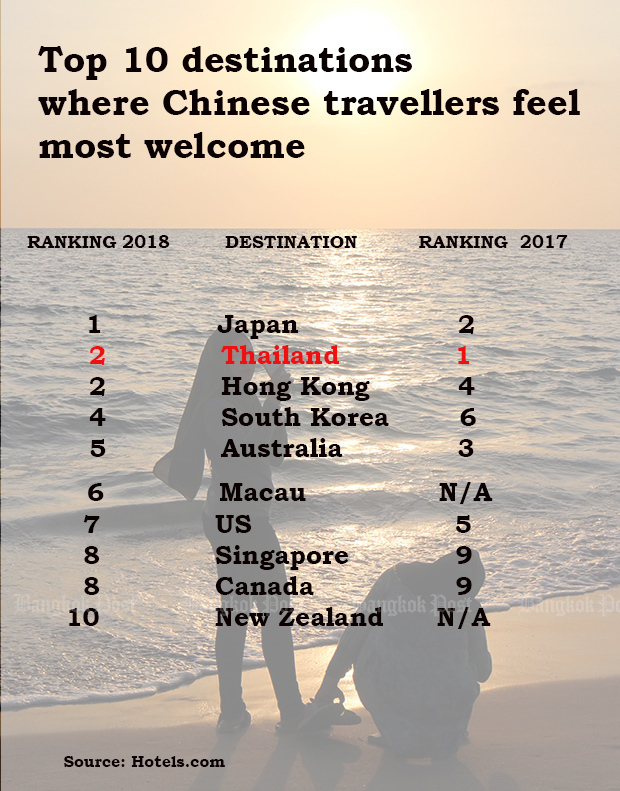 The kingdom was second behind Japan when the Chinese were asked about countries they felt most welcomed this year. Last year, Thailand topped the category, with Japan coming second.
"Widespread acceptance of Chinese mobile wallets, sufficient translations/signage and ease of information" were the factors that kept Thailand in the second place, the booking website said.
Tourists from China topped foreigners visiting the country. About 6 million came to Thailand in the first half of this year. The ministry was confident that the target for 11 million Chinese would be within reach this year, despite the deaths at sea in Phuket.
Read Original Article