ChinaTravelNews, Jerry Tang - Artificial intelligence (AI) and big data already appear so yesterday, even in the context of entrepreneurship, but data tagging and content allocation are just starting to take off, as smart technologies continue to emerge and redefine the competitive landscape.
After around two years of work on its AI chatbot project M, Facebook announced shutting down the text-based virtual assistant, effective January 19. Some may argue that text-based automated services are now outdated and should give way to new solutions like Amazon's voice-activated device Echo. But it may not be the case, at least not for the travel sector in China's fast growing and shifting mobile world.
TravelFlan, a Hong Kong-based chatbot service startup focusing on smart travel recommendation, is currently expanding its data-enabled service from Facebook's Messenger to China's popular social platform WeChat. The company was founded in 2015 and announced last August that it has raised USD 3 million in a funding round.
"We believe that future messaging platforms like WeChat will have more functions and continue to outsmart traditional website interactions which have many limitations," said Mr. Abel Zhao, co-founder and CEO of TravelFlan, who previously held positions as regional head of Amadeus and Travelport Asia, and Global Sales & Strategy of Air Canada.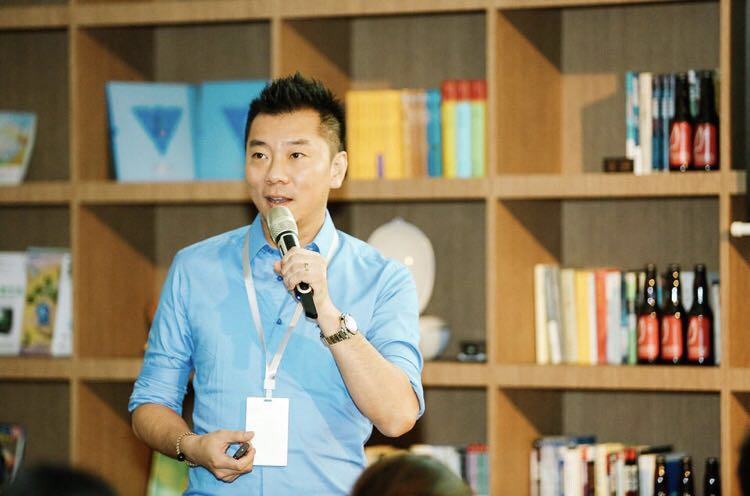 Mr. Abel Zhao, co-founder and CEO of TravelFlan
Mr. Zhao cites an example of such limitations: a search for "hotels in Japan" on a traditional travel-booking website will lead to hundreds of hotel listings on the result page, but the website doesn't really know what you need. Chatbot-integrated conversations, on the other hand, can collect more data to analyze user needs: if a chatbot finds out the user is traveling with elderly and juvenile family members, the recommended choices will be narrowed to only 4-5 listings that are more relevant to the user.
How does this chatbot service work at the back-end?
When a customer sends a request to the TravelFlan chatbot, the information goes to the company's database and is first processed by AI through tagging (keyword matching).
If up to 90% of the tagging is matched on TravelFlan's content database, the AI will automatically assign an answer with relevant content to the user within 15-20 seconds. But if less than 90% of the tagging is available on the content base, a human operator will then step in to review the user request and reply in 120-180 seconds, according to Mr. Zhao.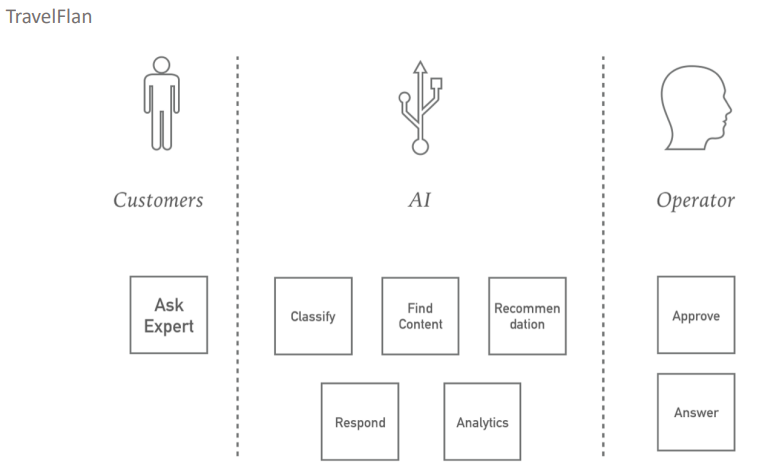 Chatbots from Facebook to WeChat
Before entering the mainland market in 2017, TravelFlan started its chatbot on Facebook's Messenger platform in 2016. At the time, some 65% of its users were from Hong Kong and Macao, and 30% were from Taiwan.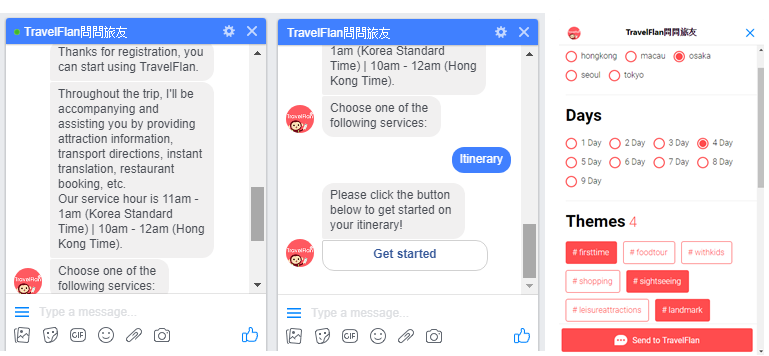 TravelFlan's chatbot on Messenger
TravelFlan had around 100,000 users monthly and each user typically asks 5-6 questions on Messenger. The company provides its users with local support including hotel and restaurant bookings, transport guide and instant translation services.
Mr. Zhao said: "The most frequently asked question handled by the chatbot was about itineraries, which comprises about 72% of the users, followed by catering options (70%) and local transfer (60%). The TravelFlan users also show interest in joining one-day or half-day group tours and they tend to ask the chatbot for directions when they are traveling on their own at destinations." Booking conversion rate was less than 2% in 2016, but went up to more than 5% in 2017, according to Mr. Zhao.
Transitioning from Facebook's Messenger platform to Tencent's WeChat platform, TravelFlan sees the differences between the two environments:
Mr. Zhao said that the Messenger back-end has well-established support for chatbot developers and leads users from their personal Facebook accounts to public Pages and then to Messenger dialogue boxes. WeChat, however, is mainly a chat app integrating diversified features such as timeline-like Moment and innovative Mini Program, and has limited support for AI implementation for now. As well, user behaviors and customer needs are not the same on the two platforms.
To bridge the gap between these differences, the company introduces local and experienced talent to their chatbot development on WeChat and redesigns content sourcing for mainland Chinese consumers.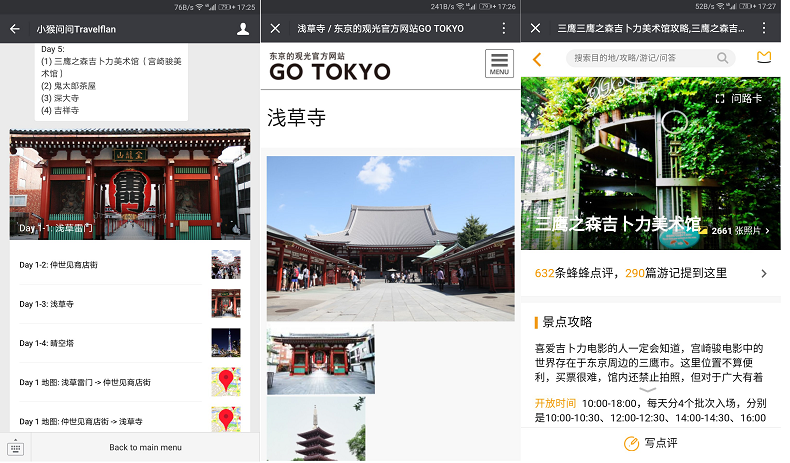 TravelFlan's chatbot on WeChat
For its inventories, the company has been focusing on popular destinations such as Japan, South Korea, Hong Kong, Macao and Taiwan, and is now extending to Thailand as its first stop in Southeast Asia. It is also eyeing destinations in Australia, and possibly in North America too by the end of 2018.
The company currently has about 15,000 travel related recommendations such as hotels, restaurants and stores. It selects local restaurants and major attractions by leveraging AI and its very own data processing and analyzing (crawling and tagging) technologies on open resources or through third-party partnerships. After entering the mainland Chinese market, its goal is to increase the supplier number to 100,000 by the end of the year. The company is optimistic that with more personalized and unique offerings to mainland Chinese consumers, conversion will increase to 8%-10% in 2018.
Monetization for a startup
As for monetization, Mr. Zhao said that TravelFlan has about 67%-70% of its revenue from commission on its platform in 2017. The company plans to roll out paid memberships with annual fees in 2018, through which members may get benefits including free admission tickets or special deals for local activities.
Advertising service for merchant partners contributed roughly 10% of the company's revenue last year, and 10% was from user tipping (satisfied customers can click on a link to give a tip). The user tipping idea comes at a particularly convenient time when WeChat's tipping feature is recently on the table with iPhone maker Apple, prior to an earlier disagreement between the two giants on different definitions of in-app tipping/purchase.
In addition to the company's reach to consumers, Mr. Zhao also indicated that TravelFlan can plant its chatbot solution in the app or website of partner businesses, so that the partners can improve their online customer support. The company is in discussion with some leading airlines in Greater China and surrounding area to explore opportunities in offering TravelFlan's one-stop chatbot solution. It is also finalizing a partnership with HNA Group's subsidiary Hong Kong Airlines to service the carrier's Fortune Wings Club loyalty program.
"What we bring to the airlines is not only data-driven chatbot technology and travel information, but also better utilization of the carrier's own destination resources," said Mr. Zhao.
For example, a passenger who wants to fly from Hong Kong to Tokyo for a seven-day vacation books a flight ticket on the airlines' website, and the TravelFlan widget on the site will then design a seven-day itinerary for the consumer, giving detailed tips about what to do at the destination and recommending the hotel and other local offerings that the airline offers in the city.
Facing similar difficulties as content aggregators (instead of suppliers), particularly in the Chinese markets, TravelFlan's direct monetization through consumers could be an uphill battle.
On the flip side, offering B2B solutions may have greater potential if the company continues to grow and refine its data intelligence. However, the sector seems dominated by internet giants like Google, Amazon and Baidu, which have huge amount of consumer data. It may be better for the firm to focus on re-organizing the fragmented resources in major destinations. The business-solution approach represents not just a future direction for the company, but also the operational benefit of gaining more consumer data to sharpen the chatbot's artificial insights.
After initiating a new revenue management model last July, TravelFlan recorded HKD 80,000 (USD 10,234) sales revenue last August. By December, the figure ballooned more than 18 times to above HKD 1.5 million (USD 191,895), according to Mr. Zhao. With the newly-added mainland China market and more upcoming products, the company aims at growing its annual sales revenue from HKD 5 million (USD 639,450) in 2017 to RMB 60-70 million (USD 9.3-10.9 million) in 2018.
TravelFlan is betting that its user-group mix will be radically changed this year – it expects around 60%-70% of its users to be from mainland China and the share of Taiwan/Hong Kong users lowered to 20%, according to Mr. Zhao. He also projected that the company will have new users from Singapore and Malaysia signing up, as both English and Chinese are commonly used in these Southeast Asian countries.
Text-based artificial intelligence is still at an early stage of implementation and for now this keyword-matching tactic still serves as just a basic function to assist human agents on customer support, far from replacing human jobs. TravelFlan is not alone in the run – Mr. Zhao's former employer Amadeus is also taking a step forward by launching a chatbot on Asia's popular messaging app LINE, providing real-time support and booking assistance.