The K-ICT Born2Global Centre announced that its member company RedTable will be expanding its sales channels from Greater China to encompass all of Asia through its new contracts with KKDay, Voyagin, and BeMyGuest.
Using its analytical technology and by collecting global big data, RedTable introduces restaurants that are popular with Koreans to foreign tourists. It also provides a reservation service that enables customers to make orders and payments using their smartphones.
A prominent Taiwanese online travel agency, KKDay is a web-based travel platform that sells day tours, transportation passes, and tickets for performances and other types of travel experiences to FIT tourists. It works with over 300 partner companies and offers over 6,000 tourism products.
Voyagin is an online travel platform offering sightseeing tours, tickets to attractions, and Michelin-star restaurant reservations in over 50 countries, including Japan, Singapore, Korea, and Indonesia.
BeMyGuest is an online, Singapore-based tour and activity reservation platform. Tourists from a wide range of countries are using and enjoying the activity, tourist attraction, and day tour products sold through BeMyGuest.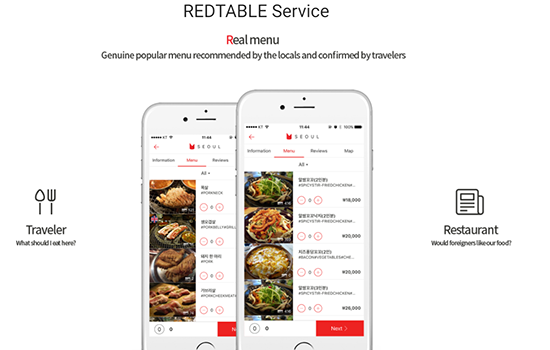 RedTable CEO Do Hae-yong said, "Over 50% of Japanese and Southeast Asian tourists are learning about Korean food through social media and travelogues. With the growing interest in Korean food around the world, more and more tourists are making reservations at Korean restaurants in advance, just as they do for flight tickets and hotels."
RedTable received an award at the 2017 Tourism Venture Contest conducted by the Korea Tourism Organization (KTO) and currently operates the most food tourism sales channels among Korean corporations. Its sales channels include: major Chinese travel agencies, including Ctrip, Tuniu, TongCheng, Qiongyou, and Alitrip; Dianping, China's largest restaurant review website; social commerce company Meituan; and KLOOK, a platform that sells travel activity packages across Southeast Asia.
RedTable is also working with Seoul Metropolitan Government to develop a multi-language mobile menu board designed to revitalize the city's food tourism industry and has partnered with the KTO on a tourism project that advertises Michelin-starred restaurants and Korean royal cuisine restaurants to Chinese tourists.
Read Original Article