The strategic partnership, initiated by Millennium BCP's strategic investor Fosun International, will allow Millennium to become the first non-Chinese issuer of UnionPay cards in Europe.
UnionPay currently partners with more than 1,700 institutions around the world, with card acceptance in 162 countries and regions and issued cards in 42 countries and regions. More importantly, as leading bankcard scheme in China, UnionPay allows the growing Chinese international travelers to safely and efficiently perform transactions overseas.
Under the agreement, Millennium BCP will obtain a UnionPay International Membership License, as issuer and acquirer of UnionPay cards in Portugal including other geographies where Millennium BCP and its affiliates are present.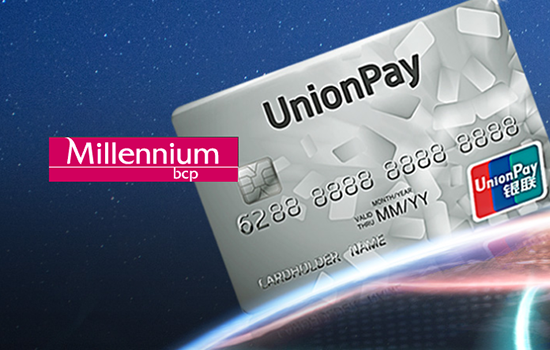 Fosun has been an investor in Millennium BCP since 2016 with 25.16% ownership. Connecting Millennium BCP and UnionPay is another example of Fosun's global role to help global companies access the booming middle class consumer growth while achieving Fosun's "going global" strategy of seeking win-win results for both China and their partners.
Millennium BCP currently covers countries and regions such as Portugal, Poland, Switzerland, Mozambique, Angola and Macao. Through the cooperation with UnionPay International and Fosun, Millennium BCP will gain competitive advantages and jointly push forward the business cooperation in Portugal, Poland and other geographies where Millennium operates.
Millennium BCP and UnionPay International will combine their technical, technological, marketing and financial resources to support the launch of the UnionPay brand and products initially in Portugal and thereafter in the other countries where Millennium BCP has a presence.
The agreement between Millennium BCP and UnionPay International will cover commercial and consumer cards, as well as mobile payment systems.
Read Original Article