ChinaTravelNews, Ritesh Gupta - What does it mean to run a flagship store on Alibaba's Fliggy.com?
If we assess the reach of the Alibaba ecosystem, its growth stands out in the commerce arena. There are currently over 550 million monthly active mobile users on Alibaba's retail marketplaces. How this is going to be tapped for the travel e-commerce category is being evaluated closely. Of course, the overall reach is luring, but equally attractive is the new retail paradigm that Alibaba is defining. Imagine, a traveller paying via facial recognition at the airport or availing a coupon for an in-flight transaction by scanning a QR Code on their mobile app, yes this all can't be ruled out the way Alibaba is already advancing with immersive, simple shopping experiences.
"It all happens very quickly," Veli Polat, Senior Director Sales Greater China, Lufthansa Group Airlines aptly described the increasing prowess of some of these growing ecosystems. So, for instance, if you are watching a fashion-cum-entertainment show live on your mobile, you can run your finger on the screen and buy the same product in real-time. This means travel brands can't ignore the shopping innovation.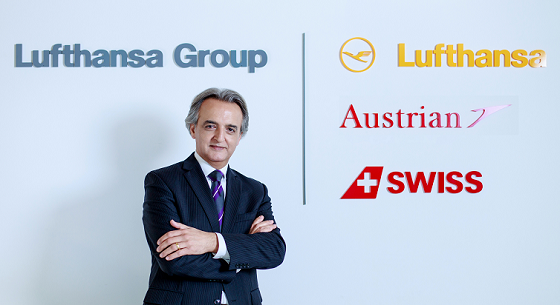 Veli Polat, Senior Director Sales Greater China, Lufthansa Group Airlines
"We want to be present where the customer traffic (for shopping) is," says Polat.
The way the online market is shaping up, as Polat also pointed out, certain ecosystems, be it for Alibaba, Tencent and even the Ctrip group, can change the complexion of digital commerce in the next 3-4 years in China.
Lufthansa is judiciously looking at making the most of social media touchpoints and ensuring that they are capable of bringing in transactions as well. Polat said that such initiatives are vital for the future, as the way offline and online used to be demarcated isn't the same. Also, the role of online intermediaries in the booking funnel is evolving, for instance, the one of a meta-search drifting away from lead generation to selling air products. "It can be seen that the ecosystems be it for Tencent, Fliggy, Ctrip's Qunar…they are involving people for different activities right from searching, booking, and even customer service. So running flagship stores is becoming increasingly important at this juncture," said Polat.
As for the strength of Fliggy, Romain Vetter, Director, Head of Distribution Application Management, Lufthansa Group Airlines mentioned that it is important for a foreign company like Lufthansa to work with a platform such as Alibaba's Fliggy or Ctrip. "Considering the strong brand value of Chinese carriers, it is imperative to work with technology companies like Alibaba and Ctrip. Vital for us to assess where the customer is buying, and how we can also extend our reach by being there. Also, with Fliggy Flagship Store, the control is with us – for instance, which O&Ds to push within the flagship store, essentially resulting in closer involvement. We are doing servicing, accounting as an airline… Fliggy enables us to be closer to travellers," he said. A user can also go to the Fliggy platform, visit the homepage and buy the tickets from there (even from an agency displaying the airline product), without even visiting the flagship store of a brand. Yes, the flagship store isn't a full e-commerce retail version of airline.com, but it does facilitate an experience quite closer to the airline's own e-commerce channel.
Direct connectivity-driven sales strategy
The Lufthansa Group has recently signed direct connectivity deals with Fliggy.com and Qunar.com for opening flagship stores. There are 3 aspects that stand out:
Capitalise on the reach of these ecosystems.
Replicate the experience of airline.com via flagship stores on Qunar and Fliggy.
Be in control of the offering in terms of content, bundled offers, speed-to-market etc. by connecting via NDC XML API.
"The deals are based on NDC (Lufthansa Group's is at Level 3/PADIS 17.2). Both are direct-connect solutions," mentioned Polat.
Lufthansa Group previously had an arrangement with Qunar, featuring deep-linking. "We published our offers via a deep-link, so whenever the customer clicked for details, they were directed to our .com (the online direct channel of the airline)," said Polat.
As for the new deal with Qunar, Polat shared that the ticketing will take directly with Lufthansa, similar to what is being done with Fliggy. There are a few aspects, for instance, ones related to the check-in, that "we cannot provide" on these flagship stores, otherwise offers on airline.com and these flagship stores are going to be similar, said Polat. "Ticketing would happen from the Lufthansa's group's ticket stock and would be issued on the same flagship store." So, in case of Fliggy, the booking takes place on Fliggy.com, and once the transaction is done, it will directly into the airline's system and there is a link into the Alipay payment system. In case, there is any post booking servicing, then the customer ends up interacting with the airline, say via a call centre in China.
Vetter mentioned that the deal with Fliggy is a landmark one, as there is one flagship store for 3 carriers – Lufthansa, Austrian and Swiss. He also added that the group is contemplating "connects" with numerous technology companies, including Tencent for their WeChat app. In fact, the group would soon have workshops featuring their distribution team, the local sales departments and agencies in China, Hongkong, Korea and India to explore more of such deals.
"We have never worked with Fliggy before. Now all our Lufthansa group products are available via this flagship store, offering one entry point for all our offerings. From the distribution perspective, this (the activation of a direct connect agreement with Fliggy) has been a massive achievement not only in China but also in the Asia Pacific region. In China, there is no-rollout of the DCC surcharge or Distribution Cost Charge yet. We are looking at massive innovation on the distribution side, (rather than rationalising distribution costs by implementing charges). The focus is on how to maximize the capabilities of our API and what it can deliver to our agents," shared Vetter, who leads a team responsible for the roll-out of the API in different markets and execution of direct connect agreements at a global level.

Romain Vetter, Director, Head of Distribution Application Management, Lufthansa Group Airlines
Capitalising on NDC XML API
"One of the positive aspects is the entire gamut range of offerings (from all the carriers of the group) being pushed via one source. Prepare for one development, in this case Fliggy (and Qunar), and content is being offered via a single entry API, Lufthansa content, SWISS content, Austrian content…so the agent has to prepare for one development. One doesn't need to go through different pages of different airlines. Also, just select one airline that is preferred, and then go on to plan your journey," said Vetter.
As for being in control of merchandising, Lufthansa in some projects in Europe has also opted for a flexible and rule-based product compilation, featuring customized ancillaries including checked baggage and lounge access on certain routes. But, as Vetter shared, the team hasn't worked on any product bundle at this juncture via Fliggy, and whatever is being made available via the airline.com or the GDS, there would be no special offer as of now. "The initial focus is on streamlining the process with Fliggy, getting them involved in a new way of distributing our products and content to their users," mentioned Vetter. Rather the plan is differentiate the product while showcase all the group offerings via one interface. "This is in general a question of price and product. We are looking at optimising and customizing the experience, and it doesn't necessarily mean lowering the price. We have a premium product within the 3 airlines in the group. The objective is to distribute in the most simplest way – whether through the direct or indirect channel."
Connectivity
It is being highlighted that Chinese carriers and intermediaries have worked on connectivity other than the NDC XML standard, and as witnessed in the case of NDC, carriers may be on different versions. But by adopting a standard the objective is to facilitated the distribution of airline products in a more seamless way, since having a standardized schema makes it a scalable, repeatable, and over time economically beneficial process.
In case of Fliggy, Vetter mentioned that the company took the NDC route, creating better synergies with Fliggy.
Airlines have to support API integration development, testing, and production.
Considering that a common travel technology provider as Farelogix worked on direct connection between Fliggy and Emirates, similar connection for Lufthansa may also help.
Other than being capable of accepting airline APIs, the next hurdle for any indirect partner, be it for OTA, meta-search etc., is to make the necessary adjustments in their display and selling workflow to accommodate content beyond the traditional fare and seat sell.
So prior to the deal with Lufthansa, Fliggy configured and connected to the Emirates' API and then took care of any internal work (modifications/enhancements required on the Fliggy user interface and workflow) to be able to display and sell the airline content in the store. "Although we are in a live project, we are continuously looking at implementation of new functionalities, and as a routine, we often come up with new updates/ releases working with Farelogix," said Vetter.