Currently, China and ASEAN countries are key tourism source markets and destinations mutually, and China is the largest visitor source market for ASEAN countries. Last year, 38 million people traveled between China and ASEAN countries and there were 2,700 flights every week between the two regions.
China-Vietnam tourism in full swing
The number of Chinese tourists visiting Vietnam has grown rapidly this year. A total of 2.2 million Chinese tourists traveled to Vietnam in the first seven months of this year, an increase of 51% over the same period of last year, according to statistics from Vietnam's General Statistics Office.
Cross-border tourism between China and Vietnam has benefited significantly from the rich tourism resources at the border in recent years.
The long land border between Vietnam and Guangxi province, measuring 1020 km, has delivered opportunities for the Chinese autonomous region in South Central China to speed up cross-border tourism cooperation with Cao Bằng, Lang shan, Quảng Ninh and other regions in Vietnam. Mutual tourism promotion areas such as China-Vietnam cross-border tourism cooperation zone, China-Vietnam experimental zones for border tourism, and "Two Zones One Belt" scenic border zone have been formed to deliver benefits to both sides of the border.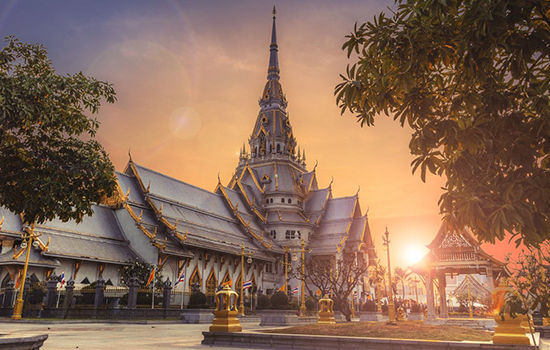 Rich platforms for cooperation and exchange
The 2017 China-ASEAN Expo Tourism Exhibition gathered nearly 1,000 exhibitors from more than 60 countries and regions for tourism exchanges between the two regions. First held in 2015, the tourism exhibition focuses on China-ASEAN, yet with a global dimension. It is a platform for exhibitions, exchanges and trades to promote mutually beneficial cooperation in tourism and develop a common ground for building a China-ASEAN tourism community.
Multi-level channels and systems have been established for tourism cooperation between China and ASEAN countries. Apart from the China-ASEAN Expo Tourism Exhibition, there are also the "10+3 Tourism Ministers' Meeting" and the Greater Mekong Sub-region Tourism Ministers Meeting regularly held under the framework of the ASEAN Dialogue. What's more, the tourism cooperation mechanisms between Yunnan, Guangxi and the neighboring areas are also very active.
Vast potentials for future cooperation
On the outbound tourism front, Thailand, Vietnam and Cambodia currently rank first, 4th and 11th as destinations for Chinese travelers. The three countries have together received over 11 million Chinese visitors so far this year. On the inbound tourism front, Vietnam has become one of the top 10 visitor source markets for China. In 2016, 3.17 million Vietnamese visitors traveled to China, an increase of nearly 50%. Both Thailand and Cambodia have seen an increase of nearly 20% in the number of tourists to China, indicating strong growth momentum.