ChinaTravelNews, Ritesh Gupta - Where does travel retailing stand today?
A major key performance indicator (KPI) for airlines is about how they monetise their web and mobile traffic.
As OpenJaw Technologies' CMO Colin Lewis aptly stated during TravelDaily's recently held Airline Distribution Conference in Shanghai, "Airline.com is the perfect storefront to sell the customer journey."
As Lewis explained, the "first wallet" generally comprises shopping for a flight (net margin of 5%) plus much higher margin products such as priority boarding and bags, and all 3 together can result in net revenue of $29 over typical total transaction value of $270 (typical of a short haul airline). Post this, the "mindset" of the shopper isn't the same and that's where airlines can garner incremental revenue via the "second wallet". So, selling hotel accommodation and car rental, with net margin of 15%-20%, can jointly result in net revenue of $55 or so. And eventually targeting more via meals, insurance, transfers, taxis and events for additional $55 or even selling a package that can result in net revenue over $200 or so over transaction value of $1000.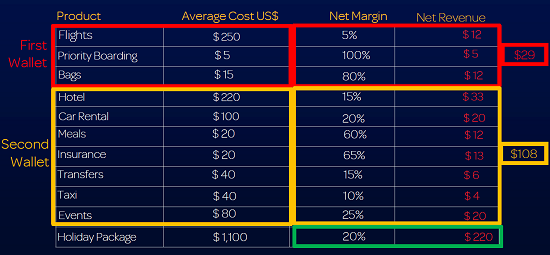 Being "smarter"
Attention span of a visitor to a site is under scrutiny, and e-commerce brands can lose visitors in a span of seconds. An app can get deleted, if a couple of push notifications aren't deemed worthy. Emails can get unsubscribed if a recipient ends up receiving offers for a flight already booked, yes it continues to happen! In fact, just another offer or ad wouldn't work. It is time to be smarter. How?
Here is an example. I recently travelled to Shanghai via China Eastern Airlines for a leisure-cum-work trip with my 11-year old daughter and wife. Booking was done via an OTA. I checked my flight itinerary on airline.com a couple of times via two devices. The check-in experience was smooth, and shared my email id for boarding passes, too. The fact that in-flight Wi-Fi was free propelled the flying experience. Stayed in 3 areas – The Bund (to explore the downtown), around Shanghai Disneyland Park and Sheshan, a south-western suburb of Shanghai. The in-destination expenditure of around $1500 over a week or so didn't feature any transaction on airline.com. Yes, the boarding pass was sent to my mailbox (Gmail). No, China Eastern didn't ask for mobile number.
Some of the opportunities missed
Poor on-site engagement – the lack of interest-based content stood out. The days of a generic approach to destination content are over. "This is where airlines, despite being very much in the top of the booking funnel, haven't really capitalized on their position. If you look at Airbnb, what their core competency is and what their ads/ content show (being local, experiences etc.), it seems an effort to be right there in the trip planning as early as possible. Airlines can definitely learn about the importance of destination content. By building a connect during the inspiration and planning phase, they can capitalize on it and monetize the same in the later stages of the booking funnel," explained a source. So rather than offering loads of content, build on a layer of intelligence and display destination images, videos etc. as per the trip motive, lifestyle preferences etc. In my case, the airline could have presented with relevant content options about the destination, and this could have, in fact, paved way for monetization.
Not making the most of a touchpoint as per the phase of the journey: So if content on airline-owned digital touchpoint can be an entry point into preferences or interests pertaining to that trip, airline can monetize the same via website, app, ads etc. The timing counts, too. How about a couple of emails between the booking and the day before travel? How about offering a deal for 2 adults + 1 child to Shanghai Disneyland Park via the free Wi-Fi onboard or even the same being offered by in-flight crew who helped in accessing the same?
Lewis, too, touched upon the how airlines can capitalise on the "second wallet" of travellers, that essentially features buying meals, insurance, transfers, taxis, events etc.
Other than sorting out organisational issues, including embracing of a retailer mindset and preparing the entire organization for the same, some of other areas that need attention are as follows:
Learn through data as much as possible: Finnair is clear that every time passengers interact with the airline, the team ends up learning more about them. The focus is on behavioural profiling, demographics and personal data, as well as historical and preference data. Also, in terms of profiling, Finnair is progressing from rule-based segmentation to analytics-driven or algorithmic personalisation. Precision keeps on improving, as an organization moves from a relatively broad set of recommendations to ones that are specifically meant for an individual. Today savvy entities run algorithms every time a new interaction occurs to develop individual data profiles. Concerted effort is being made to collect and integrate data from a multitude of channels, including transactional systems within an airline, and spotting patterns of behavior that lead to a transaction. Experts point out that machine learning can only prove valuable provided there is right approach to data - how that data is organized.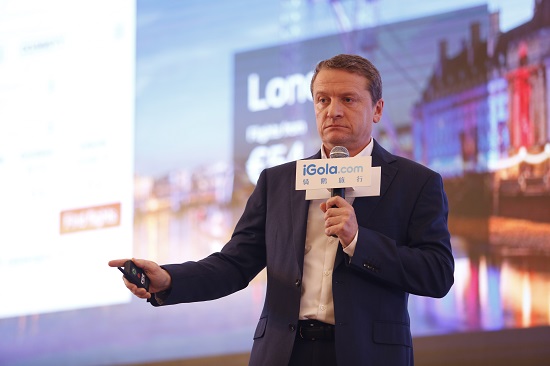 Colin Lewis, CMO of OpenJaw Technologies
Machine learning for targeting visitors: Algorithms also come into play when a visitor visits the airline website, paving way for what offer to make, what content to show etc. Also, the sort of data that helps in personalising digital experience includes the source of traffic or acquisition (all the details about the visitor, when they arrive on airlines' digital channels. Information about where they came from, and which campaigns are resonating the most) data, anonymous visitor data, profile data as well as real-time interaction with the website. E-commerce players have been mapping the journey of travel shoppers, categorising them (returning visitors or repeat buyers). It is common to use explicit data to target specific content to specific groups of visitors. One can also analyse who have made a particular buy and compare against groups with similar characteristics, who haven't yet made the same purchase.
Machine learning can also help in serving anonymous visitors. Say what to serve after 5th click when an anonymous visitor is live on a site? As Amadeus pointed out recently, the process of serving anonymous passengers starts with some level of contextualisation – once a prospective traveller accesses a website or a mobile app, enters city-pair, dates, type of travel (family, with kids etc.), then algorithms can match them against pre-set customer segments and serve offers accordingly.
Significance of content architecture: "Think about architecture, build content architecture to support personalisation," recommends Anni Ahnger, head of ancillary sales, Finnair. The airline is already displaying targeted content based on segmentation analysis, dynamic content for the upcoming flight (ancillary up-sell) etc.
One platform encompassing all ancillaries: OpenJaw recommends that the diverse set of platforms operated by various suppliers can be a major hurdle. For instance, in case of hotels, how to integrate a property management system from a hotel company and sell the same based on real-time confirmed inventory? According to OpenJaw, ideally there needs to be in place "one integrated platform approach that provides a seamless user experience for customers across their entire online journey".
Dynamic offers: Airlines need to focus on ensuring whatever is going to be offered is being created dynamically in real time. This needs to encompass certain business specific factors, such as load factor, inventory left etc. Capabilities need to be in place to dynamically fine-tune the offer based on data inputs.
Travel-specific retailing: Airlines are also diligently looking at flexible booking flows, considering the fact that shopping for a flight can take multiple sessions. For instance, Finnair has now started using digital retailing API to ensure shopping sessions and carts would remain open for several months. This implies that a user can initiate shopping for flights at m.finnair.com, close their session anytime, and resume where they left off to complete their transaction.
The pace with which retailing continues to evolve means random selling of air ancillaries and non-air ancillary products won't work or pay off in the future. Also, "chasing" a website or app visitor via too many remarketing ads needs to be avoided. Rather airlines have to come to grips with intent-driven micro-moments – understand every click, every digital trail. They need to consider the best of data, technology and experience optimization techniques, and assess how the same can have best use cases for airlines.