An intelligent and ecological "WeChat Eco-hotel" solution integrating WeChat payment, mobile applications and corporate WeChat accounts was officially released in the 2017 WeChat Eco-hotel Industry Press Conference on September 26 in Shenzhen.
WeChat to offer basic supports
"Traditional front desk staff at hotels have to deal with 11 kinds of electronic devices and operate five different software systems. The devices and systems are not linked and may cause mistakes due to manual handling," said Zejian Huang, product manager of the Industry Cooperation Department. WeChat Eco-hotel stands out by connecting hotel devices and software systems to enable users to simply explore data and business on applications.
When checking in, the hotel APP will pop up after the guests scan the QR code and receive booking details, and it will read customers' information from the Property Management System (PMS). Customers made no prepaid reservations can pay their room rates and deposits on WeChat and those who haven't pre-selected rooms can do it online, and they will get the key after confirming their identity through facial recognition.
When checking out, PMS will automatically keep a record of guest's check-out time and send notices through APP or the official account. Users can confirm bills, submit check-out applications, apply for electronic invoices and ask for the return of deposits on APP, while the APP uploads the invoice information to the front desk through PMS in advance, thus the invoice will be available in time.
The WeChat Eco-hotel has so far carried out pilot operations in over 100 hotels across Shenzhen and Suzhou.
In the pilot run, more than 84% guests of OCT Loft have checked in with facial recognition technology, saving 80% of the workload of the front desk staff. Around 68.3% guests in Yayuan Tanglang Hotel have checked in through electronic devices, cutting down the average time for checking in to less than 30 seconds.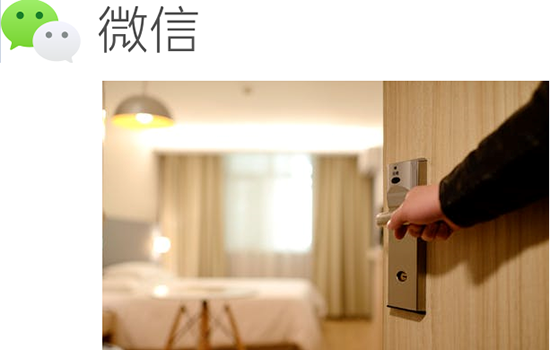 Third-party suppliers in the hotel ecosystem
Third parties are leveraged in building the WeChat Eco-hotel solution. Many individual hotels with no technical background would need APPs developed by a third-party team.
ln the WeChat Eco-hotel, four equipment suppliers – FortRun, Core World, Puietel Technology and Touch Me – are available to offer check-in/check-out system supplies. While the four suppliers differ in form and size, their products are generally similar in function.
The feature of "invoicing before checking out" is provided by third-party invoice provider Gao Peng. In addition to a new invoicing system, WeChat Eco-hotel is also able to, among other things, save the invoice titles online and to issue invoices online by introducing WeChat coupon preferences.
The facial recognition for checking in/out is backed by the facial recognition algorithm of Tencent YouTu Lab, which has recorded a 99.8% recognition rate in accordance with the internationally recognized test Labeled Faces in the Wild (LFW).
The facial recognition system has also been connected to the public security system database (travel management system, face-matching system included) of Shenzhen, Suzhou and other cities as well as the airports' security database, so as to effectively solve the problems in case of fading and illegible ID pictures.
While WeChat Eco-hotel or Fliggy's Alipay Hotel may help with hotel management and improve the experiences, hotels still need to work on operation and management and build long-term customer relationships in order to generate business.