China Travel News - THack China, a hackathon for Chinese travel IT talent jointly launched by Travel Daily, Air China and Tongcheng Tourism, was concluded on September 10 at Tongcheng Tower in Suzhou, China. On the Demo Day, 16 geek teams presented what they had achieved in the past two days.
Among the 16 teams, Touchtrips was named the champion and won the Tongcheng Tourism Special Award. Parallelism was the runner-up and Airport Goer the most popular team, while E-Flight got the VariFlight Special Award and Be-Arrival won the Air China Creative Award.
Touchtrips: Labeling fragmented content, socializing and trading with dialogue boxes
Touchtrips focused on solving group/family tours booking communication and integrating fragmented destination information to complete the loop of transaction.
One of the highlights is that a point of interest (POI) can be labelled or created in the dialogue box once a user has created a group travel event, and a click on the label will load the relevant pages with destination details, visiting guide, user discussion and related product booking information, to make it easier to stimulate travel interest and convert it into booking.
Another highlight is that Touchtrips makes it possible to search and book flight tickets as well as compare fares in the dialog box. Through this function, a group of people traveling together can book the same flight, and each person can make payment individually. The payment record shows how many people in that group have paid.
Parallelism: UGC travel assistant platform based on AR and LBS
Parallelism created a UGC travel assistant platform based on AR and LBS technologies. In the platform, users only need to scan a QR code on the flight ticket with their mobile devices to get flight change information and route maps. When they scan the QR code of destination attractions, hotels, restaurants and public facilities, they can make booking of those facilities.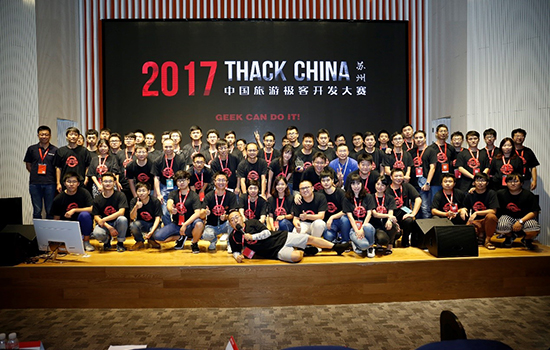 Airport Goer: Interests-sharing of peer passengers in the case of flight disruption
Airport Goer combined airport retailing and airline mileage programs to let users find out how to make use of the airport they are in and to go about shopping when their flights are delayed and they have more time to spend at the airport.
The solution offers precise airport service recommendations, using air mileage to make payment for consumption at the airport and sharing certain privileges with fellow passengers. It is able to answer questions such as: When the flight is disrupted and the take-off time is yet to be decided, what is there to eat near the gate? What's there to see? Where are the lounges and what services are available for gold/silver card-holders? Are fellow passengers willing to share their gold/silver card holders entitled services for a certain price or for free? Can air mileage be used to redeem a cup of coffee near the gate when their mileage is not enough to redeem a flight ticket?
E-Flight: Mileage incentives for non-frequent passengers
E-flight were full of amusing descriptive during its demo on stage, referring to their mileage incentive as "definitely a psychological game".
There're two steps to realize their "psychology" theory. First, users can choose to exchange their mileage for tangible items such as an air tickets to their preferred destination or specific gifts. Once the users set goals for redemption, the goals will be translated into mileage requirements, and a progress bar will be shown to give users the motivation to reach their goals.
Be-Arrival: Recommending free tours and tourism product portfolio during transit
Be-Arrival's core idea is to channel traffic flow to destination products by exploiting the low-cost and time availability of those taking transit flights. Its solution recommended hotels, attraction tickets and other resources by intelligently combining the lowest-price products or optimizing the existing flight product portfolio.