ChinaTravelNews, Jerry Tang – Since its official launch last September, Thomas Cook China, a joint venture between UK-based tour operator giant Thomas Cook Group and Chinese conglomerate Fosun International, has been online for a year.
Driven by its ambition of "Grafting global resources onto China momentum", Fosun bought an initial 5% stake in Thomas Cook in March 2015 and later boosted its stake to 11%. In October 2015, the two companies jointly launched Thomas Cook China, 51% owned by Fosun and 49% by Thomas Cook.
Thomas Cook China is now a fully operational business with around a hundred employees across two offices, Shanghai and Beijing. For inbound operation, the company takes tourists from European source markets to China, and provides both leisure and MICE services in China. On the outbound sector, Thomas Cook China concentrates on the leisure market, organizing short- and long-haul travel for Chinese holidaymakers.
"We have now a strong infrastructure platform on which we can build and scale up the business," said Alessandro Dassi, CEO and GM of Thomas Cook China. "Our focus at the moment is to increase the volume and customer base for the company."
Challenges in shifting consumers and brand awareness
Huge and fast growing as it may be, China's tourism market in particular the outbound sector is highly fragmented and competitive. The company finds a very wide range of customer behaviors in the country. Traditional group tours with 40-50 people traveling in short and tight itineraries are still popular in China, but independent travel is increasingly favored.
Thomas Cook China sees this shift as an opportunity to provide Chinese consumers with more customized and personalized offerings, catering to their increasing appetite for deeper experiences more than just sightseeing or shopping.
"What we try to leverage is our heritage, history and our resources overseas," Mr. Dassi said. "We want to position Thomas Cook China slightly more up market and focus on the rising middle class." The company plans to differentiate from its competitors in terms of expertise, resources, and personalized services.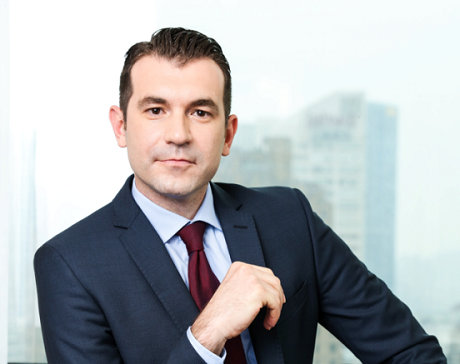 Alessandro Dassi, CEO and GM of Thomas Cook China
The 176-year-old Thomas Cook brand is a big name for both European travel consumers and distributors in the western markets, but its brand awareness among China's consumers is clearly lower.
At the supply end, Thomas Cook boasts decades of accumulative expertise and resources, but its China team has to come up with effective marketing strategies to make its brand proposition more visible and desirable if it wants to consolidate its foothold in the world's largest source market for outbound travel.
Differentiating strategies in customized packages
Thomas Cook China offers mainly three types of outbound packages: hotel packages to short-haul destinations in Southeast Asia countries such as Thailand, long-haul worldwide itineraries, and sports packages with tickets to football games and other sports activities.
The company tries to add unique elements to differentiate itself from its rivals and develop deeper destination experiences for customers, such as leveraging its long-standing partnerships with English football clubs like Manchester United, to develop products for China earlier this year. The company combines match tickets with other travel elements such as hotels, tours to local football club museums or restaurants, and other destination activities.
Mr. Dassi said this "Sports+X" combination is unique based on their exclusive tie-ups with the six major football clubs in the UK, and that is not something their competitors can easily replicate.
The company currently has most of its sports packages associated with football games, but it plans to expand to other programs. It will launch tour packages with tickets to the Australian Open tennis tournament. Thomas Cook China considers the Formula 1 Japanese Grand Prix attractive to the Chinese consumers as well. Also in the pipeline are tours that involve participation in sports activities like scuba-diving and marathon.
The sports travel segment is still in the infancy stage and has much room for growth. For the company's existing football ticket offerings, Thomas Cook China wants to create the lightest packages that can be sold online and be scalable. Commoditizing sports events and matching them with standardized travel components might indeed be an answer to Thomas Cook China's differentiating goals, as this retail packaging solution enables the company to distribute its travel packages across different platforms.
Synergies with Fosun and other local partners
Through this joint venture with Fosun, Thomas Cook has gained more partnerships in China to speed up its localization process.
"Fosun has been very instrumental in the development of Thomas Cook China. They have experience in bringing western brands into China." Mr. Dassi said that Fosun has helped with all the licenses and applications and is continuously introducing opportunities for cooperation and resources in the travel and related industries, both domestically and globally.
Fosun is building Atlantis Sanya, with an investment of over RMB 10 billion, a complex ocean-themed destination combining hotel, aquarium, water park, shows, dining, entertainment and shopping, scheduled for launch later this year.
For overseas resources, The Chinese conglomerate has its subsidiary resort brand Club Med in place to work with Thomas Cook China in key leisure destinations worldwide.
Other than that, Thomas Cook as a giant travel group in Europe with lots of supplier resources has also embarked on B2B service in China, in addition to its existing consumer-facing platform.
The company already has multiple B2B distribution channels and clients. Mr. Dassi thinks the B2B operation will help the company build up its scale and be competitive also in the B2C market. Thomas Cook China provides Ctrip with some of its hotel inventories on distribution platforms, and works with Spring Travel on packaging hotels and destination services in popular outbound destinations for Chinese visitors, such as Russia.
The company is also trying to promote China as a destination for global tourists, but so far, there is much more to do in this segment. Thomas Cook China provides inbound travel services covering the whole of Greater China, leveraging a wide network of local Chinese travel operators.
The online-offline myth
The competitive Chinese tourism market is witnessing a rising wave of online-offline integration as local operators like HNA Caissa and Utour Group are establishing their online presence while OTA giant Ctrip, on the other hand, plans to boost offline stores to 6,500 by the end of this year.
As of June 30, 2017, Ctrip and Qunar opened over 400 offline retail stores in lower-tier Chinese cities and some of these stores have recorded a monthly revenue of RMB 2 million per store, according to data revealed during Ctrip's second-quarter earnings conference call on August 31, 2017.
But Thomas Cook China plans to focus on online platforms.
"At the moment, we don't think we need to build an offline distribution network," said Mr. Dassi. "What we are potentially looking at is more like the creation of [offline] experience stores for marketing and branding purposes, instead of points of sale."
The penetration of mobile Internet in China is particularly high compared to the rest of the world, and it is growing very fast. Online bookings for outbound tourism are rising much faster than offline distribution. Mr. Dassi reckons the online sector presents the biggest opportunity in China's travel market.
Thomas Cook China is not only selling its products on its official website, but also distributing them on third-party platforms like Alibaba's Fliggy, and cooperating with travel review and community platforms such as Mafengwo.com and Qyer.com to gain more brand exposure. The company puts much of its marketing efforts on social media platforms including WeChat and Weibo, as opposed to traditional media channels.
But unlike mass consumer groups for leisure trips, special interest groups such as football fans are fragmented on the market and these general online channels are not sufficient to capture all the potential sports-oriented travel consumers. By developing more offline distribution channels to attract the targeted sports fans, the company may well boost customer acquisition for its sports packages.
Headwinds and ambition amid a cutthroat landscape
The Fosun-Thomas Cook joint venture is a relative newcomer in the Chinese travel market, compared to TUI China, the joint venture inaugurated by German tour operator TUI Group and Chinese state-owned tourism conglomerate CTS Group in 2003. Other international rivals include Japan's largest travel agency JTB Group, which set up JTB China Corp. in August 2007.
Addressing the challenges that European travel firms generally face in China, Mr. Dassi said the market presents lots of complexities.
"The competitive landscape of outbound tourism sees many different types of travel agents, from large offline tour operators like Utour and Caissa, OTA giants like Ctrip and Tuniu, to a huge number of new and very specialized startups," Mr. Dassi said. "There is a huge amount of offers for the consumers, lots of innovations in terms of online capabilities and particularly mobile applications."
Unfazed by the current challenges, the company plans to maintain long-term presence in the China travel market. "Our ambition is to make China a source market comparable in size to the more mature markets we have in Europe," Mr. Dassi concluded.
China's travel industry is full of cash-bleeding price battles and mass-consumer online channels. For overseas entrants like Thomas Cook, direct competition with local players on the mass market may prove costly, if not futile. By targeting the upper middle-class consumers and positioning itself as a travel expert on both inbound and outbound travel, the company has taken a forward-looking step to start with. While huge customer acquisitions and high volume of booking revenues are not to be expected in the short term, the company is poised to stay for the long run.