China Southern Airlines started to use a facial recognition system for passenger boarding at an airport in northern Chinese province Henan on June 28.
The system enables passengers to get through identity verification and board their planes within seconds by simply having their faces scanned at the boarding gates.
This marks the first time a Chinese carrier uses facial recognition system for passenger boarding as a means to streamline the boarding process.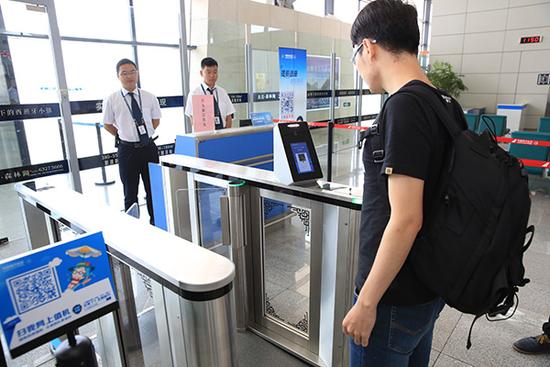 The Guangzhou-based carrier requires passengers to first download the latest version of China Southern's mobile app and upload their personal photos if they intend to use the face-scanning service.
After checking in, passengers going through security screening with their valid ID document and boarding pass will be face-scanned, and the image will be compared against the photo uploaded via the app, and against the photo on the ID document. Airport security personnel will also be on hand to assist in the verification process.
Mr. Wenqiang Huang, Deputy Director General of the Commercial Steering Committee of China Southern Airlines, said that the facial recognition technology adopted by the carrier's smart boarding system can double-check and compare passengers' personal information at different stages of the boarding process to authenticate passenger identity and thus ensure flight security.
Mr. Huang also stressed that the system is secured by multiple encryptions to protect passengers' personal information.
China Southern Airlines plans to roll out the facial recognition service at a larger scale in the future. The smart boarding system will be launched at the T2 terminal of Guangzhou Baiyun Airport, which was scheduled to open in 2018, and the new airport in the Daxing county of Beijing, to be inaugurated in 2019.
Mr. Huang said that China Southern also plans to introduce facial recognition to app log-in, payment solution, locating missing persons at airports and more.
Passengers will then be able to save much time and experience convenient self-help services such as check-in, luggage consignment, security screening, and boarding. (Translated by Jerry)