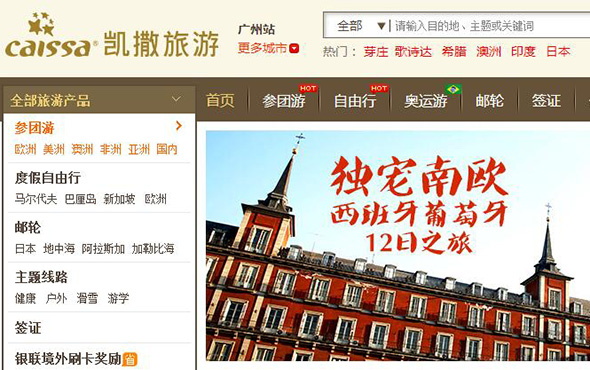 HNA subsidiary Caissa Touristic posted operating revenues of RMB 2.6 billion in the first half of 2016, up by 47.13% YoY. Net income attributable to the listed company's shareholders increased 60.25% to RMB 56.94 million.
Tourist services revenues (excluding revenues from catering and property rentals) grew 52.47% to RMB 2.22 billion and net income rose 76.79% to RMB 36.34 million from January to June in 2016.
Furthering its strategy of driving tourism with air services, the company partnered Capital Airlines to launch a number of new overseas air routes that carried more than 250,000 passengers in the first half of the year.
The company's cruise unit Caissa Cruises rolled out a full series of cruise contents, teaming up with renowned cruise companies including Royal Caribbean, Princess Cruises, MSC Cruises and Costa Cruise Lines. Caissa Cruises sold for 30 cruise voyages and operated two chartered cruises to Antarctica during the report period.
Caissa Touristic injected RMB 600 million into the series B round of online sport shows service LeSports in March 2016. The company also plans to expand and upgrade its sports tourism segment by launching experience centers zeroing in on active users.
A consortium led by HNA-affiliated Caissa Touristic and Caissa Sega along with CAAC Private Equity Fund and Beijing CAAC HeYuan Investment invested RMB 933 million to acquire 43.88% shares of Shenzhen Huoli Tianhui Technology, the parent company of flight management App FlightManager. The move bares Caissa Touristic and other HNA arms' ambition of tapping the online booking sector. (Translated by Jerry)