Uber China announced the "Uber+Travel" initiative in its mid-year strategy on June 15 that will seamlessly connect commuting with travel. Among the initial partners of the plan are HNA Group, Baidu, Qunar, JD.com, Tongcheng Tourism, Qyer, China Telecom, TripAdvisor and Discovery Adventures.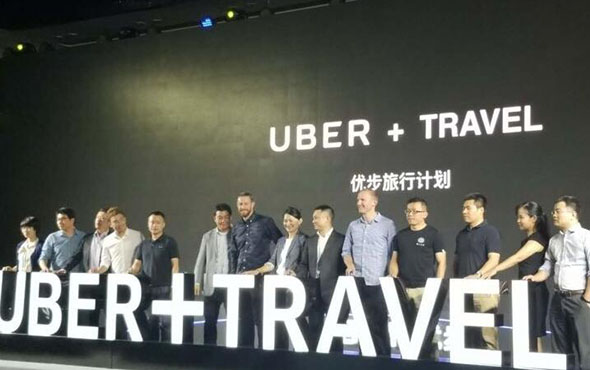 Uber Technologies Inc., Uber China's parent company, has been operating car-hailing service in more than 400 cities and 70 countries or districts worldwide. Whereas its car-hailing service provides point-to-point service locally within a city, it plans to use the "Uber+Travel" initiative to provide line-to-line connections internationally among destinations.
The "Uber+Travel" plan will integrate services for different stages of a journey, from itinerary planning to ticketing, hotel reservation and local commutes, through partnerships with companies in e-commerce, travel, aviation, hospitality, payment and telecommunication. Uber China will be able to offer HNA products by linking HNA's App and its membership platform with Uber's platform. Uber's ride-sharing service will also be introduced on Qunar's chauffeured content platform using API (application programming interface).
Other than unveiling its "Uber+Travel" plan, Uber China also announced its results for the first half of 2016. The number of Chinese cities it is operating in has increased by six times within a year following its expansion in China's second-tier and third-tier cities, and the cost per order has been cut by 80% compared to the same time last year.
Uber Technologies has launched lifestyle services such as UberEATS, UberRush and UberLife in markets outside of China. Zhen Liu, Uber China's head of strategy, said Uber China would also present more lifestyle products and experiences in China using the "Uber+" model. (Translated by Jerry)