BTG Hotel announced on March 31 the establishment of a joint venture company with Alitrip and Shiji Information to offer comprehensive e-commerce services to individual hotels and regional chains. The partners will also form an internet-based "China Hotels of the Future Alliance" to provide full services including brand operation, technological support and big data linkage.
The JV is temporarily named Zhejiang Future Hospitality Network Technology Limited and has a start-up capital of RMB 50 million. Alitrip owns 49% shares of the company, BTG Hotel takes 30% and Shiji Information 21%.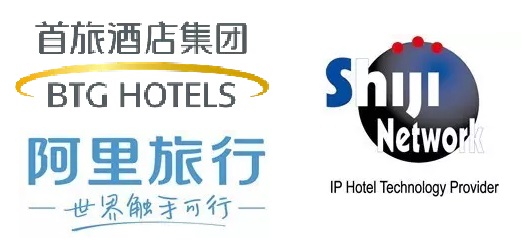 The JV plans to set up a brand that can be used for free by individual hotels and small-and-medium-size chains participating in the alliance. Alliance members will be provided with critical resources such as customer traffic, distribution system, technological tools and standardized and shared services in PMS and big data.
BTG Hotel acquired Homeinns Hotel Group for RMB 11 billion in December 2015. Upon completion of the deal, the company will have a full range of hotels, from luxury to up-scale, mid-range and economy categories, among more than 3,000 hotels in over 300 cities in China.
Alibaba's travel subsidiary Alitrip launched "Future Hotels" scheme in March 2015 offering "Credit Stay" service. This allows users with at least 600 points of Zhima Credit rating the option to stay first and pay later when booking hotel stays through Alitrip. Users don't need to pay a deposit or queue for check-out, as the hotel system will automatically deduct room charges from guests' Alipay accounts after they leave their room card-keys at the reception. The scheme is already applicable in more than 30,000 hotels.
Shiji Information, listed on Shenzhen Stock Exchange, develops information management software for clients in hospitality, catering and retail. It also provides system integration, technological support and service to clients. The company dominates over 90% share of the five-star-hotel PMS market in China and serves nearly 10,000 hotels, over 100,000 restaurants and more than 200,000 retailers.
Hotel brand operation has evolved from the first generation of "Owner" model to the second generation of "Brand Management" model, and is heading towards the third generation of "Internet+" light model, which means hoteliers nowadays do not get involved in the management of properties or brands, but instead, they focus on underlying technology services and GDS-like global distribution services to strengthen the brand alliance, such as setting service standards, big data linkage, shared membership and system management.
The joint venture project of BTG Hotel, Alitrip and Shiji Information will pioneer a new way forward for China's hospitality industry. (Translated by Jerry)