Starwood said it plans to accept a $13.2 billion takeover bid led by China's Anbang Insurance Group and gave suitor Marriott International a deadline to make a counteroffer.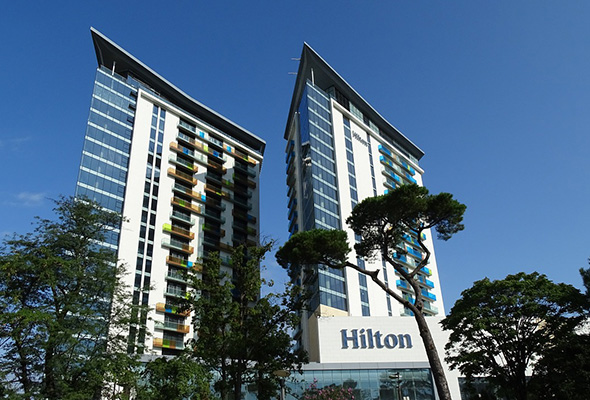 Anbang and its partners will pay $78 a share in cash for Starwood, according to a statement Friday. The offer is $2 a share more than the surprise bid the group made last week and eclipses Marriott's cash-and-stock deal, which Starwood agreed to in November and is now worth $69.31 a share, based on Marriott's closing price of $73.16. Marriott has a March 28 deadline to renegotiate its agreement and salvage its plan to create the world's biggest hotel operator.
A takeover by Anbang would extend a push into U.S hotels that started last year with its $1.95 billion purchase of Manhattan's Waldorf Astoria. The sweetened bid underscores the intense interest in hotels from Chinese investors, who are seeking to buy hard assets abroad and capture demand from a surge in Chinese travelers.
'Remain Disciplined'
"While we expect Marriott to counter the consortium's proposal, we believe Marriott will remain disciplined, and it appears increasingly likely, in our opinion, that Starwood will be acquired by the consortium," Loeb wrote in a research note Friday.
John Paulson, the billionaire president of Paulson & Co., Starwood's largest shareholder, said the firm is happy to see the increased offer, which better reflects the company's value.
Anbang is joining forces with private equity firm J.C. Flowers & Co. and Chinese investment firm Primavera Capital on the bid. Primavera was founded by Fred Hu, who previously ran China dealmaking for Goldman Sachs Group Inc.
'Superior Proposal'
The Anbang group's fully financed offer is a "superior proposal" to Marriott's and Starwood intends to enter into a definitive pact with the Anbang group, Starwood said. Marriott, in its own statement, said it still believes the combination of the two hotel companies offers the best value to Starwood shareholders and the company is "carefully considering its alternatives."
Starwood postponed its shareholder meeting scheduled for March 28. The company would have to pay Marriott a breakup fee of $400 million if the Anbang group prevails.
Anbang plans to keep Starwood's management and employees and continue its frequent-guest program, according to a person with knowledge of the matter. A representative for Beijing-based Anbang declined to comment.
More Leverage
A combination with Marriott would create the world's largest hotel company with about 30 brands, giving it more leverage in negotiating commissions with travel agents, a larger frequent-guest program and cost savings. Marriott has said it expects to save about $200 million a year with the merger.
Marriott itself was a last-minute bidder last year for Starwood, which had been in talks with Hyatt Hotels Corp. and several Chinese companies.
Chinese investors put a premium on owning real estate. Starwood, besides being one of the world's biggest hotel operators, owns buildings worth about $4 billion, including the landmark St. Regis off Fifth Avenue in Manhattan, according to Loeb.
Anbang has also agreed to buy Strategic Hotels & Resorts Inc., an owner of 16 luxury U.S. properties, from Blackstone for about $6.5 billion, according to people with knowledge of the matter.
Biggest Takeover
An acquisition of Starwood, which requires approval by regulators and shareholders, would mark the largest-ever takeover of a U.S. company by a Chinese buyer, topping the 2013 purchase of Smithfield Foods Inc. for almost $7 billion including debt.
The deal may trigger a review by the Committee on Foreign Investment in the U.S., a government panel that examines acquisitions of U.S. businesses by foreign buyers to protect national security.
Read original article