China Lodging Group, Limited (Huazhu), a leading and fast-growing multi-brand hotel group in China, announced on Wednesday that it has completed the transaction of strategic alliance with AccorHotels.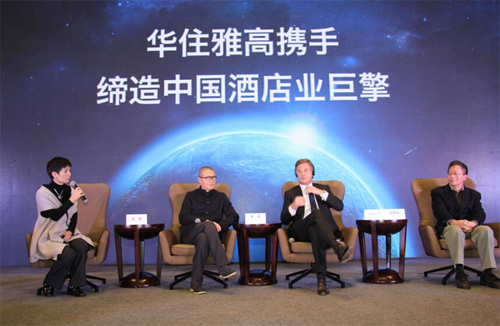 Under the terms of the agreement, the AccorHotels' economy hotel business progressively integrates into China Lodging Group's network. China Lodging Group is now the master franchisee for Mercure, ibis Styles and ibis in mainland China, Taiwan and Mongolia. AccorHotels' Grand Mercure and Novotel brands will be developed and operated by both AccorHotels and China Lodging Group under a co-development agreement.
China Lodging Group will also take a non-controlling stake of 29.3% in AccorHotels' Luxury and Upscale operating platform for Greater China. This platform will develop and operate brands including Sofitel, Pullman, MGallery by Sofitel. It will also develop and operate the Grand Mercure and Novotel brands as per the Co-Development agreement for these brands. China Lodging Group appoints two representatives (out of five) to the joint venture's Board of Directors.
AccorHotels will have a 10.8% stake in China Lodging Group, including newly issued 24,895,543 ordinary shares at a price of $6.6375 per ordinary share (or 9.0% of China Lodging Group's outstanding shares after issuance; 4 ordinary shares=1 American depositary shares) and the Company's American depositary shares purchased by AccorHotels from the open market. AccorHotels appoints one representative to China Lodging Group's Board of Directors.
The combined hotel networks represent more than 6,500 hotels worldwide, and the two loyalty programs have more than 75 million members. After linking both global reservation system and loyalty programs, the two groups will have expanded distribution channels, which attract more customers.
"We are excited to finally complete this transaction," commented Mr. Ji Qi, the founder and Chairman of China Lodging Group. "We create value by combining the distribution and strengths of Huazhu and AccorHotels, enhancing our competitiveness in a quickly evolving marketplace. The combined brand portfolio provides a full coverage from economy hotels to luxury hotels, and is unrivaled in China."
"Our unparalleled local expertise with AccorHotels' brands will create a hospitality powerhouse which will deliver unprecedented value to both groups, our partners, and our customers," Mr. Ji concluded.