ChinaTravelNews, Ritesh Gupta - How is the battle of foreign OTAs versus Chinese home-grown OTAs shaping up?

As much as an organization of Ctrip's stature is collaborating with the likes of the Priceline Group and Expedia on various counts, there also comes a point when all these entities are battling out to garner the attention of Chinese travellers. There is Expedia China. There is Booking.com in China, too. So every bit of the Chinese travel e-commerce market is being minutely scrutinized - the outbound Chinese travel opportunity, foreign visitors travelling inbound, and the domestic market. And every segment is riddled with heavy dose of competition.

It shouldn't be forgotten that managing a B2C brand for any foreign OTA still remains a herculean task.

Here we explore how foreign OTAs need to catch up with Chinese OTAs about this market and also some interesting possibilities:

Customer acquisition: "…it's amazing how they just (Ctrip) buy traffic differently," this is what Darren Huston president and CEO of The Priceline Group had to say about Ctrip during one of the quarterly earnings calls last year. He also referred to specific marketplaces for apps in China that don't exist in the Western world. Indeed there are lots of app stores, over 100 of them, and focusing only on iTunes and Google Play isn't going to yield positive results. Established avenues include Qihoo's 360 Mobile Assistant, Tencent's Myapp and Baidu Mobile Assistant.

Also, OTAs such as Ctrip and Qunar now have reached a stage where they assert that as they now shift more of their marketing budget to mobile channels (for instance, Qunar was counting on offline advertising to drive mobile adoption for a while), the overall online marketing expenditures will continue to go down as a percent of total revenue.

"Managing marketing from outside, and just relying on search engine optimization or paid advertising is never going to be enough," commented a source in China. The source further added, "The big question is – can foreign OTA drive users to their platforms and step up local conversion (referring to locals booking domestic hotels)?"

Also, China demands a thorough understanding of local communication and advertising channels. Take the case of WeChat. This app features several layers – communication layer, social layer, and connectivity layer, and brands need to comprehend how to use it for brand advertising, apt call-to-action and even avoid the threat of being labelled as intrusive with overt attempts to target users with commercial intent.

Avoiding a "local" war as of now: Chinese OTAs are clear about their strategy – they intend to expand their coverage beyond top tier cities, get as many as available properties online as possible. At the end of the third quarter of 2015, Ctrip had in place room supply tie-ups with 350,000 hotels for domestic hotel coverage, doubling the number from where it was a year ago.

"Home-grown OTAs hold an edge over foreign OTAs if one considers booking volume, user experience of extranet etc," added an executive. Also, foreign OTAs can't be over-ambitious. "You will need significant investment in a sourcing structure to have a good breath of products. This is quite challenging when you want a significant coverage in secondary and tertiary cities. The efficiency of contracting is still very low. And you can't sign hotels just by being in Beijing, Shanghai, Chengdu or Guangzhou!" The market demands a thorough study, where star-rating hotels aren't more than 25000-30000. "In the local market, Ctrip, elong, Qunar etc. have dominated nearly all segments except budget hotels chains and local small independent hotels where Meituan has a stronger market share and bargaining power."

So foreign OTAs need to be specific about the sort of hotels they intend to sign up, and also whom to target locally.

"According to a recent study of 1.8 billion Android mobile users, the users of say an OTA like booking.com tend to be international travellers, they use lots of non-Chinese apps," mentioned an executive. "booking.com's priority or target users within China should be those Chinese who intend to book overseas trips - studying overseas, travel abroad for work etc."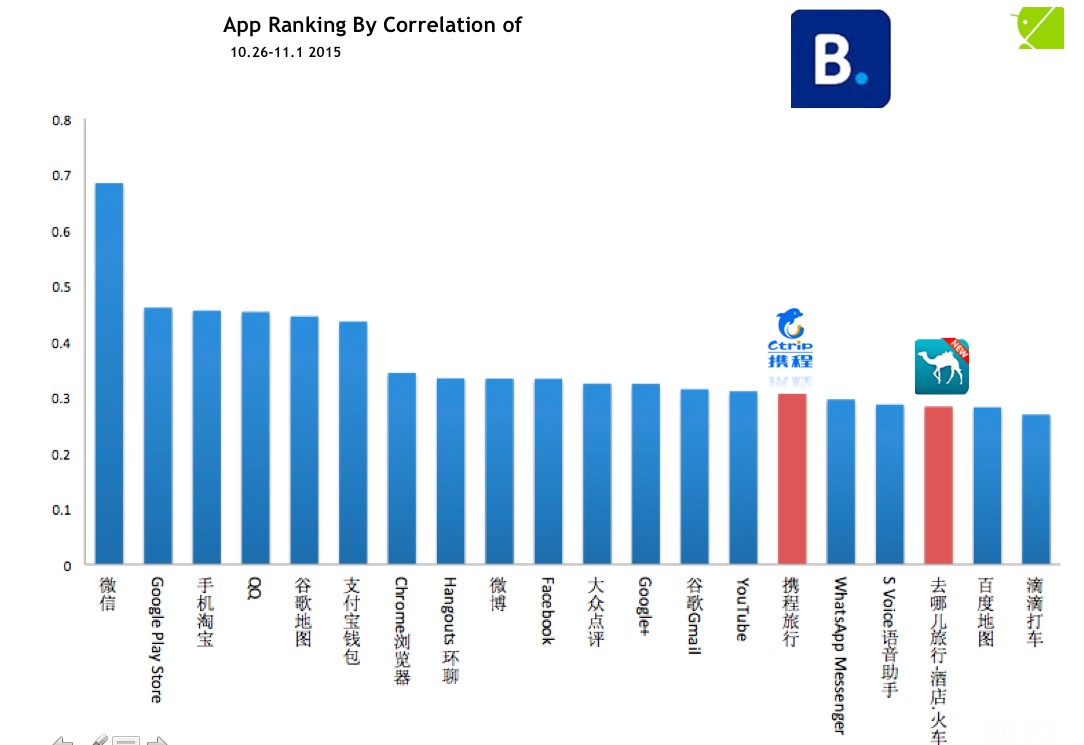 In order to enhance their hotel inventory within China for its international users, foreign OTAs should focus on those cities or hotels which international users would be interested in, for example, hotels in popular historic destinations or business cities, hotels have English speaking staff, hotels can booking railway tickets for international guests etc. "Global brands such as Priceline Group and Expedia Inc. already command high demand from international, corporate transient travellers - an important inbound segment for China. With them (Priceline/ Expedia) both having active business booking programs, the enticement factor to work actively with a global OTA brand is clear but requires a formal partnership to receive higher listings to attract demand."says David Turnbull, co-founder and chief operating officer, SnapShot.

Mobile apps: The top OTAs are garnering 70-75% of their bookings from mobile.

A conversation with developers and mobile specialists indicates that China has unique demands when it comes to making an app click. Companies like Ctrip dig deep to ensure the company's app is compatible with different vendors' Android and hardware systems. There can be peculiar features in local handsets, and this calls for solid understanding to ensure the experience is optimized.

As we learnt from Steven Pang, managing director – China, Skyscanner one has to deal with complexities. "In order to match different smartphone models, we have to make some adjustments or changes based on development of Android system, such as we may need to add or change design or functions for different smartphone models. On other hand, the testing period is also a challenge, we also need to make test on different smartphone models. We have our own team, and it specializes in testing the main smartphone models, such as Samsung, Xiaomi, Huawei,etc., and for some non-mainstream models, we have our third partner who support on testing."

Meta-search company Skyscanner acquired Youbibi in 2014. The company runs the Tianxun app, tailored to meet the needs of the Chinese consumer.

Referring to differences between the company's Chinese app and other apps of Skyscanner, Pang says the Chinese app is quite different from other Skyscanner apps, and "we are currently the only all-in-one app, while other markets have separated apps of fight, hotel and car hire."

He further added, "Chinese have different Internet habits when compared with other countries for social media, the online payment, etc. So, we developed some special features for Chinese users. Firstly, we have added a short-cut login to our app, which users could easily login our app by using their social account of Weibo, WeChat or QQ. Users may opt for Alipay or Tenpay to make the payment in our facilitated booking page. Not only that, as we know, we have added Baidu maps in our app etc."

Payment: While foreign agencies may talk about the agency model and the merchant model, and even offering an option to pre-pay or pay at the hotel via a credit card, the fact remains that only involving a credit card may not be a wise move in China. "Foreign OTAs need to learn the fact that a consumer and a hotel need to decide how to pay for a booking – options of alternative form of payments (bank transfer, Alipay, WeChat etc.) need to be factored in," shared a source. If an OTA coerces a hotel property to go for credit card-related system at the property, then chances are that OTA wouldn't make an inroad.

High penetration of mobile devices in this market is a major opportunity for non-Chinese brands, and travel entities need to ensure mobile payment becomes a part of the booking funnel. Some sort of investment or training at the property level may be needed for mobile wallets, but then if mobile is the future so be it. Ant Financial Services Group, an independent financial group and an ecosystem partner of Alibaba Group, is working with hotel organizations such as Marriott to accept payment via Alipay . The group ensures that no real need for installation of a huge hardware set up for transactions. A hotel guest can complete a payment in the offline environment (or pre-pay before arrival, during check-in or check-out) via payment QR code or barcode. In case of Marriott, the front desk installed dedicated QR code/ barcode scanners that are connected to the Alipay system.

Outbound business: This is an interesting business segment. Chinese OTAs are looking at overseas hotels, especially established chains to tailor their offering for Chinese travellers. As we highlighted recently, Ctrip continues to refine its Chinese Preferred Hotel program, ensuring the overseas hotels listed as part of its program match the preferences of Chinese outbound travellers. The list of known brands that are part of CPH includes Accor, Best Western, IHG, Hilton etc.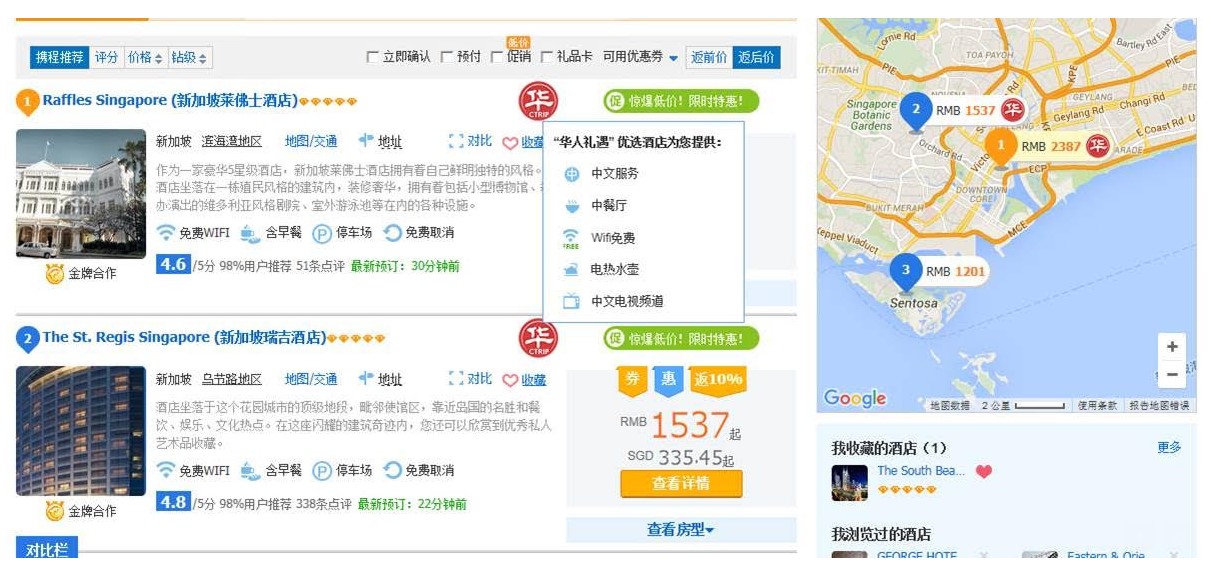 On the other hand,if we assess trends such as TripAdvisor's instant booking option, there is a possibility that a conversion might take place owing to the deals that TripAdvisor has with foreign entities such as The Priceline Group. But the question is – Is TripAdvisor's Chinese offering, including its mobile portfolio, strong enough to say make the user (for example, who is using its Android app to see Booking.com-branded hotel listings) and complete a transaction?

And what about similar tie-ups featuring TripAdvisor and Chinese OTAs such as Ctrip, Qunar and eLong – may be a deal this year?