The number of visitors to Shanghai Disney Resort is anticipated to grow from the initial 15 million to 30 million in future, as 3 million to 7 million more air passengers are expected to fly into Shanghai after the Resort opens.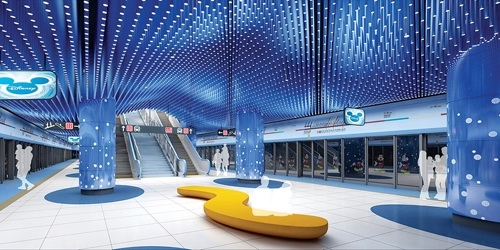 Shanghai Disney Resort metro station rendering
In this way, the opening of the Shanghai Disney Resort will directly benefit the transportation industry.
Spring Airlines' marketing director Wuan Zhang said the low-cost carrier will deploy more services out of its Shanghai base and open air routes such as from Shanghai to the northwest of China to accommodate the increased flow of passengers to Shanghai after the Disney park opens.
Shanghai's top carrier China Eastern Airlines has launched a Shanghai Disney Resort corner on its official website where passengers can search for information and updates on Disney parks around the world. Users will also be able to book China Eastern flights and exclusive Disney products on the website. China Eastern is exploring further strategic partnerships with Disney including package offers, channel sharing and joint promotions.
At present the metro line 11 that directly links Shanghai Disney Resort is partially operational. The Shanghai International Tourism and Resorts Zone said the Shanghai Disney Resort metro station will be opening in phases in step with the opening of the resort, while the construction of eight roads and highways leading to resort have been completed.
In addition, mass transportation using metro, city bus, corporate coach and shuttles buses are being launched to encourage the public to use mass transportation. Plans for utilizing internet and smart travel concepts are also being crafted.
Information from a year-end inspection of the Shanghai Disney Resort, conducted by the Shanghai Pudong New Area Committee in November 2015, indicates that transportation to the park is expected to comprise 40% of private cars and 60% of mass transportation, of which railways will carry 50% of the mass traffic, and corporate coach will account for 25%, while tourist buses, city buses, taxis and hotel shuttles will constitute the remaining 25%.(Translation by David)