As the travel arm of Germany-based media group ProSiebenSat.1 it includes brands such as Tropo, Weg.de, Discavo and Wetter.com – covering everything from hotels and car rental to package tours, weather and gift vouchers for experiences.
It bought Weg.de two years ago alongside Ferien, while most recently it acquired Sweden-based online flight service etraveli. 7Travel is the brand the travel elements are now using.
The acquisition is the company's first real step towards "internationalisation" and it believes it is well positioned to become a major online travel force in Europe using its television advertising to drive traffic to its sites.
A European media alliance it has with stations across countries including France will also help promote the brands to different audiences.
In an interview with Tnooz, Jorg Trouvain, CEO and managing director of 7Travel, provides insight into its growth strategy, further potential M&A activity, its unique position in online travel through television leverage and other trends in online travel.
ProSiebenSat.1 and the travel sector
Trouvain points to the fact that all media companies are trying to build digital businesses recognising that the core business is decreasing. While television is still growing in Germany, in general media specialists are looking at where future growth might come from.
In addition, television is helping to bridge the gap between the online and offline worlds. Trouvain says:
"Four/five years back online companies have only done online marketing because there was break between the living room and the office in the house where your computer sat. Nowadays it works wonderfully together because with second/third screens you are sitting in front of your TV with these devices.
"We can see the effectiveness of TV advertising improving immensely because people are reacting immediately. You drop them a TV advertisement and they take their tablet and key in the URL."
He adds that travel evokes emotions and that television helps because it conveys those emotions extremely well in terms of inspiring people.
"I think in travel what we lack is real inspiration, we have 100,000 booking sites and you can search but it's always pretty complicated. What I really miss is good travel inspiration and that you can deliver through TV."
One example he points to is the Reiseclub within Weg.de which aims to inspire consumers through destination features on the TV.
Bricks and mortar agencies
In Germany there is still a high reliance on offline travel agencies, but Trouvain says this is changing.
He argues:
"I think that's true still every where, and it's not so different here from the UK. Germany is especially strong in high street agencies but still the shift is going to online travel.
"It depends what it is but 85% of flights are booked online while for more complex package travel or combined travel elements people still go to a travel agency and want to have that consultancy. I do see that changing it's getting more and more online."
TV as a channel and generations coming up
Trouvain says the humble television is playing an important role in the cross-channel marketing mix for its travel brands.
Customer acquisition costs for online travel companies are huge and that's without converting them so 7Travel sees television as a traffic driver on top of Google adwords, content and search engine optimisation.
One current trend is for younger people to watch less television and more YouTube and video-on-demand.
While Trouvain acknowledges changing consumer behaviour he says the viewing public is still significant especially in Germany.
"Gen Y and younger people watch less and less TV but what we serve through our tour operator and online travel agency is more mainstream package travel and it's usually women who make that decision.
"It's women between the ages of 25 and 45 and they watch TV heavily. In Germany, people spend 20 hours a month online but about 120 hours on TV so it's still the leading media."
Trouvain accepts this will decrease but for now the 120 hours versus 20 is pretty compelling and the company will continue to leverage television to build its brands in Germany and across Europe.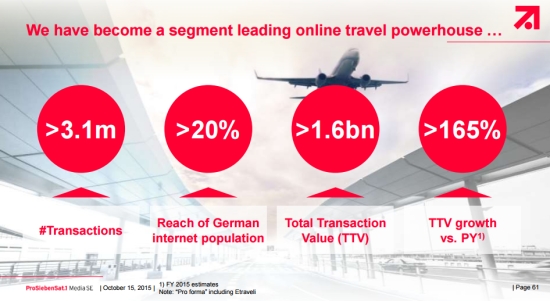 Thinking beyond borders
At a recent Capital Markets Day the talked about "internationalisation", a prospect that Trouvain is clearly motivated by.
He explains:
"We want to become a European online travel market leader. At the moment we are a leader in Germany, we have all these assets and we want to grow further.
"We have a marcap of half a billion and I promise you we will be at a billion very soon."
Trouvain sees the UK as a "special case" because of the dominance of package travel and the strength of the existing players.
"The hurdles to enter this market are relatively high because tour operator own the market and don't allow any OTAs to enter.
"There are some examples like On The Beach that are quite successful and have done it well. We are watching them and we are in touch. The UK is a market we would be interested to enter at some point but nothing concrete at the moment."
Single or multi-brand focus
Interestingly, compared to some companies that consolidate acquired businesses under a single market entity, Trouvain is content to have separate brands operating for the time being.
"That's not the plan at the moment. We try to follow the customer journey. As I've said customer acquisition is the highest costs for online travel companies.
"For example, if you look up the weather in Majorca on wetter.com we will show you offers from weg.de. Then, we show you car rental, so we try to acquire a customer only once and then guide him through our companies and go with him through his journey.
"We have created centres of excellence (SEO, marketing, etc.) to help improve each company we have bought. They have grown two/three and four times as quick than before. Then, of course there is the mergers and acquisitions side. What else to we need? Where do we have gaps?
"We had not been in flights so we looked at the market and the etraveli opportunity came up. We are looking at many more things at the moment."
Trouvain adds that the company only has Discavo for hotels but says the market is crowded with booking.com, HRS and for metasearch, Trivago.
"I'm not sure we want to go into that right now so deliberately decided to enter the flight market and etraveli might only be the first step. We think it is the best in the European market with growth rates much higher than everybody else. It's growing 10 times as quick as Odigeo and twice as Bravofly and its profitability is much higher with a 27% ebitda margin.
"etraveli is a fantastic asset and a hidden champion from my perspective and that could be a first step. The flight market is not yet consolidated like the hotel market and I think it's still possible to become the booking.com of the European flight market and that could be an opportunity for us."
Flights versus everything else
Many over the years have talked about the lack of margin in flights, which is why many OTAs went after hotels.
But Trouvain says 7Travel can be successful and explains how etraveli has been successful to now:
"They are very lean, they do it all with 130/140 people. In flights you have to be an expert in certain things- sourcing – it has good relationships with GDSs and with airlines and very favourable contracts with them. Then, 70% of its business is in the Nordics whereas Bravofly is 70% in Southern Europe and in Nordics you have higher prices, people buy at higher prices.
"At etraveli they are absolute experts in pricing. In flights people say you don't earn money and that's probably right and people even undercut the airline prices by offering the flight at a loss leader so to say and then earn money selling insurance, hotel, tours and car rental.
"etraveli is very good at pricing. It has systems and people in place to look at the competition and decide which price to offer. It's also very good at selling ancillaries and all that together makes up the 27% margin."
Other gaps in the market
Trouvain points to the in-destination experience as one potential area the company might look to acquire in to enable it to sell flights, hotels, packages, car rental and in-trip experiences.
He also says it would also be interested in something around the travel review and social sharing side of travel. Worth noting here that Trouvain was previously chief executive of HolidayCheck.
Challenges as 7travel grows in the market
Trouvain says he sees the company in a "unique situation and position" because of the group of companies it owns.
"I believe more in the Priceline model with specialised companies and not so much in the warehouse model like Expedia. All these companies are working together somehow but have their positioning as experts in areas and come together in the way we do.
"We have the money to buy certain things on the M&A side and we have the TV leverage. I think it's a very unique situation for us and therefore we're growing faster than others."
But, of course, there are hurdles.
Trouvain says:
"For the moment we are more of a German player and have just done the step into internationalisation. We have to do more of that. We have to choose our battles and our areas. As I've said I think hotel is very difficult so we are focusing on flights at the moment and see more consolidation in that market.
If you ask me what's interesting internationally, we could, for example, be the importer of choice for someone like On The Beach, we could help bring them into the German market with TV leverage. So, it's about choosing the right battles, growing further – our transaction volume is 1.6 billion after just two years."
Read original article