Volunteering and travel platform Hive announced it received a US$6.5 million financing led by CDH Fund and Will Hunting Capital. Its original investor IDG has also taken part. This financing came hard on the heels of an earlier financing worth US$3 million by investors including television host Han Wang.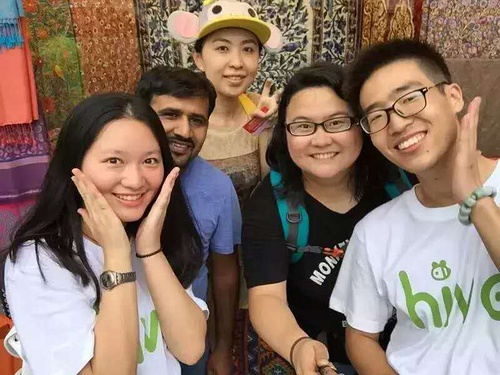 The Hive platform combines overseas travel, study and volunteering
Hive's founder Mengjie Du said the company has already set up a US center in the Silicon Valley to serve as its hub for overseas market operations. This round of financing will be used in developing new overseas markets, by initially targeting Chinese Americans. An English website is set to launch in January next year.
In its Chinese website, Hive has recently partnered with Wecash to launch an interest-free payment-by-installments option, enabling users to travel after paying down-payments.
In the last month, Hive recorded around 400 bookings and it expects to have over 4,000 bookings in total by the year's end. The platform handles over one million RMB in transactions per month and estimates it will have over RMB15 million by the year's end.
While Hive's initial target audience was college students and recently-graduated professionals from the ages of 18-25 years old, they found that even those aged above 40 would join the tours. The company has also received enquiries from families if they could bring young children on the trips, indicating a broad spectrum of people are interested in such tours. Hive will also look to partner overseas studies organizations to offer study tours for students of middle and high schools.
The products on Hive's platform cover tours to Southeast Asia, Japan, Korea, Australia and New Zealand, and a few in the USA. Products in Europe will be developed in a later stage. It has over 3,000 stock keeping units in its product inventory, developed by its business development team of over 10 members who are sent to overseas destinations to negotiate partnerships with suppliers
Hive strongly emphasizes user experience at this stage. Mr. Du said they are testing the combination of some products to allow users more flexibility to choose and adjust their trips. For example, if a user who signs up for a two-week trip to study MuayThai isn't happy with the course after a week, Hive can help them choose another course for the remaining week at the same cost.
Mr. Du said Hive places more emphasis on person-to-person interaction. While its products may duplicate other services', Hive's products have a unique style and brand. Ultimately, Hive intends to become top of mind when users consider going abroad for an internship, volunteering or training experience.(Translation by David)