Spring Airlines will invest over 20 billion yen in the next three to five years in a joint venture to develop a network of the "Spring Sunny Hotels" in popular Japanese destinations.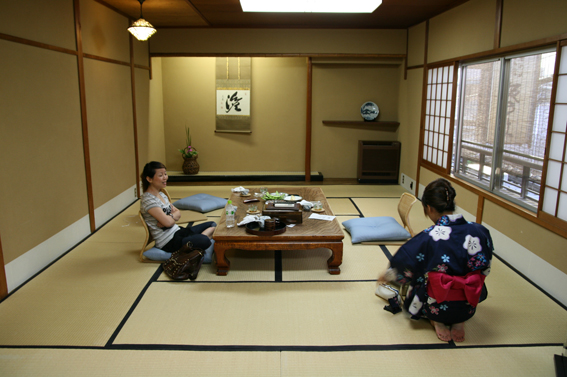 Spring Sunny Hotels to offer traditional tatami rooms
The carrier is venturing into hotel development to tap into the leading to spike in hotel room rates and transportation costs brought about by the planeloads of visitors it is bringing on flights to Japan.
The carrier's flights to Osaka from Chongqing, Wuhan and Tianjin, inaugurated in October last year, are 95% full on average. Other services to Osaka, from Lanzhou, Qingdao and Chengdu, inaugurated later also enjoy high load factors.
The carrier took about half a year to select and research on a hotel development partner and decided on Tokyo-based Sun Frontier Fudosan Co.
Sun Frontier will take out a 10-year low-interest loan to purchase a hotel property and Spring Airlines will leverage its consolidated resources to guarantee a basic level of profits for the operator. Spring Airlines will not have to take on any liabilities for the hotel and is able to share in the profit above the guaranteed level for lending its brand to the hotel.
The signing ceremony for the Nagoya "Spring Sunny Hotel"plan was held on October 28 at Spring Airlines International Tower by Spring Airlines Investment Management Co, established in Shanghai Pudong Free Trade Zone this year, and Sun Frontier.
Spring Airlines's chairman Zhenghua Wang said the investment company was set up as the vehicle for the carrier's ventures in tourism-linked real estate, bus and commerce domestically and overseas, in the group's increased effort to implementing its global strategy.
Spring Airlines has been making inroads into Japan since five years ago, starting with its first Japan-bound route, from Shanghai to Ibaraki, and followed by routes to Takamatsu, Saga, New Chitose, Osaka, Nagoya,Asahikawa and Haneda. In 2012, the carrier set up Spring Airlines Japan and began operating domestic flights in Japan from its base in Narita Airport since August 1 last year.
The carrier's China-Japan routes are expected to carry 1.2 million passengers this year. The passenger volume underscores the urgency for its plans of having hotels and other additional tourism business in its Japan game plan.
Sun Frontier Fudousan is listed on the Tokyo Stock Exchange and is among the top real estate companies in Japan. Its founder Tomoaki Horiguchi is a protégé of Kyocera Corp's founder and Japan Airlines's chairman Inamori Kazuo, who applies his mentor's altruistic and low-cost operations philosophy in the business.
At the signing ceremony, Mr. Horiguchi said he was very happy to partner with Spring Airlines as he admired Mr. Wang's corporate concepts and management philosophy and was optimistic of carrier's move to integrate airline and hotel operations.
Spring Airlines Investment's director Ronghua Lu said the first joint project of the partnership, the Nagoya Spring Sunny Hotel, will have spacious and comfortable rooms as well as rooms with tatami and family-sized rooms for 3-4 persons. The hotel will supply breakfast choices in Japanese, Chinese and western styles, as well as Chinese-language service, Wechat payment and personalized shopping options. Users can make convenient bookings on Spring Airlines official website or app and enjoy special offers and other convenient features.
(Translation by David)