ChinaTravelNews, Ritesh Gupta - Lack of trust in making payments to non-Chinese organizations or transaction issues owing to foreign currency payment have been common hurdles for non-Chinese brands in the e-commerce arena. As it's known, international retailers have suffered over the years owing to Chinese customers buying from third-party selling agents known as "daigou".
As for the travel sector, the problems can get compounded as products are not only relatively more complex to buy, but also the average order value tends to be higher, at least when compared with low priced retail offerings.
Before we delve deeper into how payment options at a local level are being improved, let's share what a global hotel chain told us about e-commerce in China: It's not an easy task for a Western company to let a Chinese user fill a form or share information in Chinese during the course of a booking process. And this has to be achieved for thousands of hotels. As simple as it may sound, letting a Chinese traveller fill characters in Chinese language and processing check-in information in Chicago or New York isn't a straightforward task. It's a huge undertaking for any brand to work out a smooth operation. So no brand can afford to lose out on the customer at the time when he or she is ready to do the payment.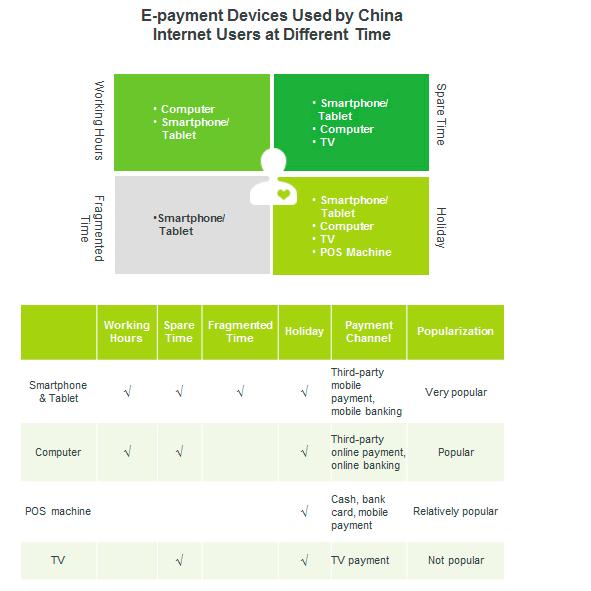 Source: iresearchchina.com
Counting on Alipay
This is where Alipay believes it can play its part in stepping up the conversion rate via a more competent payment mechanism.
"Activating Alipay as a payment method is a smooth process, with no real need for installation of a huge hardware set up. A hotel guest can complete a payment in the offline environment (pre-pay before arrival,
during check-in or check-out) via payment QR code or barcode. It's a mobile payment routing, and a simple mechanism for which a hotel needs a scanner to scan the code and back-end up system to link up the account," shared Miranda Shek, spokesperson for Ant Financial Services Group, an independent financial group and an ecosystem partner of Alibaba Group.
The travel sector can look up to other sectors, too. U. S-based merchants are already being offered Alipay ePass. It combines payment, logistics and marketing support, and enables them to sell and deliver via existing e-commerce website.
Just few days ago it was announced that guests at select Marriott International hotels will be given the option to pay for their hotel stays, food and beverage purchases as well as for meeting and event bookings using Alipay on their smartphones.
"Such tie-ups are a big step for brands such as Marriott, as it gives them access to over 400 million users of Alipay," mentioned Shek.
Shek, who mentioned that a Chinese user of the Alipay app can also complete the payment in the digital environment for a global brand such as Marriott (a hotel brand mobile app being integrated with the Alipay wallet app), shared that there can be an expected language barrier or rather small adjustment issues when the IT support team at Alipay interacts with its counterparts from non-Chinese brands for integration. "But that's (language challenge) not a major issue at all. Also, the fact that at the core of IT systems is coding and lining up of the system to complete the integration, it all works out well."
Complementary competencies
Alipay has moved on from just being an online shopping payment tool over the years. The company describes itself as a multi-functional payment provider. In December last year, the company shared that 42.3 billion payments were settled by Alipay over the past decade. Also, it is worth noting that the company is mobilising cash into digital accounts. Yu'e Bao is a financial platform that allows users to invest idle cash in their Alipay account.
In addition to payment, a key area is Alipay offering a gateway to data, that hotels and airlines can use for relevant, contextual offerings. "Alipay has the prowess to track behavior and mine data – say information about a hotel guest who has used the app (when the app was used, frequency of use etc.) So, for instance, a user has booked an airline ticket to New Delhi. Now a hotel can push a timely offer to encash on the opportunity."
Ant Financial has been eyeing opportunities in the arena of analytics. For instance, it was in June this year, when Alibaba and Ant Financial decided to go for equal 50% equity stake in Koubei. The initiative would integrate the convenient aspects of mobile commerce and big data to transform and upgrade China's local services sector.
Building trust
High penetration of mobile devices in this market is a major opportunity for non-Chinese brands, and travel entities need to ensure mobile payment becomes a part of the booking funnel. And in doing so, they need to win over the trust of consumers. Shek acknowledges that escrow payments are integral to hiking the rate of e-commerce transactions by combating lower trust for remote selling and buying. Also, it is proving to be a feasible substitute to cash-based transactions. An escrow payment specialist is being perceived as a dependable partner, paving way for assurance and risk mitigation as far as the buyers are concerned.
Generally, the escrow payment provider accepts payment from users as part of the checkout process.
"In case of hotels, payment is being done at the time of check-in," shared Shek, citing an example.
Shek also clarifies that in case a customer is stuck or has any query at the time of booking, then a customer service representative would guide the customer and help in completion of a transaction. "The 24-hour hotline resolves an issue within two hours. Also, if the transaction goes through and if there is any issue such as system failure, then transaction is guaranteed 100%." This all is directed at building the trust and to ensure the travel shopping experience is top-notch.
All augurs well if such strategies are in place, though commercial details between merchants and Ant Financial aren't available.
China third-party mobile payment gained GMV of 5.99 trillion Yuan last year, increasing by 391% from 2013, according to iResearch. And companies that haven't been traditionally part of the set up or are outside of traditional financial services sector are playing their part. As for Alipay, it accounted for over 82% transactions share of the third-party mobile payment market last year.
The market size of the online-to-offline penetration of the local services market is projected to be over RMB300 billion in GMV in 2015, according to iResearch.
There are other interesting developments that are shaping up. One of them is payments via NFC-enabled smart devices. Ant Financial is working on plans to use facial recognition for authentication of mobile payments. Also, the company has reportedly been working with local handset maker Xiaomi featuring integration of smart wristbands with Alipay. This would enable users to pay with the Mi Band in physical stores.