ChinaTravelNews, Nicole Sy - ChinaTravelNews talks to Alan Chang, Airbnb's managing director for Northeast Asia about the Chinese traveler and Airbnb's goals in the country.
With present society getting more comfortable with the idea the sharing economy is here to stay, one of its biggest pioneers, Airbnb has made the bold, but expected move to focus on Asia, specifically China. For one thing, the growth numbers and opportunities are simply incomparable with other markets.
"Outbound travel from China has grown 700% in the past year for travel from China into other markets around the world," says Alan Chang, regional manager of Airbnb Northeast Asia regional manager. "China is one of the fastest growing outbound travel markets in the world, it has been the world's top spender in international tourism since 2012."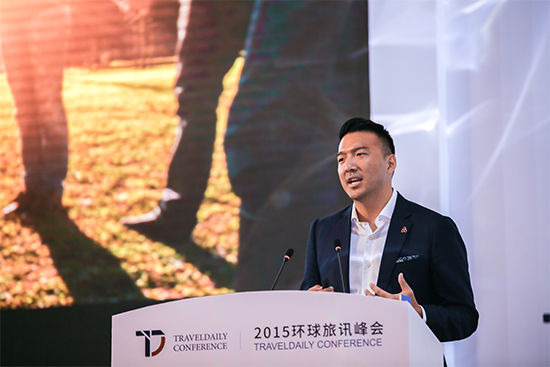 Airbnb announced their partnership with investment firms, Sequoia China and China Broadband Capital just a month ago August this year, for a better position in the Chinese market. The amount invested into Airbnb remains unknown, but Bloomberg reports the company's valuation now totals $25.5 billion. It beats out many heavyweights in the industry including Starwood Hotels and the IHG Group, though Airbnb doesn't compare themselves with big hotel groups.
It helps that growth in the country is astounding. With a population of 1.4 billion people and disposable income at an all-time high of 28,844 RMB (US$4,649) in 2014, "put simply, means its people have more money to spend on travel and other discretionary spending," reports the 2015 Chinese International Travel Monitor (CITM) annual report by Hotels.com.
"The last year and a half has really been us dipping our toe in the water, learning about the culture, trying to even validate, 'Would the Chinese people even want to use Airbnb?'" Airbnb Chief Executive Officer Brian Chesky said in a Bloomberg interview. "Now we're getting really serious."
Reaching out
It's easy to see why the company is so focused on China. More Chinese travelers spending money outside China means more opportunities and greater streams of revenue for Airbnb. Their focus lies in the country's outbound travelers.
"China as a country, as a source of travelers, is growing faster than any other country in the entire world. Over 5x year-over-year… incredible growth," Airbnb CTO and co-founder Nathan Blecharczyk said at the Bloomberg Technology Conference in June this year.
With that great growth comes great spending power too… a lot of it. "There's a growing middle class, increasingly the first thing they want to do is explore the world," continues Blecharczyk. "China is now number one in terms of international tourism expenditure... the future of international travel is really the Chinese tourist."
The company, which began in San Francisco in 2008, says its more than the numbers pushing them forward. Airbnb is committed to their mission of helping travelers achieve more authentic and unique experiences, whoever they are, wherever they may be going.
It also helps that the Chinese demographic is shifting in their favor, away from the traditional form of travel most Chinese tend to favor: the infamous Chinese tour group.
The younger crowd
Many factors are contributing to the rise of the Chinese tourist, the biggest being the growth of its middle class and rapid Chinese urbanization. However, external factors including the digitization of travel and easing of travel restrictions like visa-free or visa-on-arrival options for Chinese tourists play key roles as well.
But perhaps what has spurred Airbnb's growth the most is the kind of people traveling today. "Around the world, travelers are increasingly looking for more authentic experiences. As Chinese become more experienced and sophisticated travelers they, too, are more and more looking for unique experiences," says Chang.
It's mostly millennial travelers, or travelers aged 18-35 years old, who hunt for these authentic experiences, and it's these young people who make up the bulk of Airbnb's users from China. "Our Chinese travelers are typically millennials traveling from cities, with the most travelers coming from Shanghai, Beijing and Guangzhou," Chang confirms.
When people started earning greater disposable incomes in the 90s up to the 2000s in China, travel was more restricted than it is today. Chang identifies the first wave of travelers as the "I've been there group." They maximize time and money, booking everything through an agency, and are still a dominant form on travel in China, especially domestically. "This group is shrinking though due to technology and savvy travelers," he says at his keynote speech at the Travel Daily conference.
The second group, Chang calls the "I've bought it group." They prioritize luxury goods, with travel acting as a status symbol. They are still many Chinese travelers in this mode, but Chang says like the first wave of travelers, they too are shrinking every year.
While the Chinese tour group is falling out of fashion with the young and urban, "DIY" trips are cropping up. These trips are where mostly mature travelers piece together their own itineraries, and what Chang calls the "I've experienced it" group. "More China travelers are comfortable to travel and explore the world independently, and plan everything including flights and accommodations on their own," says Chang.
Chang explains that this group cares more about authentic experiences and make up about 40% of outbound Chinese travelers. Within this group, Chinese millennials take the lead, all 400 million of them.
58 percent of the younger subset of millennials (aged 18 to 25) prefer freer, independent travel, when it comes to leisure, according to the 2015 CITM report. When it comes to making their travel decisions, "millennials use a range of resources, and rely less on travel agents than others," it writes. "Almost half use word of mouth and review sites as well as online accommodation websites. Forty-four percent rely on word of mouth when planning trips and 30 percent use social media as a source."
With the market transforming, Chang feels confident about Airbnb's role and ability to serve their target group. "We believe that Chinese millennials will change the way China sees the world, they will change the way the world sees China," he says.
Local Issues
Chang says Chinese users have started using Airbnb "very early on" since the company launched in 2008. But to adapt to the Chinese market, Airbnb localized not only their technical features but also "inspirational content" on users' landing pages, depending on their IP addresses.
"For the Chinese market we have also integrated local payment methods like Alipay or UnionPay, and Sina Weibo for signup and sharing," shares Chang, referring to the country's ubiquitous online payment method, bankcards, and Twitter-like social media, respectively. When it comes to Chinese social media, which lays another world away from Twitter and Facebook, Airbnb has a Weibo and WeChat instant messaging official account too.
But their local competition is intense. Much like Uber and its battle with its Chinese counterparts, Airbnb has inspired many others like it, including Xiaozhu and Mayi, to jump on the sharing economy bandwagon. "Of course we are aware that our success has inspired local players," says Chang. "We are thrilled to see that the sharing economy is catching on in China, too."
However unlike Uber, Airbnb has decided to focus on where their competitors cannot go: outside China. "Airbnb differentiates itself with a large number of global listings. We have over 1.5 million listings in 191 countries," he says. "We can provide Chinese travelers the type of unique experience that others cannot offer, so we are quite confident about our own positioning in the China market."
Confident as Airbnb is about their position doesn't mean it doesn't have their own share of problems stemming from the country. Like their run-ins with the law in New York and San Francisco, Airbnb opted to stay silent about regulations in China that they and their hosts would have to comply with.
The sharing economy may be here to stay but that's not to say that it doesn't have all its thorns removed just yet. TravelDaily reported on the growing trend of property managers in China and the US eroding the social travel community Airbnb aims to build. Issues also arise when different property managers list the same places, yet no one is able to confirm a booking, frustrating users.
A verdict was handed down for a similar situation in Los Angeles, when pressure from housing advocates and community groups forced Airbnb to prohibit vacation-rental firms from listing their properties on the website.
Due diligence may also be lax, when our TravelDaily reporter was able to list a non-existent listing in China.
Some successes prove, however, that Airbnb is willing to work with governments regulate the newfound sharing economy. Paris, Airbnb's top home-sharing destination, will begin charging tourist tax for rentals within the city, which it will turn over to authorities. The company has a similar fee for Amsterdam, and has worked with city governments in the US, like Portland's and Chicago's, to better regulate the market.
Looking forward
Airbnb is currently targeting outbound travel in China, where their strength lies, but Chang says it's hard to say where they will be in the next year or two. "We move really, really fast at Airbnb, which makes it difficult to look that far into the future," he says.
Airbnb CTO and co-founder Blecharczyk explains it best in June this year, on just how fast things move in the company: "Tonight there's about 400,000 guests staying at people's homes. By summer, that number will double."
What we do know is that the Sequoia and China Broadband investment in Airbnb's China operations will see $1.5 billion going to securing a new chief executive officer solely for the country. He or she will have the task of increasing Airbnb's influence and travelers' awareness of the company, and dealing with thornier issues like taxation that has risen in other cities and countries.
The company has also acquired travel-planning start-up, Vamo for an undisclosed amount. Re/Code reports the team was acquired for their expertise in booking, though Airbnb will use no data or technology from Vamo. The move possibly hints at its ambitions to move beyond accommodation, and into the travel-planning sphere.
Airbnb has been on an "acquire for hire" spree as of late, scooping up Nabwise, a neighborhood analysis service, crowd-sourcing tool Localmind, and DailyBooth, a photo sharing app. Like Vamo, the company will shut down the original products in all its acquisitions so far, Re/Code reports.
Regardless of what new ventures the company undertakes, one thing certain is its spotlight on China, especially its younger travelers. "For now, our focus is solely on international travelers from China," says Chang. "China will continue to be the growth driver of Airbnb.
"From a data standpoint, Chinese millennials on Airbnb they give and receive the highest reviews in all of Asia. And they are one of the highest reviewed guests in all of the world," he says at the TravelDaily keynote speech. "This is just the beginning. We're very excited to see this in the coming months and the coming years."