ChinaTravelNews, Nicole Sy - The TravelDaily conference room was crackling with anticipation. Four leaders in the venture capital field had just completed an executive panel roundtable and were now going to judge the finalists in TravelDaily Lab's competition for the top travel innovation this year.
The finalists catered to needs that ranged from itinerary planning, audio travel companions, shopping and transportation needs, and had come from not just around China but around the world too.
First up to present was founder and CEO of Triploc, Ray Zhang. Triploc, which Zhang says comes from the words "trip + local", is a travel social network app based on LGC (local generated content), focusing mostly on overseas Chinese. It provides points of interest shared by locals and connects tourists with both locals and other tourists with similar itineraries, in search of travel companions, "to make sure its not lonely travels," says Zhang.
Triploc boasts of great technical advantages, according to Zhang. "When we released the 1.0 version, friends will honestly say about the UX, it's a superb customer experience. We have more than 1000 trip assistants that can help you trip planning," he says.
After Triploc was Mozio: a B2B transportation innovation finalist from the US. It is focused on helping connect customers, local companies and global travel brands get to and from the airport. "Buying and selling tickets are hard for consumers and providers because of fragmentation and poor technology," says Emre Mangir, COO of Mozio.
Those at Mozio believe there needed to be a single platform where travelers can find all the options for local travel at airports. When it comes to the more than 6000 airports in the world, Mangir says Mozio covers the top 2000, which makes up 99% of traffic.
A question posed by the panel remarked the typical leisure profile is price-sensitive. If their typical user were a business traveler, they asked, wouldn't the easiest way be to just call services like Uber?
"It's a mix of business and leisure," Mangir answered on their typical user profile. As for ride-sharing applications like Uber, Mangir says it's difficult if you don't have a local number, so they simply aren't able to. "Some people want a more economical option too," he says.
On the future of Mozio, "our goal is to build the world's online local transportation infrastructure. Our biggest focus over the next year will be to continue building out our supply network," says Mangir. "We'll also start bringing more public transit options and making them easily bookable through a single source, regardless of where you're searching. We've still got a long way to go, which is what makes this business so exciting."
Next up: CEO and co-founder of Yoloboo, Denise Pu. Yoloboo is a social travel app designed for women. Derived from the words YOLO, an acronym for You Only Live Once, and "boo", a term of affection, the app strives to inspire women to discover the world, to show off their travel style, and meet like-minded sisters in the world of wanderlust.
Women, Pu says, have stronger decision-making power when it comes to choosing travel destinations. "For the first time in 2014, women have spent more money than men in travel," she also adds. But the issue with the market is that there is a fragmented market base, she says. Tour operators and travel services need one base to reach this market.
The panel made a case that there were already a few apps in the market to serve the female traveler, so it is not easy to differentiate what makes each unique. But Pu argued that Yoloboo has a sticky customer base with high loyalty. Their target market is the young, modern, Chinese woman usually born in the 80s with the funds to travel with their friends and colleagues.
Marketing also isn't an issue because women are more likely to talk and share information. "When a lady likes your product, they will share it with their friends," she says.
Roomranger, a property management system brought in from Melbourne, Australia was next with founder and CEO Tom Schauble presenting. Roomranger is a cloud-based platform that helps boutique hotels boost revenue by providing an integrated hotel management and guest communication system.
Schauble says the first thing it does is stops the hotel management from making mistakes with their innovative automated workflow system, and second, utilizes customer relationship management tools to personalize a guest's hotel experience, for that extra touch. "A hotel is more than a bed," he says. "And bad reviews can kill many possible stays."
Like Yoloboo, the panel was concerned about competition. "Property management systems are a popular area," Schauble acknowledges. "But others are focused on running the hotel, and others are focused on personalization. I don't really see a system where the two are integrated," he says.
Entry barriers were also issues brought up. The Roomranger team is tackling this by trying to write an importer program to make the transition easier, but with a fragmented system, the task is fairly difficult. "But 25% of hoteliers still use pen and paper to manage properties in the US," Schauble says. So the opportunities are great.
Next, founder, Jingkui Shi, presented his audio travel guidebook app, Geliefo. The name of the app is the Chinese name of Gulliver, from the stories Gulliver's Travels, and the presentation started with a catchy song and video of travelers' woes to the beat of Michael Jackson's "Beat It".
"People are tired of planning our trips!" Shi says. "With technology now, its all visual, so now we are developing a listening trip planning software. It's unprecedented, it's unique, and can't be found anywhere else. Its easy to use and user-friendly." If a group of friends are traveling, they can all share which audio guides they are listening to with each other during the trip, and with everyone else any other time.
With a focus on content, Shi says the source and format of the audio guides are all developed in-house, though they sometimes ask others to contribute content as long as it is good content and sounds fine technically. "We want to empower trip planners to plan their trip better. So we want to diversify content," he says.
Cost was an issue the panel was worried about. Would it shoot up? How will the app survive if people don't subscribe to it? Shi isn't too worried, as he says they are just starting to build momentum towards a listening base. "As more people know about our software, we will have a steady revenue stream to develop content in more interesting way. The bigger cash flow can help recover costs," he answers.
Another finalist from Melbourne, Australia, shopnfly focuses on the shopping aspect of travel, and aims to consolidate prices for travelers on one platform. It thereby saves travelers time and money as they pass through thousands of stores selling the same products. Commercial Partnerships Manager, Jonathan Aldor claims users can search for the product they want, and find it at the best location and best price in their network of more than 150 locations.
"Imagine that you're flying to Sydney tomorrow and you want to buy a particular bottle of perfume during your trip. You have at least 5 options of where you might be able buy that perfume," Aldor says. "You have no way of knowing where that perfume will be the cheapest, no way of comparing prices, or knowing if it will even be available for sale. Shopping is fun, but running between stores to find a product you already want, just to get the best price is no fun!"
That's where shopnfly comes in. It saves shopping travelers time and money by delivering crucial information to them. For businesses, revenue channels monetize travelers by turning them into shoppers, with businesses receiving a share of the revenue. While it was a challenge getting businesses on board at first, Aldor now says they've jumped on the site as well.
Founder and CEO of Bequ, Pruby He presented his innovation that aims to help travelers discover great places to stay, eat and play. The app organizes trips with recommendations from hosts and businesses, making it easier for travelers to plan their trips.
Primarily a social travel site, He says Bequ can gain user loyalty and increase user activity when they share their travel experiences. But he acknowledges that they have competition when it comes to other social travel sites like mafengwo.cn, and vacation package OTAs, where trips are also easily planned without too much work on the traveler's part.
Finally, with bated breath, both the TravelDaily Innovator Award and People's Choice Award of the event were presented to shopping site, shopnfly. Shopnfly does just what the expert panel had discussed prior to the presentations: disrupt some way the industry functions—in this case, the shopping experience when traveling.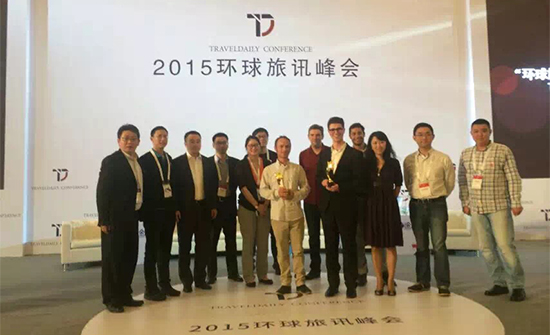 "Shopnfly is a truly disruptive technology in the travel industry, it changes the way travelers search for an buy products while they move from country to country," Aldor says of the winning innovation.
But he can't rest on his laurels yet, as there remains plenty of work to be done. "It's an entirely new distribution channel for all retailers. We're single-handedly taking travel shopping and putting it online. That's a massive task!"