ChinaTravelNews, Ritesh Gupta - Air China's drive to optimize its distribution channel mix is making a steady progress, a development signalled by a stronger contribution from its digital channels as well as cutting down on indirect distribution expenditure. The performance of its e-commerce division emerged as one of the major highlights as the group shared its interim results for the six-month period ending in June this year.
Overall, turnover was RMB51.862 billion, a y-o-y increase of 3.86%. Profit attributable to shareholders was RMB4.191 billion, a y-o-y increase of 721.15%.
Over the past 12 months, Air China has rolled-out a series of initiatives to improve the operational performance of its e-commerce platform. If one were to assess the contribution of direct channels, the contribution stood at 22.3% or so at the end of first six months of 2014. Moving on, this figure now has risen to 27%, growing mainly at the expense of agency sales. This also brings to the fore the attempt of Air China to curb the reliance on the agency channel. Agency sales stood at more than 74% after the January-June 2014 period. And as per the latest interim results, it has come down to 70%. In February this year, Air China lowered the agency commission rate of Air China domestic air tickets sold in Mainland China from 2% to 1%.
Other than direct sales and the agency channel, the third channel, termed as "sales from other airlines", has come down marginally from 3.2% to 3% in the first half when compared over the same period.
Strengthening of e-commerce
Direct sales has two components - online direct sales via website, mobile, flagship direct sale on third party platforms and SME online sales, and offline direct sales via call center and ticketing office at city and airports.
As for the revenue structure of the e-commerce pie for Air China, the group's website leads with 53.3%, whereas flagship store channel (the group like some other Chinese airlines has its own so-called flagship shops/ stores on major OTAs in China) follows with 36.4%. And mobile currently contributes 8% and online corporate sales contributes 2.6% of revenue respectively.
The traditional website remains a strong priority for Air China. The airline is to soon launch "low fare guarantee" on domestic and international routes on its website, shared Fajin Hu, Air China's senior manager - e-commerce.
Another important area is going to be enhancement in the user experience. Also, Air China is planning to support international OpenJaw itineraries for the increasing outbound trips made by Chinese tourists. "Till now, www.airchina.com.cn doesn't support international OpenJaw booking function, for example, PEK-SFO//NYC-PEK, due to the limitation of current booking engine. The new version of booking engine will be launched on our site by the end of October, which will meet the need of booming outbound Chinese tourists," shared Hu.
These initiatives are going to sustain the momentum of initiatives started last year. Few months ago, the team had upgraded its overseas website. As it emerged, the group decided to simplify the layout, and focused on letting buyers complete their transactions with ease.
The concept of flagship stores in also a significant source of revenue for airlines today.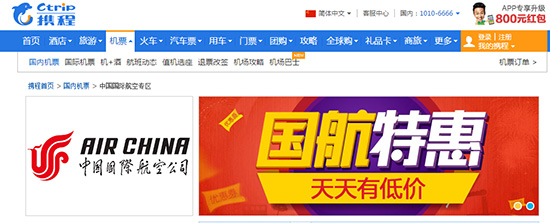 These stores are only available on the Chinese version of the OTA and online travel websites. "The flagship store is a front-end contacting point of Air China e-channel on three major travel e-commerce platforms, Ctrip, Qunar and Alibaba. Airlines treat a flagship store on those platforms like a brand store in the department store," shared Hu.
Owing the experience
A major impetus, be it for targeting new streams of revenue or introducing new services on the back of technology, is on improving the journey of passengers.
For instance, the new mobile app, optimized for both mobile phone and tablet devices, is now letting its frequent flyers (almost 33 million at the end of last year) engage in mileage redemption, view bookings made via the other channels (web, OTA, etc.), and purchase ancillaries (upgrade at gate), etc. Users can search for updated flight schedules, check-in and book online, and can view any cancellation fees that may apply. Being data-driven is key here, and whatever is being recommended to users via mobile app is relevant and contextual, and rewarding flyers for their loyalty. So be it for a limo service or offering a discounted upgrade at gate, the chances are that if you belong to a higher tier and is a loyal customer, then more luring would be the benefit or the promotion.
This approach is key to combating the influence of OTAs, too. As with any airline, Air China, too, needs to negate the offerings of OTA apps. Experts believe Chinese OTAs are ahead of airlines, owing to richer content, cheaper price, and better user experience. The traffic they garner and the way they monetize is quite striking. In case of Qunar.com, total estimated flight ticket volume for Q2 was 28m or so, an increase of 46.9% y-o-y. Flight and flight related revenues were RMB517.0 million.
On the other hand, Ctrip's air ticketing posted strong y-o-y volume growth of 60% in Q2.
Merchandising on its way
China has a long way to go when it comes to monetizing the traffic via a feasible merchandising strategy, but the journey has begun on digital direct channels. For instance, Air China has already initiated a process to garner ancillary revenue on long-haul flights. Some of the products introduced last year included seat selection fee, upgrade coupon, prepaid luggage fee and upgrade at boarding gate.
Importantly, Air China, which has been associated with Datalex for four years now, is ensuring that its brand and service as full service carrier stand out in whatever it does.
Air China has worked out branded fares, and different bundles are being used for segmentation. A passenger may opt for additional services, if they go for a higher fare and of course there are other benefits, too. The lure would be additional mileage accumulation or a premium service, it's about making it an attractive value proposition based on loyalty and service.
Other areas of significance
Air China's first half performance also stood out for its service quality as well as strategic moves related to its fleet management and hub strategy. In addition to self baggage check-in and security clearance via mobile QR code, the organization is also making inroads in the in-flight phase, too. In March this year, Air China became the first domestic airline to offer live TV broadcasts on an aircraft.
The senior management also asserted that its first-mover advantage in fleet restructuring is there to be seen. During the January-June 2015 period, the group took delivery of 28 new aircraft and withdrew 9 old aircraft. The average age of fleet was 6.11 years. The group stated: as the share of wide-body jets (the ratio of wide-body jet seats to narrow-body jet seats was 1:2.65) increased, the fleet structure continued to be optimized, thus lending stronger support to the hub network strategy.
Fajin Hu is scheduled to speak at the upcoming 2015 TravelDaily Conference in Shanghai (September 16-17, 2015).