By Ritesh Gupta, ChinaTravelNews - It's a huge pie and yes, everyone is clamouring for a piece of it. China's outbound travel potential continues to garner the attention of both international and home-grown Chinese OTAs, a trend depicted by a spate of alliances and initiatives pertaining to organic expansion.
As of today, as highlighted by IHG in its report this year, there are over 150 Chinese cities with a population over one million that can be considered significant origin markets for tourism.
In its recently released annual study, Hotels.com stated that "tech-savvy, younger and more affluent Chinese" comprise a major portion of the 20% rise in outbound mainland Chinese travellers, reaching 107 million last year.
As for the recent RMB devaluation, the outbound tourism will be negatively impacted by the RMB's exchange rate if it continues to fall.
OTAs battle it out
While the likes of Ctrip.com and Qunar continue to refine their product sourcing in North Asia and Southeast Asia, global bigwigs such as Priceline Group and Expedia Inc., too, have been quite active over the last few years.
If we take the case of Expedia, the group decided to exit the domestic market in May this year. But the focus on outbound travel remains intact.
Expedia's president and CEO Dara Khosrowshahi recently did mention this: "…although our exposure to the domestic Chinese travel market is reduced for the near term, …(we were) able to draw substantial value creation for our shareholders through the eLong transaction." He also mentioned: "We're still participating in the huge long-term growth opportunity that China represents. We have ongoing commercial agreements which give us access to the outbound Chinese travellers of Ctrip and eLong, and expect both to bear fruit over the near and long term."
Priceline, too, is making steady progress.
During Q1 results, president and CEO Darren Huston acknowledged that the group hadn't on-boarded Ctrip's inventory as fast as the team had hoped. "There are a lot of issues we're working through. We're also exploring the need to ramp up our own efforts in China to bring on inventory," Huston had said in May. Moving on this month, during the company's Q2 earnings call, he shared that China outbound "continues to be very strong for us, growing at very fast rates".
Referring to the market, global OTAs acknowledge that Chinese do still travel in packages and over time that's going to change. These OTAs believe that they are going to be in a sound position as the transition shapes over a period of time, which is going to be likely in the next 5 to 10 years.
As for the going efforts, Expedia points out that its expertise in offering package inventory at a global level has proven to be quite interesting to local Chinese travel providers. "We see the partnership opportunities there already pretty strong," Khosrowshahi indicated.
Ctrip and Qunar eye Asian expansion
For their part, Ctrip and Qunar, too, have strengthened their teams outside China for product sourcing, dealing directly with hotel organizations.
As per our sources, Ctrip, which had only 20-odd employees as part of its international hotel contracting team located outside China around the same time last year, has now expanded to seven offices in six countries in Asia – Singapore, Thailand, Malaysia, Indonesia, South Korea and Japan. It is estimated that there are around 50 overseas employees as part of its hotel contracting division. A major role of this team is to identify properties that Chinese travellers are likely to book. Till date, this team has signed around 30,000 properties. Overall, Ctrip boasts of 600,000 properties as part of its international hotel content.
Ctrip believes a key OTA differentiator is Ctrip's "Chinese Preferred Hotel" program. The hotel contracting team ensures that the content is tailored as per the preferences of travellers.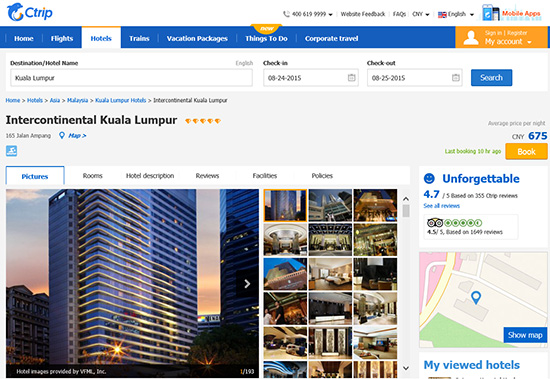 For its part, Qunar entered into alliance agreements with 22 global hotel chains in the first quarter of 2015 to further expand its services to cover high-end luxury hotels and the international market.
Also, among the others, Tuniu recently opted for the majority stake in Beijing Global Tour International Travel Service, an outbound packaged tour wholesaler in China. The company's products cover over 100 countries and has more than 200 employees. Tuniu also continues to strengthen its regional network and procurement strategy at this juncture.
Top Chinese OTAs also admit that specifically economy or low-end market properties need to be informed about the utility of partnering with them for Chinese audience.
Devdutta Banerjee, Director, RM and Distribution, Banyan Tree Hotels and Resorts acknowledged that the likes of Ctrip.com and Qunar.com are focussing on improving their distribution reach by increasing their network outside China with emphasis on direct contracting.
"The markets where we have relatively lower brand awareness, that's where OTAs are proving to be valuable partners. There is reliance on such partners (both global and Chinese OTAs) to make our properties available," mentioned a hotelier based in the U. S.
Another hotelier told us: "Chinese OTAs over the years chose to outsource hotel inventory or tie-up with other established intermediaries for outbound travel. But now with Booking.com posing a challenge in a significant manner, plus the increasing prowess of Chinese outbound travel business has propelled the likes of Qunar.com and Ctrip to strengthen their hotel contracting network outside China. It's clear that a Chinese OTA wouldn't like to suffer a cut in the outbound business, and they have chosen to strengthen their resources in the APAC region to go after this segment of business."
As for external factors that one needs to be aware of, the source mentioned: "Considering the possibility of Alibaba foraying into this business and sustained improvement in Google hotel search along with deals such as the TripAdvisor-Marriott one show the need for Chinese OTAs to strengthen ties with non-Chinese hotel companies. They need to stabilize their position, and not rely on external partners for price, inventory and availability of hotel rooms."
It should be noted that Ctrip.com and Qunar.com are driving the contracting process and focussing on two-way direct XML connectivity, directly dealing with hotel companies, added the source. "On the contrary, the tactics of a major international OTA remain aggressive. A visitor might be lured from a meta-search at relatively lower price, and then eventually the OTA converts at a higher price. It's a debatable issue, but yes it's happening. Also, undercutting on commissions is prevalent, but is something that the OTAs are not acknowledging publicly."
It's also interesting note to how a Chinese OTA would show results considering that there are tie-ups with international OTAs for hotel content.
So how would Ctrip display results that match the buyer's intent?
The best results are shown, according to the "different scenarios". "The scenario could be non-refundable or free cancellation booking, or bed and breakfast or only bedroom option, or room occupancy single or double etc. Depending upon these parameters, a consumer gets to compare and book the most suitable room," shared a source.
OTAs are stronger in ecommerce
For foreign hotel companies targeting Chinese outbound travel segment, the reliance on OTAs is important at this juncture. A major reason behind this is the issue of website accessibility. Hotel organizations need to ensure they make the most of their budget, and for this one needs to sort out issues such as some 3rd party content (example Google related services) slowing the site speed, location of the servers, the server speed, the richness of content, etc. As a result, a non-Chinese hotel's online direct initiative still may not shape up a desired conversion rate, and hence turn to OTA considering their mobile and PC selling capabilities.
Booking.com is one site that believes that its tests have shown that the page load speed is as fast as some local players.
So the role of OTAs in hotel distribution mix is quite important.
It still remains a tough proposition for any non-Chinese brand, be it for hotels or intermediaries, to come to grips with booking behavior and preferences. As Khosrowshahi pointed out, Chinese customer "is quite different in what they're looking for in their behavior and their device mix". During the company's Q1 earnings call, he mentioned China is a market that in general has been difficult to reach for Western companies.
Hotels do acknowledge that the level of incremental business from 3rd party sites is higher. And this means OTAs would figure prominently in the scheme of things.