Group-buy site Meituan's ambitious foray into China's travel market has spurred China's top taxi app Didi-Kuaidi to venture into tourism by integrating its corporate travel service and local excursions for individual travelers.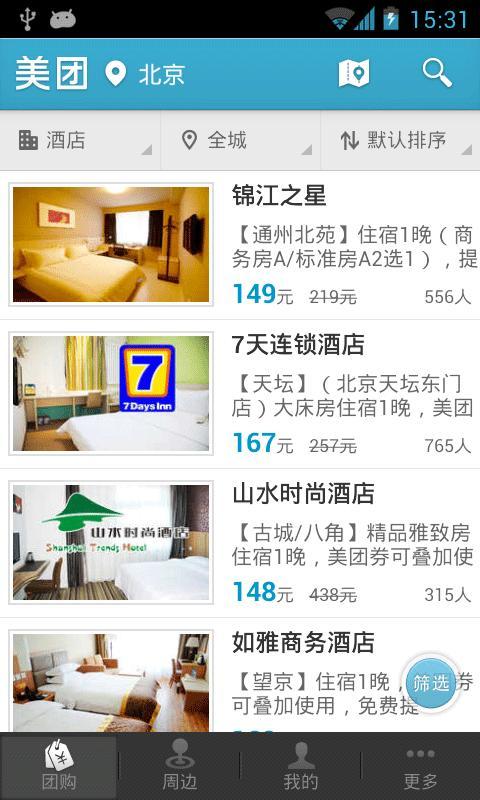 Meituan's group buy app sells anythng including hotel rooms
Didi-Kuaidi has already been tipped to become Meituan's major competitor in travel and lifestyle services by Zhixiang Wu, the CEO of OTA LY.com, which is also in the same Tencent camp as Didi-Kuaidi, at the CTCNN Conference in early August.
Didi-Kuaidi's vice president Chaoyan Liu also didn't rule out the taxi app crossing over to the tourism industry at the 3rd China Online Travel Industry Conference held on August 16, 2015.
Didi-Kuaidi gets a foothold with vehicle-charter service
Didi-Kuaidi will likely offer tour buses for excursions via its "Trip+" business concept or vehicle charter + guide service. Its initial products will probably be provided by third-party suppliers. Didi-Kuaidi has been maintaining excellent partnerships with all the major tour operators and already offers excursions to its corporate users.
"Didi-Kuaidi has partnerships with tour operators including Zhejiang CITS, HKCTS and Utour. Didi-Kuaidi can get its partner tour operators to plan routes and provide quotations to companies and then coordinate the journey using its car-hire service throughout, an industry observer said.
Another observer said Didi-Kuaidi has been arranging on average one short excursion a month and 2-3 longer trips a year. This year its management has decided to integrate corporate travel users and independent users into a single system.
Industry consultant CTCNN's CEO Changren Wei speculates that Didi-Kuaidi will enter the tourism industry with standardized lightweight products such as localized lifestyle services, attractions and hotels.
LY.com's Mr. Wu said: "Although Didi-Kuadi and Meituan more or less have the same extend of user coverage, the former's app is far more indispensable to users than the latter's platform. This will have a big impact on the respective apps user volume, customer retention and usage frequency".
Didi-Kuaidi's entry to have minimal short-term effect on market distribution
Mr. Wei thinks Didi-Kuaidi's entry will be good for the tourism industry, and whether its entry will be disruptive to present market distribution depends on to the size of its investment, its endurance, its pace of progress and its strategy.(Translation by David)