ChinaTravelNews, Ritesh Gupta - Chinese online leisure travel company Tuniu acknowledged that its competitive pricing strategy did impact its gross margin in Q2, but believes its current decision to strengthen its regional network and procurement strategy would be pay off in the long run.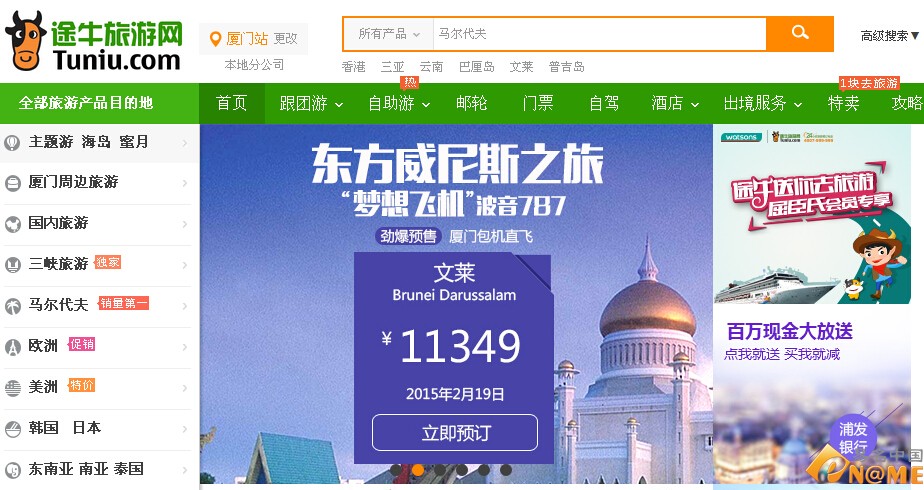 Tuniu's website
As the company shared its latest quarterly results, it emerged that it gross margin has come down to 4.7%, compared to 5.9% for the same period last year. Other than Tuniu's pricing strategy, the expenditure incurred for costs associated with the new regional service centers and the addition of tour advisors for the anticipated coming peak season resulted in such performance.
The Q2 gross margin was down from a year ago but has improved from the first quarter of 4.1%, shared Conor Yang, Tuniu's CFO during the company's Q2 earnings call.
"In this environment, we are expecting very high growth in the online leisure travel market and will continue to expand our market share in this area," he said. The company doesn't expect gross margin to improve too much this year from this level, and is expected to hover around in the range as it is now. "But in the longer term, as we continue to expand our direct procurement and focus on vertical integration as we have done in this quarter the gross margin definitely will improve in the mid to long-term," said Yang.
Net revenues in Q2 rose by close to 112% y-o-y to RMB1,518.2 million (US$ 245m). Total number of trips exceeded 1 million, and mobile orders contributed to over 60% of total online orders.
Gaining competitive advantage
Tuniu believes its initiatives such as focusing on the upstream travel supply chain as well as its sustained improvement in direct procurement of products is refining its offerings. So much so that it now paving for competitive advantage, too.
"(Direct procurement) has enabled us to develop high quality products at competitive a price and it allowed us to better meet the online customers' needs, which in turn improved our competitiveness versus peers," shared Donald Yu, Tuniu's co-founder, chairman and CEO.
He said, "We are making great progress on this front."
In Q2, according to Yu, the company's direct procurement products rose to 25% of total gross merchandise value, a significant increase from 20% over the previous quarter.
The company also made an inorganic move by finalizing its majority stake in Beijing Global Tour International Travel Service (Wuzhouxing), a 19-year old outbound packaged tour wholesaler in China.
Yang emphasised that Tuniu is open to more acquisitions as long as it sees opportunities in vertical integration.
"…we want to have more and more direct procurement, more and more integration on the vertical integration side to enhance margin eventually," said Yang, adding that the company will be on lookout for wholesale packaged wholesalers as well as local tour operators. "…after we acquire, we actually have kind of regular operating meeting in terms of the business plan, in terms of the IT system, finance system, HR system...we eventually will integrate all together. And with our help, they can also expand their business directly through our aligned channel."
From a product perspective, Yang said, "Both products (organized tour offering and self-guided tours) actually continue to increase more percentage for direct procurement and as we continue to increase our larger scale, we believe that overall blended take ratio will increase in the mid to long term."
Also, commenting on competition, Yang, said, "Yes, regarding to Tongcheng, their product is quite different than ours regarding to the segment of the customers. They're selling a lot of very low-end packaged products and as well as they're focusing on the tour attraction ticket."
Regional centers
The team is making swift movement with its distribution strategy, and importantly it is resulting in new customers. So the new regional centers are indeed playing a pivotal role at this juncture.
"The regional centers continue to serve as entry points for new local customers. During the second quarter of 2015, the regions covered by the 58 new regional centers that we opened in 2014 contributed to 13% of our total GMV. This is up from 3.3% during the second quarter of 2014," shared Yu.
The number of trips sold increased by 84.1% to 1,011,267 in Q2, when compared with the same period last year.
The contribution can be attributed to the fact that Tuniu initiated ways this year to localize its centers in Beijing, Shanghai and Guangzhou. "With more resources on the ground in major cities, we will be able to gain better insight into the different needs of regional customers and harness more local travel resources to enrich our portfolio," said Yu.
Also, the regional presence is paving for a relatively stronger offering, too. "We expect our regional expansion strategy to continue to be a key driver in increasing and diversifying our product offering," said Yu.
As per the current update, the company has a total of 85 regional service centers throughout the country, which includes the 10 service centers opened last month. The location for newly opened 10 centers are - located in Zhoushan, Quanzhou, Wuhu, Ganzhou, Yinchuan, Jilin, Handan, Zhuhai, Nanyang and Jining.
The company offers various payment options, ranging from bank transfers, credit cards, facilitates online transactions via 3rd online payment platforms etc. as well as letting one pay at one of its regional service centers.