Hainan Airlines has recorded 1.602 billion in net profits attributable to its shareholders in the first half of the year, representing an increase of 231.92% compared to the same period last year when shareholder earnings were RMB0.1315 per share.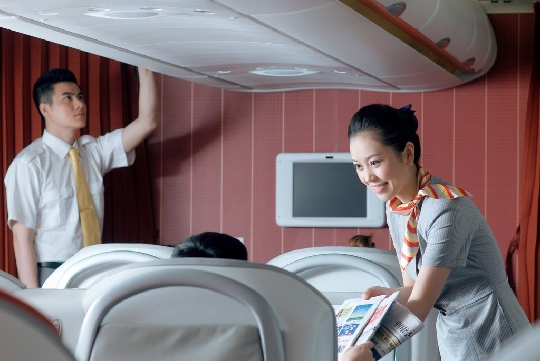 Hainan Airlines cabin service
According to its mid-year fiscal report, Hainan Airlines recorded RMB16.622019 billion in total revenue, which is 7.60% lower than the first half of 2014 when the company obtained extra revenues from real estate sales. The group's prime operating revenue was up 0.77% y-o-y to total RMB15.589 billion, thanks to its fleet expansion, booming demand for the aviation industry and lower fuel costs. Passenger transportation revenue was RMB15.073 billion, 96.69% of total revenue, and cargo and excess luggage revenue was RMB497 million, 3.19% of total revenue.
Hainan Airlines achieved total freight turnover of 3.22737 billion ton-km and transported 18.54 million passengers, up 12.04% and 9.57% y-o-y respectively, and had average load factor of 88.59% in the first half of 2015.
Hainan Airlines added 16 aircraft to its fleet and decommissioned three aircraft in the first half of 2015. Its fleet stands at 182 aircraft as of June 30, 2015.
During the same period, Hainan Airlines launched three North American services – Beijing-San Jose, Shanghai-Boston, Shanghai-Seattle – and completed its basic North American route network. It also added an intercontinental European service from second-tier city Chongqing to Rome and announced it would purchase an additional 30 Boeing 787 aircraft. It also made a RMB400 million cash-based equity investment in Chang An Airlines at RMB1.68 per share.
Hainan Airlines is also considering a proposal for a private A share offering to raise RMB24 billion to fund aircraft purchase, the acquisition of Tianjin Airlines, increase its capital reserves and repay bank loans. Its private offering application was approved by the China Securities Regulatory Commission on July 24, 2015.(Translation by David)