ChinaTravelNews – Overseas short-term rental platform Zhubaijia announced it raised almost RMB200 million (approx: US$31.3 million) in its B Series financing round. Our reporter met with its COO Xin Zou for an interview.

Investors see potential in Zhubaijia startup

The investment in Zhubaijia's latest financing round was led by Citic Securities' Goldstone Investment. Other investors include Chinese film star Angela Baby's AB Capital, Hong Kong film production giant China Star Entertainment Group, former Alibaba vice president Xiaohua Wang's Youlian Capital, Beijing Chaoyang District Government sponsored Innovation Dreamworks and overseas Chinese group 2049 Capital.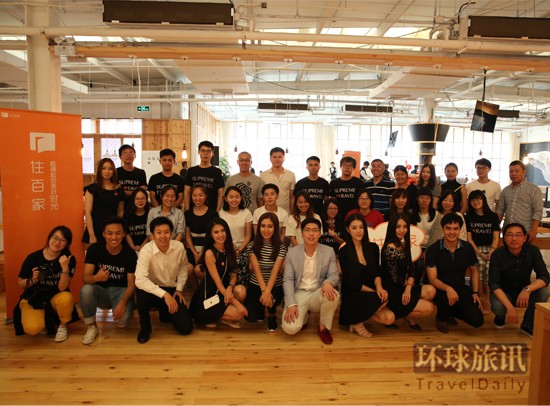 ZBJ's Beijing team
Investor Mr. Wang of Youlian Capital said Zhubaijia attracts investors because it is heading in the right direction of outbound accommodation service for independent travelers and meets the specific needs of Chinese traveling abroad and are able to provide a sophisticated service experience.
Mr. Zou said Zhubaijia staff recruited from German short-term rental platform Wimdu in the early days brought with them overseas property management concepts that enabled it to balance both quality control and volume of its property resources. Its human resources were enhanced when experts from Alibaba's social ecommerce department and Tencent's technical team came on board.

Zhubaijia's core management team is formed of CEO Hengda Zhang, a graduate of University of Michigan Ross School of Business and former senior executive at property management group 5i5j, co-founder Zhimin Ruan, Wimdu's Asia Pacific founder and is now responsible for Zhubaijia's property resource development, and vice president and COO Xin Zou, who has eight years of experience in internet operations at Baidu and was a key manager in many of Baidu's core products.
Zhubaijia's PC and mobile operations took off after receiving an investment from Legend Holdings's Legend Star in August 2014. Bookings through the mobile channel, its fastest growing channel, now constitute over 50% of total bookings. Since May, Zhubaijia's average monthly booking volume has surpassed the annual booking volume for the entire year of 2014

China's outbound tourism rush a boon for startups

Zhubaijia expands its accommodation supplies by signing independent contracts and bringing in properties from companies like HomeAway that meet the specific characteristics and preferences of Chinese outbound travelers. It also conducts stringent assessment and screening when selecting properties, using criteria such as the landlord's lifestyle, track record in dealing with Chinese customers, response time, whether the online picture reflect the true condition of the property, its cleanliness and access to transport.
Zhubaijia has accumulated a majority of properties through signing independent contracts since 2013. They range from ordinary apartments to specialty properties like European castles in over 60 cities that are popular destinations for Chinese in Europe, North America, the Pacific, Japan, Korea and Thailand.

Differentiation a key direction for short-term rentals

Mr. Zou feels there is a large development gap between overseas markets and China's fledgling short-term rental market. Most of its competitors try to emulate Airbnb or Homeaway's development models but only end up creating yet another online-offline data flow platform, resulting in a dismal level of market differentiation.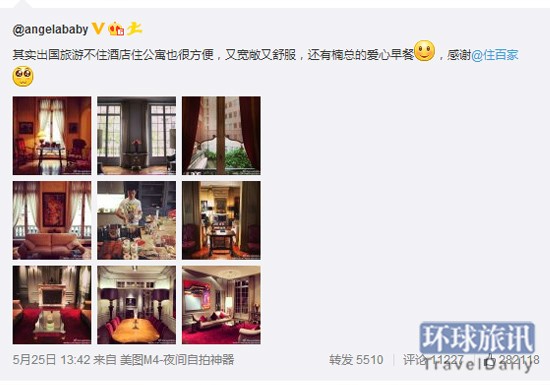 Film starlet Angela Baby promotes ZBJ on her social media
However he believes that more short-term rental platforms will venture to overseas markets prompted by the explosive growth in outbound tourism, and the importance of market differentiation will inevitably grow. On the other hand, the development of even more destinations to meet surging demand should be on the top of the agenda for companies like Zhubaijia but Mr. Zou isn't feeling pressured to rush things nor is he worried about the competition.
He said Zhubaijia already has excellent control of its offline property resources and has consolidated its listings volume in its destinations. After getting a firm footing in each destination market, the next step is to strengthen online service and create mobile applications. It will continue to keep up its pace of development in more destinations and create more enriched services for accommodation to set itself apart from competitors.(Translation by David)