ChinaTravelNews has learned from an exclusive source that major Chinese hotel group Jin Jiang Hotels Group has invested RMB1.8 billion (approx: US$289.8 million) on August 6 for an 80% stake in the mid-range the Vienna Hotel Group and its restaurants.
Jin Jiang outbids rivals for Vienna Hotel Group acquisition
Jin Jiang Hotels outbid major competitor HNA Hospitality Group and property developer giant Sino-Ocean in the acquisition bid.
Following hard on the heels of Jin Jiang Hotels's historic tie-up with Plateno Group, the ambitious acquisition to put Vienna Hotels into the Jin Jiang Hotels camp is on a scale that surprised observers and a major coup for the latter.
A mega hotel triumvirate
Jin Jiang Hotels has suspended trading since July and has been quietly going making a flurry of M&A negotiations.
On July 10, Jin Jiang Hotels hinted at a possible merger with Plateno Group, and ChinaTravelNews has since learned that negotiations between the two major hotel groups have been proceeding at a feverish pace.
Once completed, the newly formed Jin Jiang-Plateno merger will emerge as the largest hotel group in China with a total of 4,585 hotels with 475,000 rooms, 1.5 times larger than the current top ranking hotel group Homeinns, according to the China Hotel Association's 2014 data.
Taking into account its 50% stake in IHG and full ownership of Louvre Hotels Group, Jin Jiang Hotels has 2,800 hotels and 340,000 rooms and is the seventh largest hotel group globally. Combined with Plateno Group's portfolio, the newly merged entity will overtake IHG to become the third largest globally, based on Hotelmag's 2014 global hotel ranking.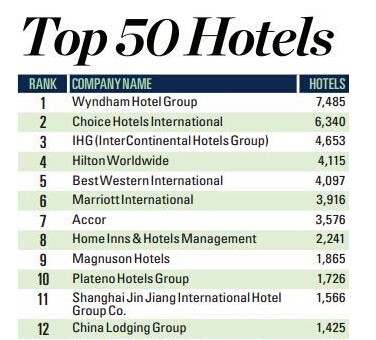 In the Top 50 Hotels ranking by Hotelmag, Plateno Group and Ji Jiang Hotels Group are currently ranked at numbers 10 and 11 respectively
The acquisition of Vienna Hotels Group, ranked 10th in the 2014 Chinese Hotel Groups, will add an additional 479 hotels with 60,000 rooms to Jin Jiang Hotels's portfolio.
From a market positioning perspective, if the Jin Jiang Hotels, Plateno and Vienna Hotel Group merger materializes, their operations would fully encompass the high-end, mid-range and budget market sectors.
Mid-range Vienna Hotel Group pioneers select business hotels
Shenzhen-based Vienna Hotel Group was established in 1993 and now boasts over 40 million registered users and 500 hotels (including those under construction) of three- to five-star ranking in over 100 cities across China under six brands – including the Vienna Hotel, Venus Royal Hotel and Vienna Apartment Hotel.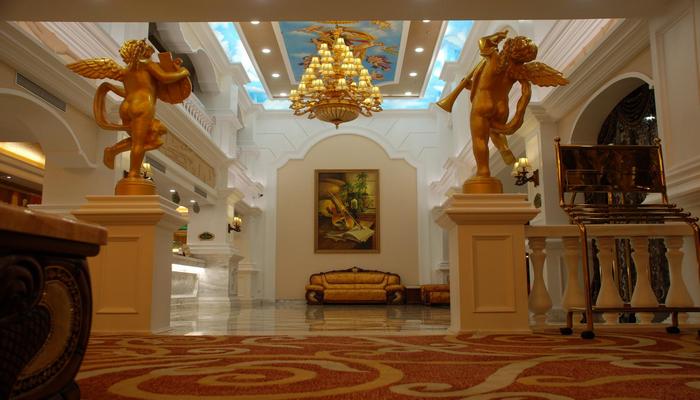 Vienna Hotel's neoclassical pastiche at a bargain makes it a hit with Chinese businessmen
Vienna Hotel Group is widely recognized as a pioneer of select business hotel brands in China's hotel industry and has branded itself "China's largest mid-range hotel group".
It claims to offer a sense of opulence at a reasonable price and promotes a "deep sleep" wellness concept.
Thriving restaurant businesses come with the deal
Our source also revealed that Vienna Hotel Group's Wudaoxiang Restaurant Chain will also be included in the acquisition deal.
Like Vienna Hotel Group, Wudaoxiang Restaurant chain was also opened in 1993 and based in Shenzhen and shares the same owner, Deman Huang. Its website says it is a strategic partner of Vienna Hotel Group and the two companies have a number of shared assets.
Wudaoxiang Restaurant chain has over 40 restaurants under four brands with over 2,000 employees. It enjoys extremely profitable operations and a strong presence in southern China.
Vienna Hotel Group's restaurant businesses will supplement Jin Jiang Hotels's own extensive restaurant operations that include dining brands such as Shanghai KFC, Shanghai Yoshinoya and Shanghai Xinya Mooncake, managed by Shanghai Jin Jiang International Restaurant Investment Management.
Vienna Hotel Group attracts investors
Vienna Hotel Group raised US$15 million in 2007 from Softbank Asia Infrastructure Fund (SAIF) that gave the latter a 23% stake in an A Series financing round, and then received US$20 million from US private fund Mount Kellett Capital Management in the B Series financing round in 2010.
In February, Vienna Hotel Group announced it planned to raise around RMB300 million (approx: US$48.3 million) in a C Series financing round and was preparing to reform its share structure as part of its plans for a domestic IPO in 2017.
Stay tuned for further updates as ChinaTravelNews keeps tab on progress of Jin Jiang Hotels Group's acquisition of Vienna Hotel Group.
(Reporting by Xianhao Zeng)
(Share information and views with Xianhao Zeng of ChinaTravelNews at goofy@traveldaily.cn Wechat ID: dppqqb)
(Translation by David)