China's top group-buy platform Meituan chalked up a 33 million in hotel room night sales in the first half of the year to become China's second largest online hotel booking platform, closely trailing Ctrip (which recently acquired eLong) and overtaking Qunar.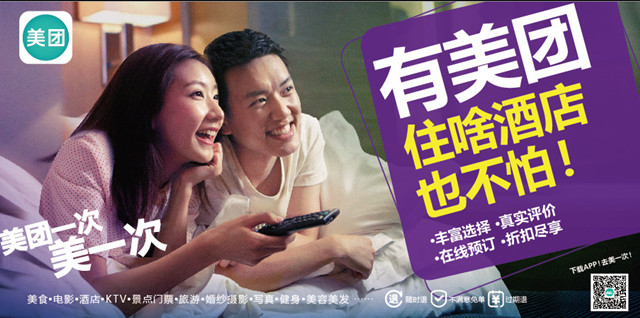 Meitaun hotel ads target local users with affordable accessible options
Meituan has been expanding its hotel group-buy offerings since 2010 and set up a dedicated hotel operations division in June 2014. Its hotel division's manager for strategic partnerships Yongjian Zhong said the division plans to venture beyond offering hotel products for group buy targeting local to include other sales formats such as pre-paid services, short rentals and travel package products in the future.
With a high overlap ratio in small and medium-sized hotel listings, Qunar and Meituan have been locked in a vicious battle offline. Beijing-based O2O cultural tourism company Tripvivid's cofounder and O2O analyst Zhaohui Liu said Meituan is taking less than 10% in commission in an effort to increase its market share, compared to the general commission rates of 10%-15%.
"Competition between Meituan and Qunar is particularly intense over hotel listings in third and fourth-tier cities, and winning this market was key for Meituan taking second place in room night sales volume" he said.
Mr. Zhong said while it typically takes about 8-10 days from the time a travel company signs a contract with a supplier until a product is listed online, Meituan staff can help hotels list online within 24 hours.
He also said Meituan has a huge 15,000 member promotional team with 60%-70% operaters on the ground. Over the past five years, this army of experienced promoters has helped extend Meituan's range of lifestyle services, from dining to partying and recreation, to cover 95% of China's 2800 administrative districts, and now they will turn their attention to adding hotels to their sales missions.
Taking a cue from Meituan's success, Qunar also began recruiting a large promotion team and stepped up promotions in hotel bookings by cash payment, pre-payment or group buy. It also used low prices for group-buying to attract customers and as a result, sales volume went up 105% y-o-y within a year and the number of its directly signed hotels jumped from several thousand to 220,000 hotels in the same period.
Mr. Liu said: "Future travel will increasingly encompass dining, accommodation, sight-seeing and recreation, so it's not enough to just sell standard hotel or air ticket products. This will make Meituan the dark horse contender of China's hotel industry."
Mr. Zhong said Meituan had 130 million active buyers, meaning one in every 10 Chinese are Meituan customers, in the past year. Many five star hotels in second and third-tier cities have been hard hit by the State's eight-clause official austerity policy and are turning to Meituan's platform to attract local customers with cost-effective services.
After leveraging massive investment to capture first place in the lifestyle service platform segment, Meituan is eager to conquer a new market. It wholly-acquired OTA Kuxun on July 16, giving it access to Kuxun's national network covering over 80,000 hotels in over 200 cities and almost 50,000 destinations.(Translation by David)