Major Chinese OTA Qunar announced that it achieved a single-day record for hotel room nights stayed booked through Qunar, with on average more than 300,000 daily hotel room nights stayed in peak days in the week of July 27th.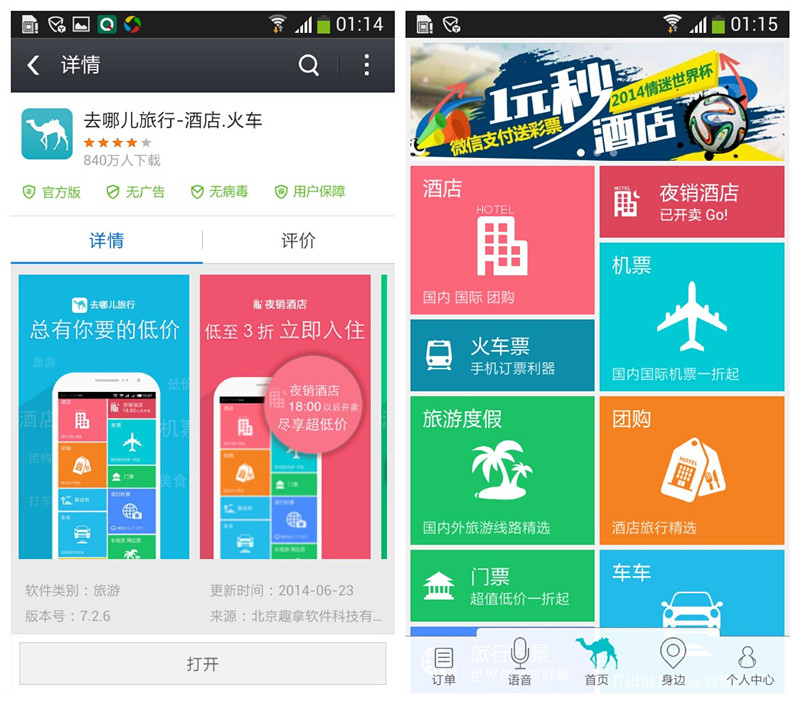 Qunar's app
The number of room nights booked through Qunar's mobile platform also grew rapidly, accounting for over 85% of the total room nights stayed over the past week. With a daily mobile volume of over 250,000 hotel room nights stayed on peak days and a strong growth trajectory, Qunar is now the largest mobile hotel distribution platform in China in terms of volume of hotel rooms according to Bigdata-research.cn and the Company's own estimates.
"Momentum for hotel booking volume growth has been robust since we started building our direct hotel network in the first quarter of 2014, and we received an additional boost from the offline campaign we launched in the second quarter of this year as we continued to expand our mobile user base," said Chenchao (CC) Zhuang, Chief Executive Officer and co-founder of Qunar.
"We are delighted to see the strong returns from our investment in building Qunar's own hotel supply chain and further expanding our mobile user base," added Yilu Zhao, Chief Financial Officer of Qunar. "We will continue to execute on our strategy in an aggressive and disciplined manner."
Earlier in June, Qunar turned down a M&A proposal by Ctrip and indicating that it would be open to having further discussions. For its part, Ctrip claimed it had sent the confidential, non-binding, preliminary proposal to Qunar's board of directors in early May indicating its interest in a potential transaction but upon receiving a negative response also dismissed any possibility of further discussion.
Qunar press release