Cornwall has been chosen to be at the forefront of a £250million investment to attract Chinese visitors to the UK.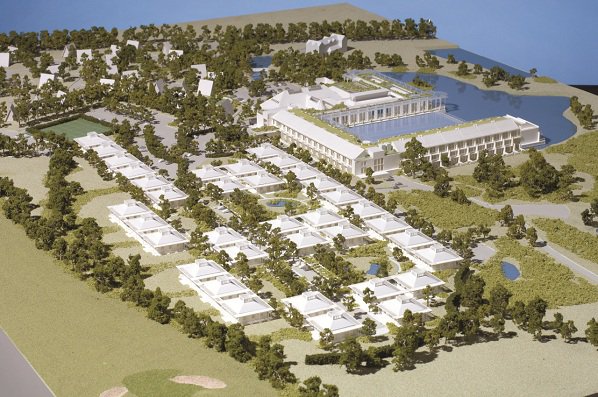 Rendering of the planned Waterside Luxury Village, Cornwall
The Lakeview Country Club, a 30 year old holiday village near Bodmin has been bought for £12,500,000 as the first part of the venture.
The British Chinese partnership behind the deal has also obtained permission to extend the 100 acres, creating what they claim will be the largest and most desirable private waterside village in Britain,
Scott Mann, Conservative MP for North Cornwall said it was great news.
"Cornwall is a beautiful county and is working hard to stimulate its tourist economy, therefore, we welcome the Chinese involvement in the building project along with Chinese visitors, with open arms."
Malcolm Bell, chief executive of Visit Cornwall, said it would help propel Cornwall into the ranks of one of the world's leading tourist destinations.
"To stay competitive any sector has to constantly invest and we welcome this significant investment in the future of Cornish tourism," he said.
"Cornwall is already the Country's leading leisure tourism destination, evidenced by Cornwall winning the UKs most popular tourist region for six years in succession at the British Travel Awards.
"It is now right that Cornwall starts to take its place as an international tourism destination. We have a world-class coastline, landscape, heritage, attractions and culture and this exciting investment will help us to meet our ambitions.
"We look forward to working with the team as the developments take shape."
The partnership behind the deal, The London Group Plc and SinoFortone Group,have today announced the signing of a Memorandum of Understanding which will see a total of more than £250 million invested in the tourism infrastructure of the United Kingdom.
The British Chinese joint venture is designed to bring British and Chinese people together during their precious leisure time in a stimulating harmonious but relaxed environment.
The enterprise will be named SinoBritish Waterside Villages and will give British, Chinese and other overseas visitors the opportunity to experience each other's cultures in outstanding locations and to develop friendships with individuals and families from other nations.
The purchase of the Lakeview Country Club, which will be renamed Waterside Luxury Village, Cornwall, is the first step.
The private village has been designed by award-winning architects Evans and Shalev, designers of the Tate Modern in St Ives The team will also create three more sites in London, Scotland and The Lake District.
Simon Hume-Kendall, chief executive of London Group, said improvement to infrastructure in the county had been persuasive.
"We are most grateful for the support received from Visit Cornwall, as well as for Prime Minister David Cameron's announcement of a major investment into the Westcountry and Cornish infrastructure, which alongside the excellent co-operation and hard work from our Chinese partners has made this ground-breaking project possible."
Peter Zhang, managing director of SinoFortone Group predicted hundreds of jobs would be created and the deal would mean "long term economic growth for the British and Chinese people."
He said: "The UK is the most popular European destination for Chinese investment and visitors, our SinoBritish tourism concept is a tremendous opportunity for us to make more of this great market."
Britain has long been a popular tourist destination with over 100,000,000 trips being taken within the UK every year almost half of which are from overseas.
At present only 1% of visitors are Chinese, which the partnership behind the deal says presents a "huge opportunity" for Chinese people to visit Great Britain and experience its rich and historic culture.
The combined group has been working with the Ministry of Tourism and Visit Cornwall to ensure that its designs are optimal to meet a series of demanding specifications including a range of luxurious villas, a state-of-the-art visitor centre, spa, dining facilities and sports venue.
A five star hotel, a wide variety of outdoor pursuits and Mandarin speaking receptionists and tour guides are also seen as crucial.
It is hoped that the contract will be finalised in time for the Chinese State Presidential visit in October 2015, where the signing of the documents may be witnessed by the President of China.
Mr Mann said links to China would "help Cornwall to grow" and added that and "it would be great to see Mandarin being taught in local schools."
James Berresford, VisitEngland Chief Executive said: "Tourism in England makes a vital contribution to the economy and the South West in particular relies heavily on tourism, generating £9.6 billion in spend in the region last year alone.
"The product development seen in the South West over the last decade has been phenomenal and this new influx of infrastructure investment, catering to domestic and key international markets, is much welcome indeed.
"It is this scale of investment into the local economy that can drive real change and growth in the tourism sector, by showcasing and developing standout product to ensure a world class offer for all visitors."
Read original article