ChinaTravelNews - Tujia, China's largest online platform for vacation rentals, has completed its D&D+ round of financing,raising $300 million at a valuation of more than $1 billion. This round of financing was led by All-Stars Investment along with The Ascott Limited (Ascott). and TUJIA's existing investors. China Renaissance Partners acted as the sole financial advisor.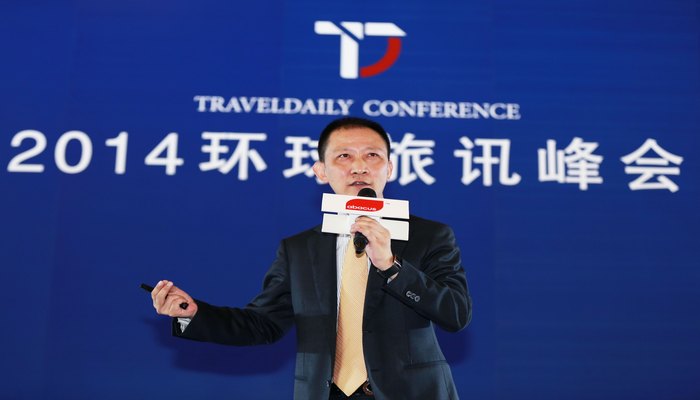 Tujia CEO Justin Luo at the TravelDaily Conference
"This new round of financing shows that the Chinese market has fully accepted the vacation rental industry led by Tujia", said Luo Jun, Co-founder& CEO of Tujia. "It will mainly be used to develop our online and offline platforms, a complete ecological chain, for research and development of new products, to build our brand awareness and to enhance our user experience. By doing so, we will further promote the sharing economy for alternative accommodation"
The importance of tourism and new business models as exemplified by Tujia has been affirmed by Premier Li Keqiang, who declared his support for the vacation rental industry at an executive meeting of the State Council on July 29. It was broadcast nationwide by China Central Television's nightly newscast.
All-Stars Investment is a world famous investment institution. Its investment portfolio in China includes Xiaomi and Didi(kuaidi). It investigated more than 100 startups this year and has only chosen Tujia. Ascott, the world's largest international serviced residence owner-operator with over 30 years of experience, joins as a strategic investor, underscoring their intention to further cooperate and promote Tujia.
Having completed this round of financing, there are also a series of other plans to be disclosed.
First, Tujia's C2C business will be officially launched in response to market demand, to further expand the sources of house inventories and different product lines.
Second, the "Tujia Alliance" will be officially launched. Tujia will carry out in-depth cooperation with other non-traditional hospitality companies and partners to create upstream and downstream ecological chains, thus leveraging richer sources of housing to diversify operation and enhance profitability.
Third, overseas businesses will be further expanded. In the next half year, Tujia will selectively set up branches abroad to meet the demands of domestic users for overseas travel.
Richard Ji, the founding partner of All-Stars Investment, said: "House sharing is one of the most popular 'sharing economy' models in the United States and Europe. China has the world's largest tourist population, the world's highest overseas tourism consumption, and the largest number of vacant houses in its domestic market, which form a fertile ground for the house sharing market. The house sharing economy features light assets and light services, with the growth rate and future scale likely far surpassing those for traditional hotels. As the leader of the industry, Tujia offers high value proposition, diversified property choices, high customer retention, and powerful network effect."
Du Yong Bo, the Managing director of China Renaissance, said: "Looking at the market development in the past three years, Tujia's model has been shown to be more suitable for the Chinese market. Tujia is not only another Airbnb, but looking at future development it has more potential than "Airbnb plus HomeAway"."
Tujia is China's largest vacation rental website. It has created a global sharing platform to provide unique experiences to travelers and generate value for home owners. The online platform was officially launched on December 1, 2011. With over three years' development, it has now covered 255 destinations in China and 133 destinations abroad, and has more than 310,000 properties online. Meanwhile, Tujia has signed agreements with 170 government agencies, and entered into strategic cooperation with China's top ten real estate development enterprises. Tujia has over 100 billion RMB worth of contracted housing under management, inventory reserve of over 600,000 properties, and in negotiation of over 5,700 housing projects.
Tujia has been favored by more and more users and maintained a good reputation among users while developing rapidly. By the second quarter of 2015, more than 40 million users have downloaded the Tujia APP and hundreds of thousands of users search and book stays via Tujia every day. User rating on overall satisfaction exceeds 4.6 points (with full mark being 5 points), and 93% of users say that they will choose Tujia again and recommend it to their friends and family.
During this year's summer vacation period, Tujia repeatedly set new record highs for bookings. Be it from the perspective of fund raising, service coverage, housing resources, user numbers, bookings and customer satisfaction, it is clear that Tujia has entered a new scale of development.
Tujia completed Round A financing in May 2012 and Round B financing in February 2013, with the financing amount 400 million RMB for the first two rounds. The investors respectively were GGV Capital, Lightspeed China Partners, CDH Investment, Qiming Venture Partners, CBC Capital, Ctrip and HomeAway. In June 2014, Tujia announced the Round C financing, with the amount reaching $100 million, and the investors from the first two rounds also participating in the third round.