ChinaTravelNews, Nicole Sy - What started as a small office on top of a local pizza shop in 1999 Newtown, Massachusetts, TripAdvisor is now indisputably one of the world's largest travel websites. In the first quarter of 2015 alone, they received more than 340 million unique monthly visitors, according to Google Analytics, and 139 travel contributions per minute… that means 2.3 per second. When it comes to mobile, as of Q1 2015, there have been 190 million mobile app downloads, though the number is surely set to climb.
With revenue of $363 million in Q1, and growth of 29 percent year on year, their business model of original content attracting costs per click, display from advertisers, and subscriptions from businesses is clearly a winning formula. Their content primarily in the form of user-generated content (UGC), has amounted to 225 million reviews and opinions of their listed 4.9 million places to eat, stay and explore all over the world.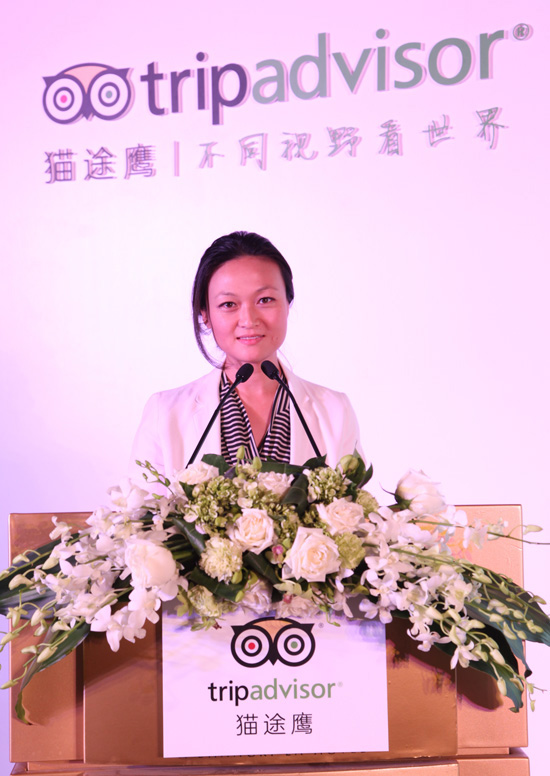 Lily Cheng, President of TripAdvisor APAC
However in the Asia-Pacific region, and subsequently, its largest growth market, China, the name TripAdvisor is not as ubiquitous and synonymous with travel as it is in North America and Europe.
TripAdvisor's revenue by geography counts half from its home market of North America, while Europe and the Middle East come at 33 percent, Asia Pacific at 12 percent and Latin America at 5 percent.
"In the rest of the world, TripAdvisor is a mass-market brand. Whether you are a wealthy traveler or a backpacker, or a 16 year or a 40 year old, TripAdvisor is there for everyone," says Lily Cheng, President of TripAdvisor APAC.
Not so in China, Cheng says, where the market is extremely competitive and there are greater things to overcome than language. "In China, we found that there are also a lot of local players trying to capture different parts of the market. So we decided that in this very competitive environment, we don't want to be everything to everyone," she says. "We don't think we would be successful with that kind of strategy."
Doing what they do best
Rather than going broader, TripAdvisor decided to be better, with their strategy focusing on what they did best. "We realized that what people loved about our site (in China) is that it's the best place to go to look for stuff for outbound travel," says Cheng. "For domestic travel, there are lots of different options, lots of local sites. But for outbound travel, you can't find this kind of content anywhere else."
Those travelers are the ones looking for more than just the cookie-cutter trip. It is seemingly the direct opposite of the stereotypical, quintessential Chinese tour where itineraries, guides, accommodation and transportation are readily available with one booking and payment.
"We want to position ourselves where we really add unique value to the user as opposed to going head to head with these really huge local players. So we decided to position ourselves more for outbound independent travel," according to Cheng.
Independent travelers want the reverse of what the Chinese tour group offers. "They want a more authentic trip, they want to explore more," says Cheng "They see the design of the trip as being a core part of the travel experience."
Cheng believes the website, and consequently, the app, offers something unique that others in the market don't. Travelers in China no longer want to hear just the official voice of the hotel or attraction, but prefer other travelers' voices. "People have really started to value the trustworthiness and freshness of the kind of user-generated content they find on TripAdvisor," she says.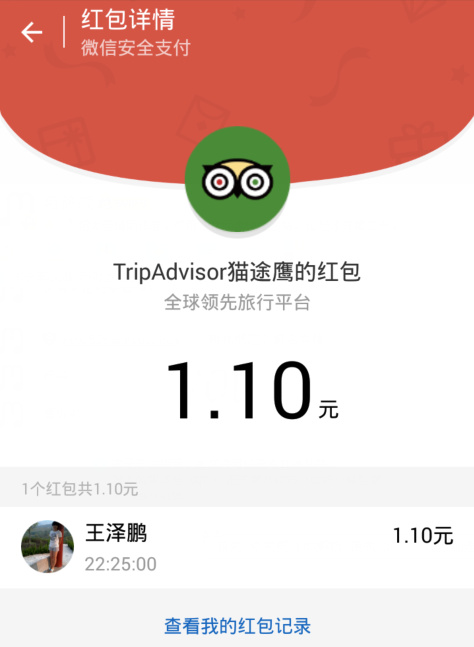 TripAdvisor "Red envelope" cash prize via Wechat Pay
China's market is openly acknowledged to have counterfeit products, so trust is a very sensitive issue for the Chinese consumer, which Cheng says works to TripAdvisor's favor. "We've done a lot of research and there's a perception that foreign brands are more trustworthy. So a lot of people use TripAdvisor because they believe that we would not compromise our integrity, our content, in exchange for revenue," she says.
Erosion of consumer trust is not exclusive to Chinese consumers, according to the BrandZ Top 100 Most Valuable Brands 2015 report by global marketing firm, WPP. However it was spotlighted in the country when a series of highly publicized product safety problems, especially concerning food, hit the country in recent years. "Today, over three-quarters of Chinese consumers say that trust has become more important to them," it reports.
"Some business owner might try to get us to delete some bad reviews, and they won't advertise if you won't delete," Cheng adds. "But because trust is everything to our brand, we would never compromise that for anything. So that's really worked in our favor."
However despite TripAdvisor's efforts, some fraudulent reviewers still manage to slip through the cracks. Kwikchex, an "online reputation management" company, called out "Super-reviewers" on TripAdvisor's Chinese site as frauds in March last year. The Telegraph reported one member posting 2633 reviews since 2010, and another claiming to have stayed at 51 Paris hotels in a single month, in addition to another 50 hotels he gave reviews for.
Cheng says TripAdvisor puts plenty of resources into rooting out false reviews, but needs help from time to time. "It's something that we put a lot of attention to, but there are times when we have to rely on our community to send things flag suspicious reviews to us because we can't catch 100% of all cases with any single method," she says.
However, a study in November 2012 conducted by travel research company, PhoCusWright, commissioned by TripAdvisor found that 98 percent of respondents polled said they found TripAdvisor hotel reviews to be accurate of the actual experience. A December 2013 study by the same group further concluded that 83 percent of travelers polled say TripAdvisor reviews make them more confident in their travel decisions.
In addition to continuing to earn the trust of Chinese travelers, more challenges lie scattered like traps on the road of opportunity for TripAdvisor. The Chinese market's development, brand awareness, and language hurdles that covered more than just translation concerns are just the tip of the iceberg.
Branding the Golden Age
The rise of the Chinese middle class has afforded many the option of traveling outside China for the first time, representing a boom in the outbound travel industry. "In the last 3 years, I've really seen a massive boom in outbound travel in a lot of destinations," says Cheng. "Not just places like Thailand, and Hong Kong, but even as far away as Paris, New York, have seen an influx of Mainland Chinese travelers."
This, she says, is just the beginning. "What a lot of people don't know is that this is only the start of a 15 year hockey curve growth in terms of the number of travelers they should expect to see from China. So I think we've just entered into this golden age right now."
Since the Chinese market is vastly different from TripAdvisor's many other localized websites, the TripAdvisor team decided to create a new brand specifically for China—the only market where the company has a separate brand. Daodao was born in 2009 as TripAdvisor's China brand, but received a makeover in May this year, to be reborn as Maotuying.
When the name DaoDao was first conceived in 2009, the connection with the global TripAdvisor brand was not a top priority. At that time, very few people in China knew of TripAdvisor and had limited exposure to it, as travel at that time was still predominantly domestic, according to Cheng. Mostly, it was chosen for being easy to remember for the typical Chinese consumer who would have trouble pronouncing "TripAdvisor."
But it became a problem for those outbound travelers who saw the TripAdvisor brand everywhere else around the world… they couldn't connect the two brands, TripAdvisor and Daodao, together. "If you go to Italy and you walk down the street, there are all these owl stickers that say TripAdvisor," she says. "We have tons of that kind of offline branding in key destinations around the world."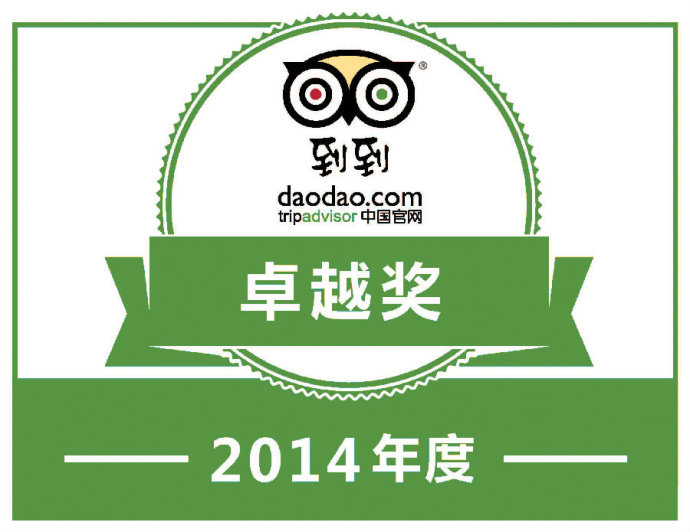 TripAdvisor China's former name "DaoDao"
As part of its offline branding initiative, TripAdvisor grants awards and stickers to well-ranked establishments all over the world. Outside China, the typical Chinese traveler had no idea these two brands were one and the same.
"So really the launch of Maotuying, is not really a change of the brand, but rather we're unifying back to the global TripAdvisor brand," Cheng explains. "If you look at our logo, TripAdvisor's global name is at the front and center of what the brand is. Maotuying is really more of a supporting Chinese name because a lot of Chinese users remember the owl."
Maotuying, which is wordplay for "owl" and "journey" in Chinese, will be used not only for the Mainland China market, but also those with many Chinese-speakers.
More than the language hurdle
The TripAdvisor website in the APAC region is localized more than just linguistically. "In terms of language and currencies, it's all localized to the markets. But also in some markets we might find that, there are certain features that need to be added in order to be relevant for that market, so we've also done that." Cheng says. "Most of our sites, probably with the exception of China, have very similar functionalities to the main TripAdvisor site except each of the sites might have some differences to make the core features easier for local users to use."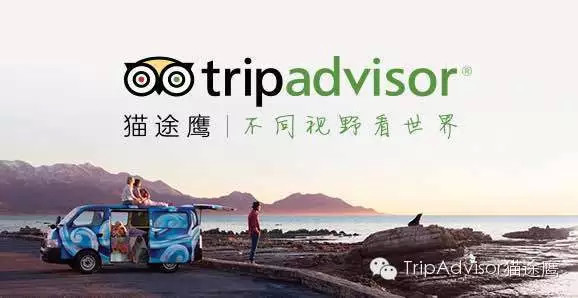 TripAdvisor China's new name "Maotuying"
When it comes to language, it isn't as simple as translating the site and adding additional internet domain name extensions like .au or .jp. "As a content website, we also need to ensure that we have great reviews in the local language," she says. "And we have hundreds of millions of reviews and opinions. So how do we replicate the user experience we can deliver in English into these other languages?"
The China team also learned that they would need to guide consumers in making the best use of TripAdvisor's resources since most were first or second-time outbound travelers. They lacked prior experience in designing their own travel plans and were not comfortable with the full control and responsibility of planning. "Many of them are not quite at the level where they can really plan their own itinerary and they can pick and choose all the different points of interest and piece it together, which is how a lot of the more mature travelers use TripAdvisor," Cheng says.
To help ease the transition, TripAdvisor curates a list of top-ranked points of interest including accommodations, restaurants, things to do, and the like, for places that are popular with Chinese travelers, based on user reviews. Users can print them out, creating in essence a TripAdvisor guidebook.
According to Cheng, because of their specific resources and core positioning, TripAdvisor has shied away from any major direct competition like local players Qyer or Mafengwo, local websites that allow travelers to write blogs about their experiences and share notes with the community. "We feel that what TripAdvisor does is very complementary to some of these other sites," she says. "Savvy travelers these days, they won't just use one site. They use lots of different sites for different things."
"Those sites tend to be popular at the kind of earlier stage, the planning process," says the APAC President . "People don't quite know where they're going yet and they want to read some articles to get them started." TripAdvisor instead aims to be a critical destination for the outbound voyager by being the trusted place where people can make decisions where they should go, scope out places to stay, eat and play through reading reviews about them.
They also see their service evolving with the trend towards mobile, making it essential for travelers to take with them on their trips via their smartphones. "There's more of a dynamic, spontaneous kind of travel, and so we want people to be using our app to find things to do and things to eat around them," she says.
Capturing the Future
As for future rollouts, the company is investing in heavily in creating the most frictionless trip planning experience for its consumers. Their newly launched Instant Booking feature, TripConnect, will soon be coming to screens globally.
"We will want to roll it out globally as soon as we can," says Cheng. TripConnect promises travelers a single, smooth experience from research to booking—all while never leaving the TripAdvisor website. "We're definitely having conversations with local partners in China and getting local partners on board."
APAC currently represents only a small percentage of TripAdvisor's revenue, but Cheng doesn't believe it is the all-important element of the company's efforts. "It's about capturing this wave of new travelers and having them become users of our site, become contributors, and then ultimately once we've got that engagement and that loyalty and that brand awareness, then the revenue will come," she says. "We think it is great that we continue to help travelers by giving the content even if we can't immediately monetize because we think that will come later."
After all, their original mission since the company's founding has remained the same: to help travelers plan and have the perfect trip. Cheng still sees this as true today.