Top Chinese hotel groups Plateno Group and Jin Jiang Hotels have worked out a merger agreement that sets extensive integration of the two groups in equity and business operation yet allows each to maintain independent operations.

Jin Jiang Hotels suspended trading of its shares on July 8 pending a major announcement within five days of an important business move that might lead to fluctuation of its stock price.
The merger of Plateno and Jin Jiang will create the largest hotel group in China with a total of 475,000 rooms, comprising Plateno's 298,000 rooms and Jin Jiang 177,000 rooms. Plateno is ranked second in China's hotel industry while Jin Jiang Hotels Group is the fifth largest.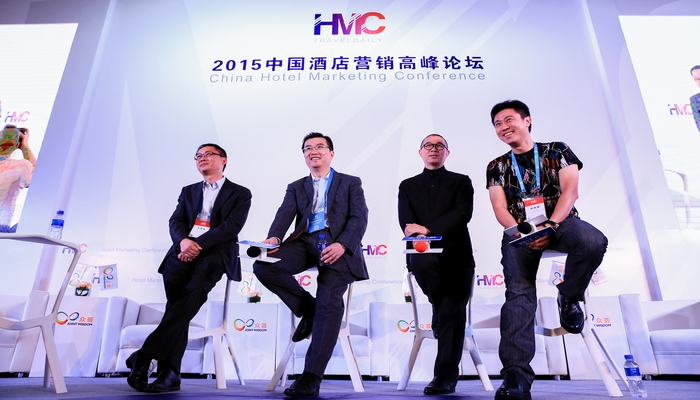 TravelDaily China HMC 2015 "CEO Chat" left to right: Jin Jiang Hotels's Simon Zhang, HKCTS's Wu Sun, Huazhu Hotels's Qi Ji, and Plateno Group's Alex Zheng
A source closer to the merge divulged that the newly-merged super hotel group is eyeing heavyweight Starwood Hotels and Resorts for global expansion. "If it managed to acquire Starwood, it would mean China will have the largest global hotel group in the world. The Jin Jiang-Plateno merger is just the forerunner," he said.
Plateno Group's path to dominance

Plateno Group was set up by 7Days Inn Group's founder and CEO Alex Zheng with investors including the Carlyle Group, Sequoia Capital and CDC Capital Partners after 7Days was delisted from Nasdaq in June 2013. Plateno Group now has over 10 new major hotel brands, including Portofino Hotels, Lavande Hotels and Xana Hotelle, along with its mainstay 7Days Inn chain.
Plateno Group became the first hotel group to make a reverse takeover of a major OTA when it joined Ctrip and Tencent to acquire eLong from Expedia in May this year.
Chinese economy hotel chains morph into global hotel groups

The insider source said that Chinese hotel groups are now taking the opportunity presented by the devaluation of overseas hotel assets, brought about by the European debt crisis and US economic downturn, to splurge on overseas acquisitions.

Major overseas acquisitions in the last two years include Plateno Group's acquisition of the Paris Inn Group, Huazhu Hotels Group's (China Lodgings Group) equity exchange with Accor Hotels and Jin Jiang Hotels's acquisition of Louvre Hotel Group. The key players in the acquisitions are large hotel groups that emerged in the last round of rapid expansion of economy hotel chains.(Translation by David)