ChinaTravelNews – As turbulence hit the Shanghai Stock Exchange and share prices go into freefall, some Chinese companies are turning to even grander schemes, such as a rumored "mega-merger" of Shanghai Jin Jiang Hotels Group and its competitor Plateno Group.
Jin Jiang Hotels Group had suspended trading on July 8 while the rumoured merger was hinted at by Plateno Group's chairman Alex Zheng on his Wechat moments on the afternoon of July 9.
The birth of a mega-hotel group in China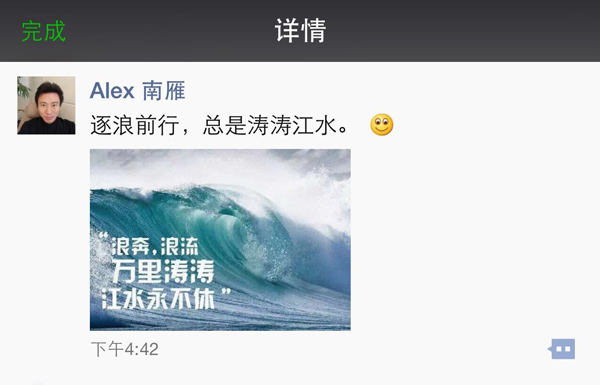 Plateno Group CEO Alex Zheng hints sweeping change ahead on his Wechat Moments
ChinaTravelNews has learned exclusively that Jin Jiang Hotels will make a strategic investment in Plateno Group that will lead to the link-up of the two groups' loyalty schemes, information systems and procurement. However, both hotel groups will continue to operate as independent brands and will not carry out restructuring or rebranding after the formation of their mega-hotel group.
Ongoing discussions between the two hotel groups are said to be in the final stages but the announcement will be delayed as the trading of Jin Jiang shares are suspended, according to a reliable source.
The scale of a combined Jin Jiang-Plateno hotel group will be substantial – Plateno is the second largest hotel group in China with over 298,000 rooms, and Jin Jiang is ranked fifth with over 177,000 room, according to the 2014 Top 60 Hotel Groups in China by China Tourist Hotels Association. Combined, they have a total room inventory of 475,000 rooms, or 150% of the top-ranked Homeinns Hotel Group that has 316,000 rooms.
In terms of hotel number, Plateno is top ranked with 3,521 hotels and Jin Jiang Hotels is ranked fifth with 1,334 hotels. The two groups have a total of 4,585 hotels between them, or 1.6 times that of second-ranked Homeinns Hotel Group.
It goes without saying that a Jin Jiang-Plateno merger would mean the creation of an undisputed leader in China's hotel industry.
Additionally, Jin Jiang Hotel Group is the seventh largest hotel group in the world with 2,800 hotels and 340,000 rooms worldwide in a full line-up of top star-rated hotels, including those under the brands of Metropolo Hotels, Jinjiang Inn, Intercontinental Hotel Group that the group owns 50%, and its fully-owned Louvre Hotels Group.
A merger with Plateno Group would mean almost 6,000 hotels for both groups combined.The two groups will also lead globally in the number of loyalty members with a combined total of almost 100 million loyalty members worldwide – Plateno has 80 million and Jin Jiang has 18 million.
Signs of a mega-merger trend
Certain milestone events have hinted at the trend of mega-merger in China's hotel industry here are few from 2015:
May 22: Plateno Group partnered with Ctrip to acquire China's second largest OTA, eLong.
June 12: Nasdaq-listed Homeinns received a privatization offer, participated by BTG Group, and will transfer its listing to Shanghai.
July 7: Six Chinese hotel groups including New Century Hotels and Guangdong Hotel Management formed the China Hotel Alliance to link their loyalty schemes and offer standardized service.
Additionally, Huazhu Hotel Group founder and director Ji Li remarked in TravelDaily China's Hotel Management Conference, CEO Chat, held on May 13:
"The OTA and Hotel industries are looking for greater integration overall and we feel China's hotel industry definitely could do with more integration and mergers."
And Jin Jiang Hotel Group's CEO Xiaoqiang Zhang and Plateno Group's chairman Alex Zheng were right by his side when he made these remarks.
(Reporting by Xianhao Zeng)
(Share information and views with Xianhao Zeng of ChinaTravelNews at goofy@traveldaily.cn Wechat ID: dppqqb)
(Translation by David)