ChinaTravelNews - Tuniu is a leading Chinese online travel platform that specializes in packaged tours and travel-related services via its website (tuniu.com) and mobile platform. Tuniu aims to become the leading one-stop destination for Chinese consumers seeking travel products and services, for both domestic and international destinations.
Tuniu is led by CEO Donald Yu, who co-founded the company in 2006 and developed it into one of the most-used travel websites in China. Tuniu currently offers over 550,000 stock keeping units (SKUs) to 140 destinations around the world. In May 2014, Tuniu went public on NASDAQ.
ChinaTravelNews's Aaron Stewart sat down with Yu recently, who shared his thoughts on topics like China's online travel boom, why growth outweighs profitability in the industry, and the untapped potential in lower-tiered cities.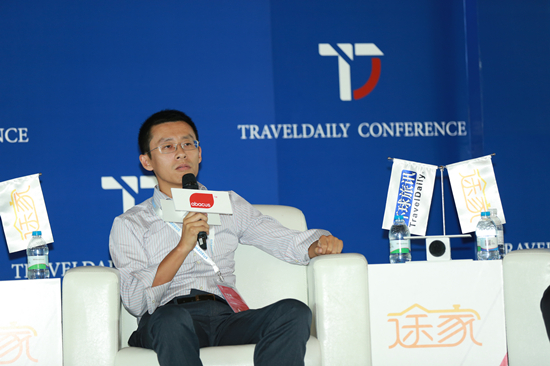 Donald Yu at TravelDaily Conference 2014
Growing up and up
The big just keep getting bigger.
Earlier this month, Tuniu, China's largest online retailer of packaged tours, acquired majority ownership of two travel agencies specializing in Taiwan tours. The acquisitions of Zhejiang Zhongshan International Travel Services Co., LTD and Tianjin-based China Classic Holiday gives Tuniu access to the growing Taiwan travel market. In 2014, approximately four million Chinese travelers visited Taiwan, nearly 40% more than the year before.
But that's just the tip of the iceberg. Chinese travelers took an astounding 109 million international trips last year, an all-time high, while billions traveled domestically. Many of these travelers booked their trips through Tuniu, which helped the online travel agency (OTA) generate $570 million of net revenue in 2014, 81% more than 2013. Likewise, organized tours and self-guided tours were up 81% and 90%, respectively.
But despite exhibiting growth across the board, Tuniu is not yet profitable. The company reported total net losses of over $72 million in 2014, nearly six times more than the year before.
So at what point does growth translate into profit? For Tuniu CEO Donald Yu, the former is more important than the latter.
"Looking at the long term – by continuing to expand our scale, reducing our marginal costs, including reducing our overall rates, reducing our purchasing costs, increasing our operating efficiency – profit is something that will naturally run its course," Yu said. "I believe once we reach a certain size, a certain stage, profit will take care of itself."
Like any major company that has a good thing going, Tuniu is more concerned with catching on than cashing in. And that means sticking with what it does best.
Prowess in packaged tours
Tuniu was the no. 1 online retailer of organized tours last year with a 20% market share, according to iResearch. Packaged tours, for either groups or individuals, can cover everything from airfare and hotels to tour guides and daily itineraries.
For both types, however, Tuniu's main selling point is its complete customer service.
"Through the accumulation of eight years of experience, we're able to develop products that give users an excellent experience from start to finish," Yu said, "from the booking process, to the three phases before, during, and after travel, covering the entire travel process."
Currently, organized tours make up about 70% of Tuniu's gross booking, with the remaining 30% coming from the do-it-yourself variety. But regardless of how one chooses to travel, the relatively high average selling price (ASP) of a packaged trip means extra focus on branding and loyalty.
"Due to the high-priced nature of packaged travel products, which includes airfare, hotel, and tour guide services, travel packages are generally priced between RMB 10,000 to RMB 15,000 per [overseas] trip," Yu noted. "So customers' demands of and trust in the brand are extremely important for a price that high. It's an important reason why we've continued to make long-term investments in our brand and user experience."
Taking it from the top
Branding and user experience become even more important when you consider that Tuniu is up against the likes of Ctrip, Qunar, and Alitrip (the travel spinoff of online retailer Alibaba), the three giants of China's online travel industry.
Despite its size, Ctrip is not a bully. The online juggernaut teamed up with retail shopping giant JD.com in leading a $148 million round of investing in Tuniu last December. That was in addition to the $15 million that Ctrip initially invested in Tuniu in May of 2014, shortly after Tuniu went public on NASDAQ.
"I think the differences between Ctrip and us are very obvious," Yu said. "Ctrip's main revenue comes from business travel and air/hotel, while we are mainly leisure travel. Ctrip users come from first-tier cities, while users from second- and third-tier cities make up half [of our business]."
"Another difference is that Ctrip is mainly focused on domestic travels as the vast majority of their income comes from domestic bookings, including airfare, hotels, and such," Yu continued. "Over 65% of our transactions come from outbound travel. So the differences between Ctrip and us are very apparent, I think it's not a direct competitive relationship."
Despite Yu's insistence otherwise, the relationship between Tuniu and Ctrip is probably more competitive than cooperative, especially when it comes to the all-important outbound travel segment.
Last year, one-fifth of all overseas trips were booked through Ctrip, who boasted over 20 million such bookings, ranking them no. 1 in China in outbound travel. With over 100 million Chinese traveling abroad annually, and that number growing every year, outbound travel has become a focal point for OTAs across the country, Tuniu included.
Expansion into lower-tiered cities
One way Tuniu hopes to make waves in outbound travel is through aggressive expansion into China's second- and third-tier cities, such as Xi'an and Changsha, which now account for almost half of Tuniu's overall business. And Yu believes they've just scratched the surface.
"In first-tier cities, self-guided tours are developing a little bit faster," he said. "In second- and third-tier cities, the high-growth trend of overseas organized tours has just started. A lot of people still have not traveled abroad. Organized tours still haven't reached their peak value, they're right in the middle of rapid growth."
That growth has been aided by the company's regional service centers, which give customers who are unfamiliar with or distrustful of the online booking process an alternative method to plan and book their vacations. The centers provide a physical venue to sign contracts, make payments, and answer travel-related questions.
The "offline" service centers also give the Tuniu brand a presence in places that don't usually have international airports. They're a way to offer "big city" options to small city people.
Tuniu opened 45 such service centers in the fourth quarter of last year alone, bringing their total to 75 nationwide, and plans to open an additional 45 centers this year. But the centers aren't just for looks; they bring in business too.
"As we execute our regional expansion strategy, we are particularly pleased to see strong growth momentum from the 58 cities with newly-added regional centers in 2014," Yu said, "with their aggregate gross bookings already contributing 8.7% of the company's total gross bookings in the fourth quarter, and over 12% in January and February compared to 1.8% in the fourth quarter of 2013."
Perhaps just as importantly, the service centers give Tuniu a way to compete directly with traditional travel agencies, whose influence is being limited to second- and third-tier cities. Not to mention they give Tuniu a satellite arm of sorts to procure and manage local suppliers.
Moving up the supply chain
Tuniu purchases travel products from an extensive network of suppliers, including tour operators and wholesalers. In the past, Tuniu moved up the supply chain by expanding its supplier base (now 6,000) to offer more flexible packages to consumers. Now, however, Tuniu is increasingly assembling its own packages thanks to direct cooperation with local tour operators in destination cities. This direct procurement allows travelers to assemble at the destination rather than a given departure city, helping local operators scale more efficiently while also cutting a layer of cost (the supplier).
The next step in supply chain growth is to increase the number of direct procurement relationships with suppliers, which will allow Tuniu to work directly with or take over local travel agencies and eliminate the need for a middleman.
"Take our Sanya tour for example, in the past we had to gather around 20 people in one single departure city to qualify for an organized tour to Sanya," Yu explained. "But through direct cooperation with local tour operators, we can pool tourists across multiple departure cities, fly them to Sanya and then organize tours locally in Sanya."
In a similar scheme, Tuniu recently introduced its Dynamic Package System, which enables travelers to create customized trips using the offerings from various suppliers.
"This system is able to combine the products from different suppliers to provide truly customized trips, with automating and pricing in our customers' hands, a function that was previously performed manually," Yu said.
The Dynamic Package System allows custom itineraries to be pieced together, with suppliers then providing those itineraries exclusively to Tuniu's customers.
"The Tuniu-designed product GMV contributes about 10%-plus," Tuniu CFO Conor Yang said in a recent earnings conference call. "And this year we will be focusing more on that; we'll try to increase it to 20% of the GMV. And the gross margin for this product line will be higher than our other product lines."
Where the wireless things are
Regardless of what or where, one constant that brings all products together is the mobile arena. Mobile bookings accounted for 45% of Tuniu's total online reservations in the final quarter of 2014 and 65% of total online traffic, figures that have grown consistently in each quarter.
Mobile bookings in China, in fact, generated $4.225 billion in revenue in 2014, up 70% from the year before, according to PhoCusWright. However, that figure represents just 18% of the total online market, which is why Yu is so insistent on continuing to invest heavily in the mobile sphere.
"During the last month, our mobile orders contributed 70% of tour attraction tickets, 55% of local tours, and 81% of train tickets," Yu revealed. "As more customers rely on mobile, we will continue to make investments to refine our platform to ensure that customers have a seamless experience."
2015 and beyond: A new hybrid OTA?
While China's economic growth seems to be finally slowing, its travel market is not. China's total travel market was worth over $107 billion in 2013, but just 17% of that was generated online, according to PhoCusWright. Furthermore, a mere 8% – or $8.9 billion – came from OTAs. The room for growth is, undoubtedly, enormous.
But with great potential comes great competition, and Tuniu, although experienced and well-positioned, faces a challenging environment. Two of the company's biggest suppliers, Utour and Vista, merged last year, continuing the trend of mergers and acquisitions amongst suppliers, and putting pressure on Tuniu to look elsewhere for sourcing options. But that's where direct purchasing comes into play.
CEO Yu said that Tuniu's optimal GMV would be a 50-50 split between wholesalers and direct procurement. This would allow them to grow their profit margin and increase efficiency, while maintaining their growing customer base.
"By the end of 2014 over 50% of our domestic tours involved packaging airline tickets with services from local tour operators," Yu noted. "In 2015, we plan to further optimize our supply chain and expand this business model to outbound tours to certain destinations."
A realization of the 50-50 business model would make Tuniu a hybrid OTA that combines the best of both worlds. With the online travel market growing so rapidly, it's easy to get lost in the shuffle; instead, let's just sit back and enjoy the ride. (Report by Aaron Stewart)