As China's online travel market grows, competition among trip booking sites has heated up, with home-grown providers fighting hard to keep and increase market share. The competition isn't a simple dual between two market leaders—international players are looking for ways to capitalize on the upward trends in online travel here, and at least one Chinese online retail blue-chip recently entered the travel business. Additionally, Ctrip and eLong always face the possibility of losing business to some of their most important partners—airlines and hotel companies, which enjoy better profit margins when travelers book directly on their own sites.
  The undisputed local leader among online travel agents (OTAs) is Ctrip, with 53.6% of market share,according to Shanghai–based iResearch. eLong, bought in 2004 by Expedia, is far behind with 9% of market share, and no other company commands double digits. Though eLong can't be said to be threatening Ctrip's dominance right now, it has closed some of the gap—in 2008, Ctrip had 57% of the market, to eLong's 13%. That market share is a portion of a steadily growing pie. In the first half of 2010, 1.097 billion domestic trips were taken in China, marking growth of 8.6% compared to the previous year. While Chinese consumers have been slow to adopt Internet booking, 30% of air tickets will be sold online by 2013, iResearch projects.
  At the recent China Travel Distribution Summit, hosted by China TravelDaily in Beijing, the CEOs of both Ctrip and eLong discussed their companies' priorities and approaches to the competitive market situation.
  Ctrip
  Ctrip, which launched in 1999 and went public in 2006, has enjoyed strong growth the past few years. Its share price has more than quadrupled since early 2009. CEO Min Fan attributes the success to service, which Ctrip has made a marketing mantra: "Ten years into our existence, our core competitive differentiator remains our commitment to service," Fan said at the Beijing summit. He added that Ctrip has tailored its service to address a very specific set of possible customer complaints. "Each time a customer makes a booking, there are 20 activities, which we can turn into 61 assessment criteria, with the potential for 200 different errors," Fan explains. He says that Ctrip works toward mastering those 61 assessment criteria to minimize errors, and this process is a key component of the company's service.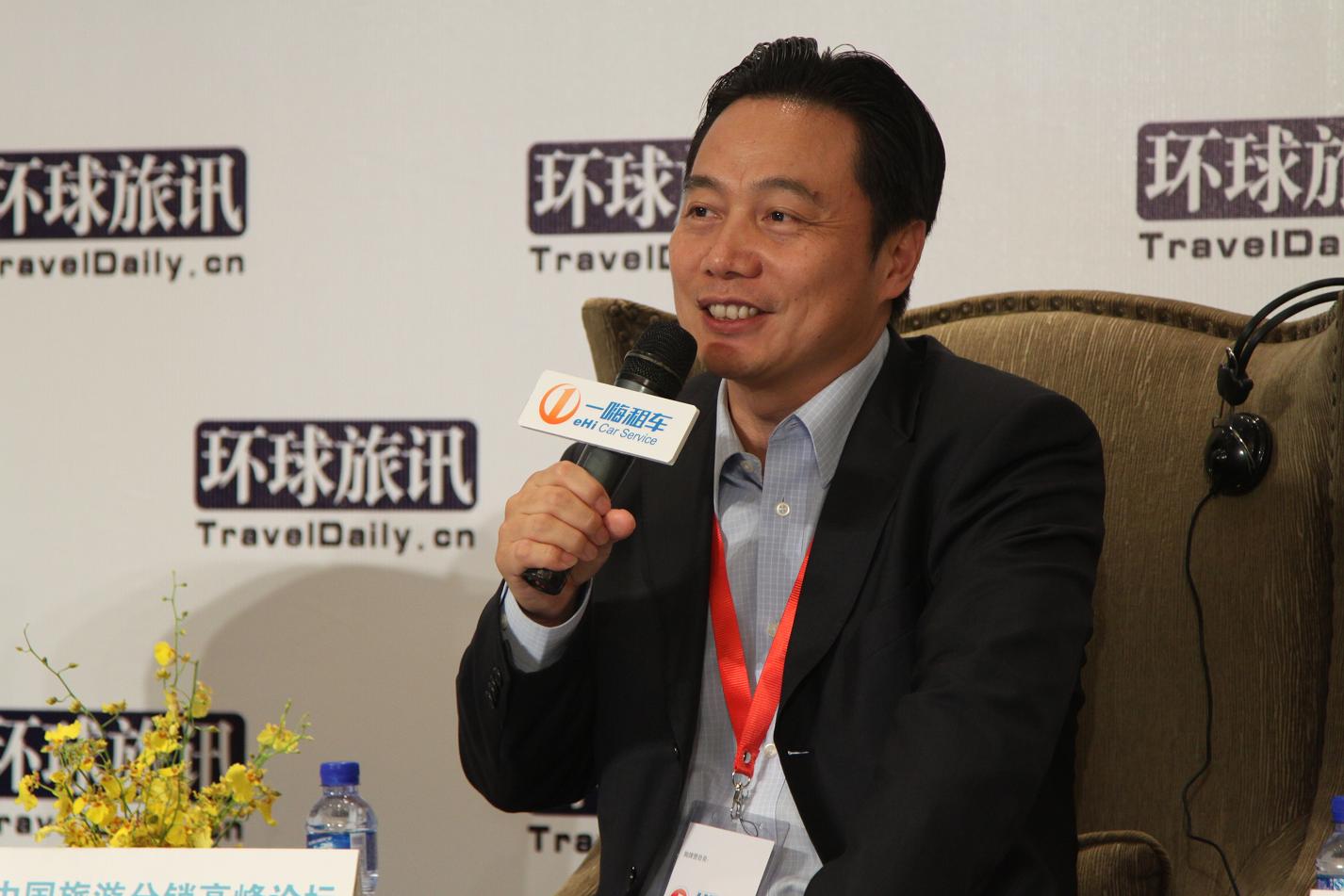 Given its current dominance of the Chinese market and its four years of more than 50% annual growth, it's no surprise that Ctrip has interest in being a global company. "Our growth potential is not limited to China," Fan says. Asked what kinds of acquisitions his company would consider, Fan lists three criteria: "It would have to expand our product line… Give us access to new areas geographically… And the price must be good."
  In global markets, Fan believes that Chinese companies are at a bit of a disadvantage. "China is second in GDP, but we are lagging behind in other areas," he says. "Our generation of enterprise leaders has limited international experience. We are limited to our region by culture and language." He says that investors can expect to see Ctrip expand into other parts of Asia first, followed later bypushes into Europe and the United States. In fact, Ctrip has already begun making moves outside of the mainland, acquiring EZTravel, Taiwan's largest online travel agency, and Hong Kong–based Wing On Travel, in 2009.
  eLong
  eLong CEO Guangfu Cui sees competition as an issue not just with Ctrip, but all along the travel supply chain. "In this era, between suppliers and distributors, distributors and advertisers, there is both competition and cooperation," Cui says. He calls for travel industry players to place more emphasis on cooperation.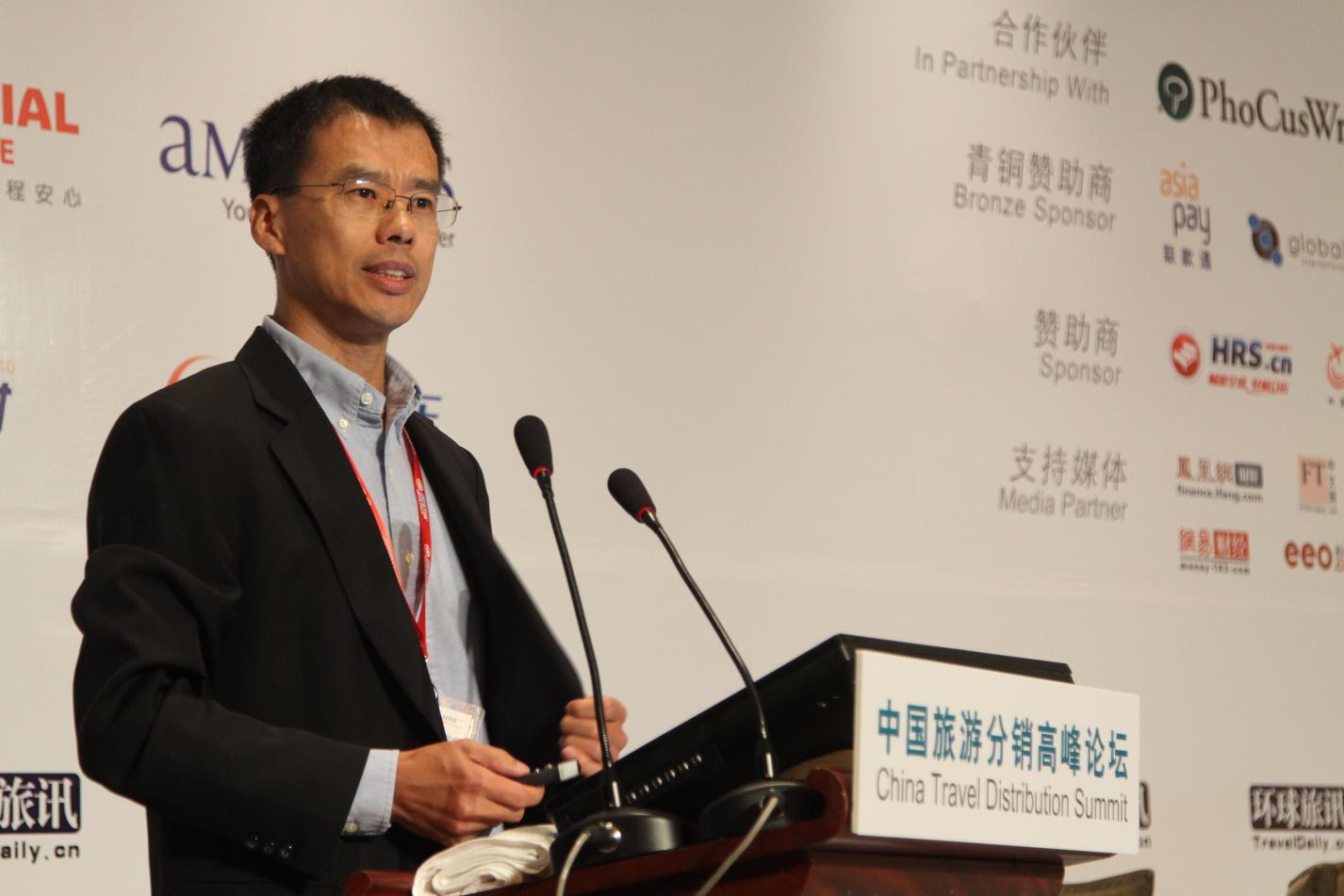 "In the past, hotels and distributors put their own interests first," he says. "This is no longer a suitable approach. The end result is a decline in the value of the whole industry chain, sothat the whole industry is uncompetitive." Cui believes that each hotel company needs to find its own proper balance between direct marketing and distribution channels such as OTAs. He argues that OTAs can support hotels' direct sales efforts, reaching a larger audience than the hotels' themselves can reach.
  Cui's talk at the China Travel Distribution Summit did not dwell much on his company's strengths,or delve into its position in comparison to Ctrip. Instead, he focused primarily on eLong's relationship with hotels, making a case for a less adversarial relationship.
  Cui says his company has a naturally cooperative relationship with sites, where consumers go for answers as they begin their travel planning—he named web portals Sina and Tencent, online retail site Taobao, and travel search engines Kuxun and Qunar.
  "eLong welcomes Tencent, Taobao and Baidu to enter the online travel market," Cui said. "As we see it, no one can be more effective than them at bringing more customers into the market for online travel."
  Chinese OTAs also face new competition from Taobao.com, which recently set up a travel platform.Taobao is China's top commerce website, following the eBay model and owned by Alibaba. Ten airlines have set up shops on Taobao, the biggest being China Eastern. Hotels, tickets to attractions, and trip packages are also sold by hundreds of agents on the site. In its corner, Taobao has a user base of 200 million. Search engine Baidu and Internet portal Tencent also recently added travel booking capabilities; eLong has an agreement to help Tencent operate its hotel booking.
  Challenges to the OTAs could also come from other major companies outside the travel industry, such as China Mobile or China Telecom. As Glenn Fogel, executive vice president at Priceline, suggested in his keynote address at the Beijing conference, these mobile phone providers could leverage their huge consumer reach and offer mobile applications for travel search and booking—something that neither
Ctrip nor eLong has done.
  As 2010 draws to a close, the Chinese travel industry is preparing to move into another year of projected strong growth. As market leader Ctrip focuses on customer service and overseas growth, market runner-up eLong and plenty of other challenges are nipping at its heels.